Quick Spicy Chicken Chow Mein Recipe (Easy and Lighter Version) This is a popular street style chow mien that has veggies, chicken, and eggs.
It's lightly sauteed with noodles for that crisp and refreshing taste.
Hi Everyone and I know I usually don't post a recipe midweek, but this Quick Spicy Chicken Chow Mein Recipe (Easy and Lighter Version) is special!!
We are celebrating the Chinese New Year at a friend's place and I'm taking my famous chicken chow mien.
Every year, we get together and celebrate Chinese New Year at one of our friend's place, who is from China.
It's such a fun and lovely celebrations with lots of food, wine, beer and tons of laughter.
All through my lovely friend cooks all the main Chinese dishes at home but as she loves my version of these Quick Spicy Chicken Chow Mein Recipe.
I have been cooking this particular version of the spicy chicken chow mien since ages and it impresses one and all.
It's so simple to make and the only thing I do differently is to add extra veggies.
The ones you usually eat in Chinese dishes like carrot, scallion, onions, peppers, beans, chili and my secret ingredient for that spiciness – "Schezwan/Sichuan Sauce".
Before, you ask, I make my own schezwan sauce which I've learned from my mom and here's the recipe.
It's this sauce, that gives this chow mein such a zing that it's almost impossible to eat it just once, cause you'll be craving it again and again.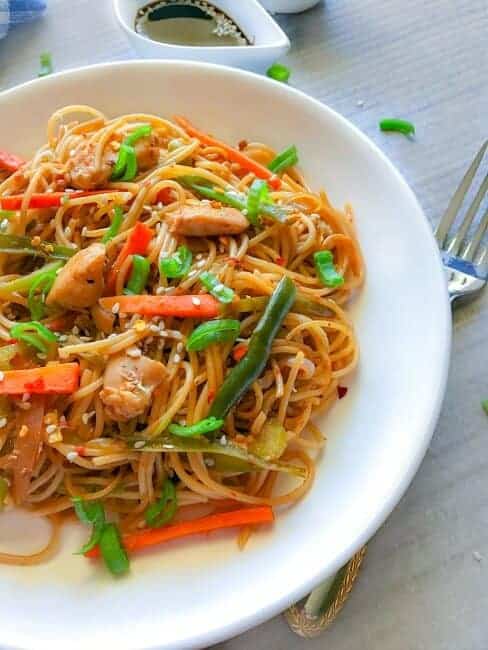 This particular recipe is so famous in the Northern part of India, that you would find it in the biggest of the restaurant to the most common street shop.
And, I guess, if you've grown up studying in India, then it's a staple of every student (school/college).
During my college days, it used to be a weekly treat with friends.
We used to hang out at this local restaurant where even the owner would start sending chow mien to our table without asking
– Yep, we loved it that much!
It was way too oily, way too spicy but gone are those days and I just cannot handle that much oil/spice anymore.
So, I created something that we could eat easily without thinking twice and hence the Spicy Chicken Chow Mein Recipe. 
Although I'm using the regular chow mein noodles / Hakka noodles, you can use wheat noodles too.
I usually use the same pot to cook the vegetables, chicken, and eggs and then finally sauteeing everything along with noodles to add that extra flavor to the final dish.
I also use less salt as the soy-sauce already has salt in it, so you may want to do the same.
Now, many people have complimented me on the noodles not sticking together or becoming clumpy – So here's a TIP
How to AVOID Clumpy Noodles:: (stands true for any noodle recipe)
While boiling noodles add 1 tsp oil.
Once the noodles are boiled, sieve and drizzle another tsp of oil on them.
Place the noodle over ice and they'll never stick together
So, I hope you get to try my Spicy Chicken Chow Mein Recipe soon and do let me know by tagging #easycookingwithmolly on any of the mentioned social media.
Looking for even Healthier Recipe – Try this:
Kung Pao Chicken Meatballs with Zoodles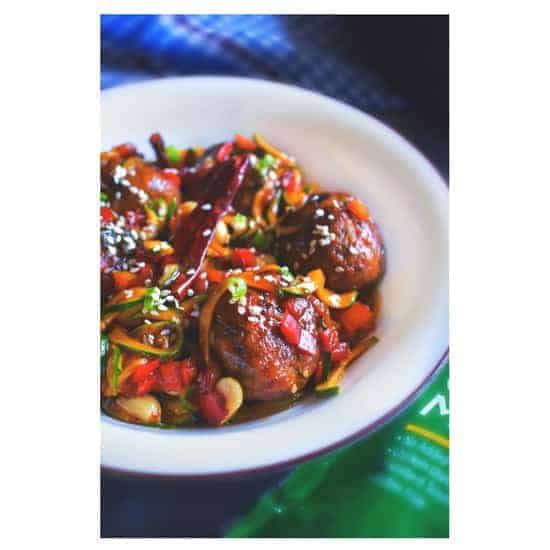 To all my friends celebrating Chinese New Year ~ Gōnghè xīnnián

---
As always, I Looove when you try my recipes and send me pictures & feedback.
You can tag my recipes tried by you using #easycookingwithmolly on any of the social media below:
Connect with Me Here:  Facebook / Pinterest / Instagram / Twitter / Subscribe to our Newsletter / Google+



Yield: 4 Adults
Quick Spicy Chicken Chow Mein Recipe (Easy and Lighter)
Prep Time 5 minutes

Cook Time 12 minutes

Total Time 17 minutes
Ingredients
2 Cups Boiled Noodles
1 Onion - thinly sliced
1/2 Cup Carrots - thinly sliced
1/2 Cup beans - thinly sliced
1/2 Cup Capsicum - thinly sliced
1 Cup Boneless Chicken - cooked/boiled
3 Tbsp Scallions - for decoration
1 Tbsp Sesame Seed - for decoration
4 Tbsp Sesame Oil
2 Eggs - whisked
Sauce
2 Tsp Schezwan Sauce - use as per taste
2 Tbsp Soy Sauce
1 Tbsp Vinegar
1 Tbsp Oyster Sauce - optional
Instructions
Heat a wok and add 1 tbsp oil.
Add all the vegetables and saute on high flame for 3 minutes.
Remove the sauteed vegetable.
Add 1tsp oil to the same wok and add the whisked eggs.
Saute and cook the eggs for 2 minutes (almost the shape of scramble)
Remove the cooked eggs.
In the same wok, add 1tbsp oil and saute the chicken for 3-4 minutes (till nicely browned).
Now add all the sauces and salt, pepper and saute everything for a minute.
Add the cooked vegetables, eggs and saute everything for 2 minutes (medium heat).
Finally, add the cooked chow mein and saute everything for 2 minutes.
Turn off the heat and transfer the chow mein to serving dish.
Sprinkle with scallion and sesame seeds.
Serve hot.
Nutrition Information
Serving Size
4
Amount Per ServingCalories 194 Total Fat 19g Saturated Fat 2g Sodium 880mg Carbohydrates 5g Sugar 2g Protein 3g