Restaurant Style Vegetable Biryani: mouthwatering, flavorful and rustic recipe that's cooked to perfection in the comfort of your home. 
Restaurant Style Vegetable Biryani – step by step recipe.
Savor the flavor of rice, vegetables, and spices in every bite – a true indulgence!
Do you crave biryani every now n then or simply visit an Indian restaurant just to devour one?
Well, not anymore, as today I'm sharing one of my most cherished recipes:
" How To Make A Quick Restaurant Style Vegetable Biryani "
All from the comfort of your home and absolutely fingerlicking !
Biryani is one such recipe that wins our vote every time, be it a restaurant, party and especially weddings, if there is biryani on the menu, you'll see it on our plate.
And boy, we have eaten all sorts …. some good, some not so good and some absolutely mind-boggling ones (in a good way 😉.
So this weekend, I decided – why not share a How to Make Quick Restaurant Style Vegetable Biryani method with you'll.
Before we go ahead, do you know what Biryani actually stands for?
It's derived from a Persian word called 'Birian' which means 'fried before cooking' – yep you heard it right.
The rice was infact fried in ghee (brown butter) and then boiled in water with all the spices and seasoning.
I'm sure with every generation/household/countries, the recipe changed and these days we simply boil the rice with spices minus the ghee.
I think the only thing we still haven't changed is the use of Basmati or long grain rice.
I'm dividing the whole How To Make A Quick Restaurant Style Vegetable Biryani in 3 parts:
Cooking the Rice
Cooking the Vegetables
Layering the Rice & Vegetables to make the perfect biryani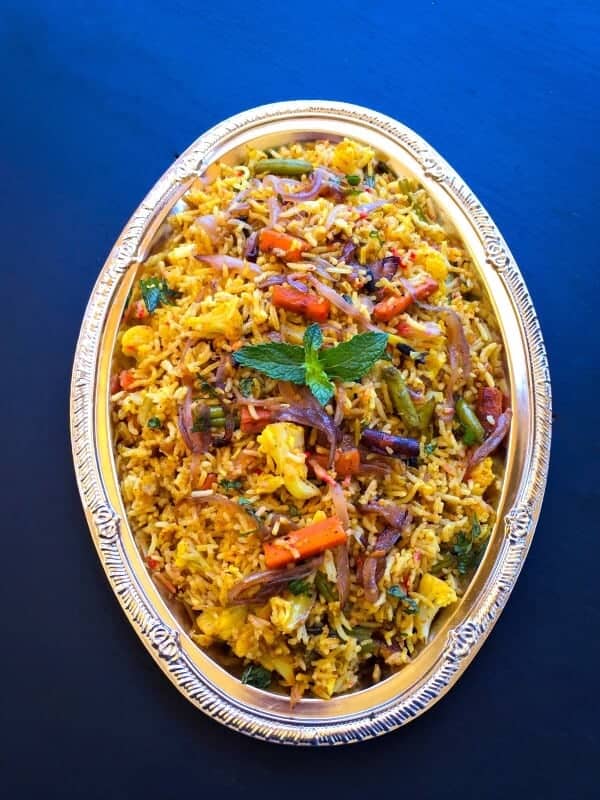 Cooking the Rice:
As mentioned above, most of the biryani's are cooked in Basmati rice also known as 'long grain rice'.
Once cooked, it doesn't become sticky and you can see every single grain of rice doubles in size.
While preparing the biryani, we cook the rice with a hint of spice for flavor (could be clove, cardamom or all of them along with some nuts)
Also, add a few strands of saffron for taste and hue of golden yellow color.
Once the rice is cooked, we drain any excess water and keep it aside.
Cooking the Vegetables:
This is where you can have tons of customization as you can add/substitute or completely remove any vegetable or spices.
You might have noticed in a vegetable restaurant biryani, the default vegetables are 'carrots, green beans, cauliflower, onions, few herbs' and nowadays, I've even seen potatoes being added.
So gather all your favorite vegetables, spices, ghee, nuts, yogurt and cook everything together to form a thick gravy vegetable.
It's this mixture that gives flavor to the biryani – so take your time and let it cook with love 🙂
Layering the Rice & Vegetables to make the Perfect Biryani
This is the easiest part of the biryani or the fun part where we just layer the cooked rice and vegetables on top of each other and always end with a layer of rice on top.
Once we have reached that final rice layer, we sprinkle some cooked onions, mint leaves (trust me, it gives so much flavor n that distinct aroma) and drizzles some desi ghee (brown butter).
This can again be broken into 2 parts:
a. You can bake the biryani for 10 minutes.
b. Microwave on high for 3 minutes.
This last part helps the rice, veggies, and spices absorb the aroma all in itself and as soon as you open the cover/foil, you'll be tempted to dig in!!
Just wait for the last step and that is to mix or fluff everything lightly so that the rice mixes with the vegetable and serve fresh.
So that my friends, that's exactly How You Make Quick Restaurant Style Vegetable Biryani.
If you're vegan, you can substitute ghee with more olive oil or a little bit of coconut oil and yogurt with a vegan yogurt option.
I've been making vegetable biryani for ages and I've perfected this recipe after many hit n trials.
It is my MOST requested recipe and till date, it was only with me.
But today I'm sharing it with all of you and hope you and your loved ones enjoy it as much as we do.
Serving the Biryani: 
Although vegetable biryani doesn't need many options to serve with apart from the regular raita (yogurt dip).
Or a simple salad or pickle or pappadom, here are few recipes that go really well with it:
Until Next Time ~ XoXo


---
As always, I Looove when you try my recipes and send me pictures & feedback.
You can tag my recipes tried by you using #easycookingwithmolly on any of the social media below:
Connect with Me Here:  Facebook / Pinterest / Instagram / Twitter / Subscribe to our Newsletter / Google+
Molly Kumar
Yields 4
How To Make A Quick Restaurant Style Vegetable Biryani
Ingredients
For Cooking the Rice:
2 Cups Basmati Rice - you may use any other rice too
5 Cups Water - to make the rice
Pinch of Turmeric
Few Strands of Saffron
3 Tbsp Milk - to soak the saffron
4 Cloves
For Preparing the Vegetables:
2 Carrots - cut into bite size pieces
1 Cup Cauliflower Florets - cut into bite size pieces
1/2 Cup Green Beans - cut into bite size pieces
1 Cup Onion - thinly sliced
1 Tbsp Ginger Paste
1 Tbsp Garlic Paste
2 Tbsp Ground Cashew - optional or can use almonds
1 Cup Plain Yogurt
1/2 Cup Water
1 Cinnamon Stick - broken into 2-3 pieces
1 Bay Leaf
3 Black Cardamom
6 Green Cardamom
4 Cloves
Pinch of Nutmeg
1/4 Tsp Black Pepper Powder
1 Tbsp Coriander Powder
1 Tbsp Cumin Powder
2 Tbsp Garam Masala
1/2 Tsp Turmeric - optional
1 Tsp Red Chili Powder - optional
Salt - as per taste
10 Fresh Mint Leaves
1/2 Cup Olive Oil - to make vegetables
4 Tbsp Ghee - for making vegetable and drizzling on top
Instructions
* Cooking the Rice *
In a large pot, add water, rice, turmeric, cloves and place on burner on high heat.
Let this boil on high heat for 2 minutes, then reduce the heat to low and cook for 15 minutes.
In a small bowl, heat 3 tbsp oil and add the saffron strands, keep aside.
Check rice after 15 minutes, it should have cooked 90% hence turn off the heat.
Strain the rice of water and keep aside.
Add the saffron mixture and fluff the rice (to evenly mix saffron).
** Cooking the Vegetables **
In a large non-stick pan, heat 1/4 cup oil + 1 tbsp ghee.
Add onions and saute till they are cooked and light golden in color.
Remove the cooked onions.
In the same pan, add the remaining oil + 1 tbsp ghee.
Add bay leaf, cinnamon stick, cloves, black cardamom, green cardamom and saute for a minute.
Add ginger + garlic paste and saute on medium heat till they turn golden in color (about 2 minutes).
Add carrots, beans, cauliflower and saute for a minute.
Add turmeric, salt, coriander powder, cumin powder, garam masala, red chili powder and saute everything together.
Cover and cook this mixture for 5 minutes on low heat.
Add yogurt, cashew powder, water, mint leaves and cover cook for another 5 minutes.
Once the vegetables are cooked, turn off the heat.
*** Layering the Biryani ***
Take a deep (microwave safe) serving dish, place 2 ladles of cooked rice, top with a thin layer of cooked veggies, add 2 tbsp of onions.
Layer 2 ladles of rice, veggies and onions again.
Repeat the process till you reach the top of the dish and the topmost layer should be just rice.
Sprinkle some mint leaves, cooked onions, 2 tbsp ghee and cover the dish.
Place the dish in microwave and heat on high for 3 minutes.
Remove from microwave, using a big fork, fluff the rice (scoop and mix the rice and veggie layer).
Serve Fresh with choice of salad/pickle/curry
7.8.1.2
113
http://www.easycookingwithmolly.com/2016/07/make-quick-restaurant-style-vegetable-biryani/