Thin Crispy Zucchini Fritters (Vegan + Glutenfree) Bite into a crispy scrumptious delight fried to a golden brown crust. Perfect snack or brunch menu recipe.
Thin Crispy Zucchini Fritters (Vegan + Glutenfree)
We have made them extra crisp and they are piping hot straight from our kitchen.

Happy Friday Everyone ! It was quite a packed week for me and I'm so glad we have made it to the weekend.
The entire week, we had been eating pretty light (mostly smoothies / sandwiches / light curries) and had been looking forward to our weekend menu – which is slightly a variety of cheat food + healthy stuff.
And the first thing that came to my mind were these Thin Crispy Zucchini Fritters that just screams COMFORT Food to me.
I mean what's there not to like about a Fried, Golden Crusted – Crispy Snack.…Absolutely Nothing, what do you think?
I just couldn't wait for the second they were ready, I had to bite into them and they were just perfect!!! The tastes is absolutely delicious and fried zucchini simply melts into your mouth.
So the batter actually prevents the zucchini to simply melt while frying, absolutely made in heaven kind of pairing 🙂
Now, to keep these Crispy Zucchini Fritters really crisp, I've added homemade rice flour (just pulse rice grain to a really fine consistency or you can always use store bought ones).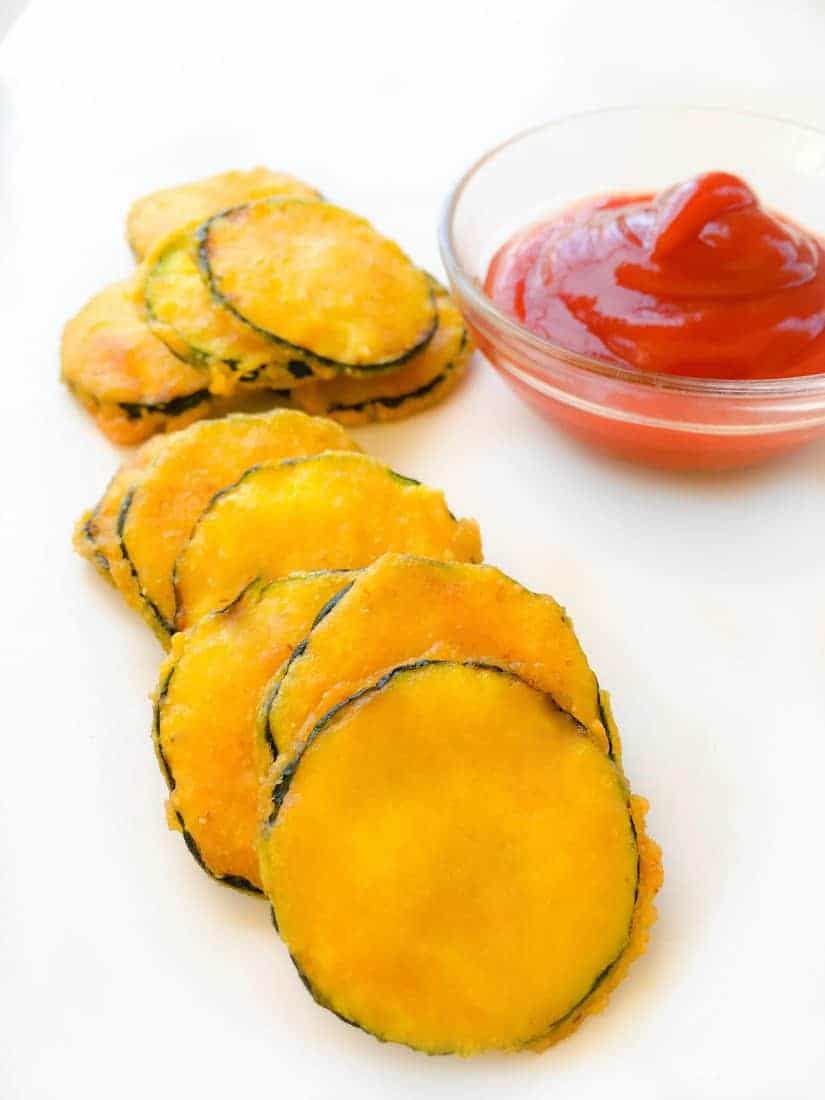 This Thin Crispy Zucchini Fritters recipe makes enough fritters to be shared between 2-3 people depending on how many you wanna eat and you're absolutely welcome to eat them all by yourself – I PROMISE 🙂
The best part about them is that they can be prepped a night before, make the batter, slice that zucchini and keep them in the fridge.
Just fry them in the morning for your brunch or snack.
Some of you might wonder about the color, I've added a hint of turmeric to get this gorgeous golden color as It just gives me a feel of a very Gourmet Restaurant Style fritters, that are actually homemade.
I'm serving these fritters with a simple ketchup but please feel free to serve them with any sauce/dip of choice. They taste Fabulous with chilled dips too.
I hope you make them this weekend or pretty soon as they do deserve a place in your gorgeous family table 🙂
                                        Have a GREAT WEEKEND Ya'll – XoXo
---
Tried Our Recipe – AWESOME!!!
Now Quickly SNAP A PICTURE & TAG :
#easycookingwithmolly +  @easycookingwithmolly on Instagram –>
Connect with Me Here:  Facebook / Pinterest / Instagram / Twitter / Subscribe to our Newsletter / Google+
Yield: 1 Large Bowl
Thin-Crispy Zucchini Fritters Vegan-Glutenfree
Ingredients
2 Large Zucchini - Sliced into 1/4 inch or 1/2 inch as per choice
1/2 Cup Chickpea Flour or Besan
1/4 Cup Rice Flour - any kind
1/4 Tsp Turmeric - OPTIONAL - for the rich golden color
1/4 Tsp Baking Soda - optional - gives a great crisp
1/4 Tsp Cayenne Pepper - optional
1 Tsp Salt - use as per taste
1/4 Cup Water - for the batter
2 Cups Oil for Deep Frying
Instructions
In a large bowl, whisk chickpea flour, rice flour, turmeric, baking soda, cayenne pepper and water to form a smooth batter (It will be slightly thin).
Heat 2 cups of oil in a large frying pan.
Add the sliced zucchini to the batter.
Once the oil is hot, start adding the batter dipped zucchini (one by one) to the pan.
Keep the heat medium and let the zucchini evenly cook on the side down.
Turn the zucchini fritters to the other side and let them cook. (It's upto you how much crisp n browned you like the fritters.)
As soon as they are cooked on each side and the color is nice golden brown, transfer the fried fritters to a plate lined with kitchen towel/any napkin (to soak any excess oil).
Fry all the zucchini fritters similarly and serve fresh with your choice of ketchup/sauce/dip.
Nutrition Information
Serving Size
3-4 Adults
Amount Per Serving
Calories

145
Total Fat

2g
Sodium

922mg
Carbohydrates

26g
Sugar

6g
Protein

7g