Mint Cooler Green Juice is a delicious blend of fresh mint with few other leafy greens and fruits.
This juice has a cooling benefit that helps skin glow and reduces stomach inflammation.
It's been so long since I posted a new green juice recipe….the last one I posted was in July 2015 'Powerpacked Mango-Coconut-Kale Smoothie' – recipe here.
I can't believe it's been that long, although we keep making green smoothies on a weekly basis at home.
So it's high time we shared our new 'Mint Cooler – Green Juice'.
I'm kind of OBSESSED with this one as seriously, it tastes absolutely DELICIOUS and looks so pretty!
The addition of mint to the ingredients adds so much of freshness and a new taste to the regular green juice.
Also, most of the weekends we end up eating out too much or at odd times that our entire system goes for a toss.
And don't even get me started on acidity from all the late night munchies (which we can never resist). Hence this juice comes in handy.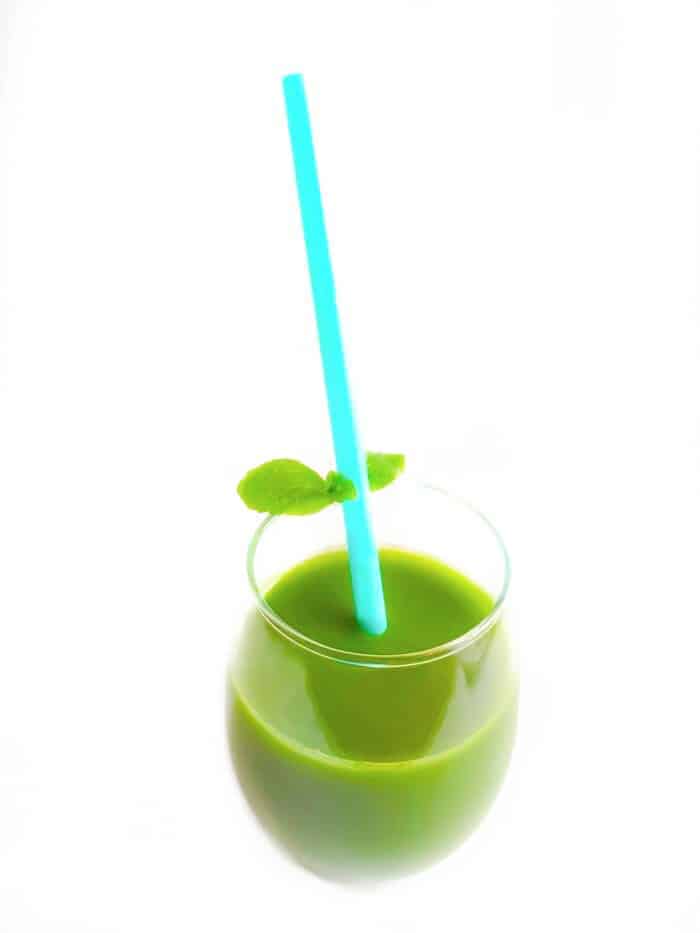 Mint actually helps in digestion and has calming properties hence helps reduce stomach inflammation, acidity and even upset tummy.
Hence, from past many weeks, we have started having this particular green juice and the addition of all the other greens like spinach, kale, apple, pineapple helps to detoxify the body while helping our skin glow.
The recipe is as easy as using a juicer and if you don't have one, then no worries. Simply blend everything using a hand blender/mixer and strain using a thin sieve.
You can enjoy this juice right away or store for later use in an air-tight glass container for upto 2 days in the fridge.
---
Tried Our Recipe – AWESOME!!!
Now Quickly SNAP A PICTURE & TAG :
#easycookingwithmolly +  @easycookingwithmolly on Instagram –>
Connect with Me Here:  Facebook / Pinterest / Instagram / Twitter / Subscribe to our Newsletter / Google+
Yield: 2
Meatless Monday : Mint Cooler Green Juice
Ingredients
1 Cup Packed Spinach
1/2 Cup Kale/Chard
1/4 Cup Fresh Mint Leaves
3 Green Apples
1/2 Cup Pineapple
1/2 Inch Ginger
1 Cup Coconut Juice - Optional
Instructions
Juice all the veggies + fruits using a juicer.
Add 1 cup coconut water and stir everything together (Optional step)
Pour in serving glasses or store in fridge for upto 2 days.