Cardamom-Rosemary Lemonade Spritzer: light, refreshing and extremely flavorful drink that's perfect to celebrate #MothersDay .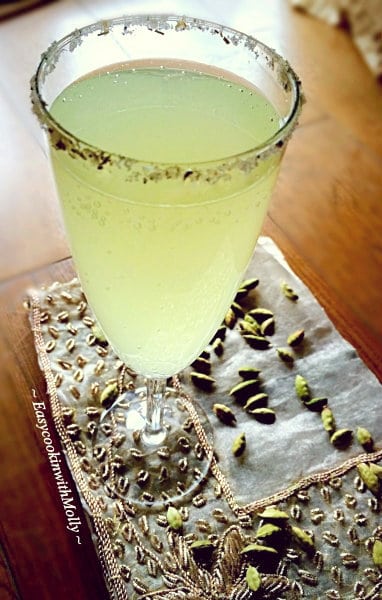 Hello Friday and it's such a gorgeous morning here today. Although there is a slight nip in the air we can see the bright sun peeking through the lush green mountain fading away from the mist…simply beautiful.
The weekend almost here and this one is going to be extra special and busy because it's Mother's Day this Sunday (May 10th).
I'm sure many of you would have planned a fun and wonderful day around mom's favorite things and a couple of you might be still in the process of it.
Although, mom always has this special place in our heart I feel it's a wonderful gesture to pamper and make your mom feel extra special on this day.
Just treat her like a queen, do things that she likes and definitely spend quality time with her. I'm sure nothing pleases them more than this.
With all this in mind, I wanted to share a recipe which goes really well with our occasion and also easy to make as I know many of these recipes would be made by Dad's and Kid's together for mom.
So here's the recipe for Cardamom-Rosemary Lemonade Spritzer. It's a lemony drink, infused with the flavors of cardamom-rosemary and the addition of soda makes it light and enjoyable with any choice of meal.
Now, you may ask why cardamom and rosemary? You have to try this combination to actually believe how well they go together.
They both have this sweet smell and makes this drink even more potent and special in taste. This drink also goes great with spicy meals as it cools down your tummy.
This recipe can be made two way with wine or water (depending absolutely on your choice) and I've rimmed the glasses for some fancy effect which is optional.
 ~ Here's the recipe, Enjoy it with your mom and loved ones ~
---
As always, I Looove when you try my recipes and send me pictures & feedback. You can tag my recipes tried by you using #easycookingwithmolly on any of the social media below:
Connect with Me Here:  Facebook / Pinterest / Instagram / Twitter / Subscribe to our Newsletter / Google+
Molly Kumar
Cardamom-Rosemary Lemonade Spritzer
2 minPrep Time
7 minCook Time
9 minTotal Time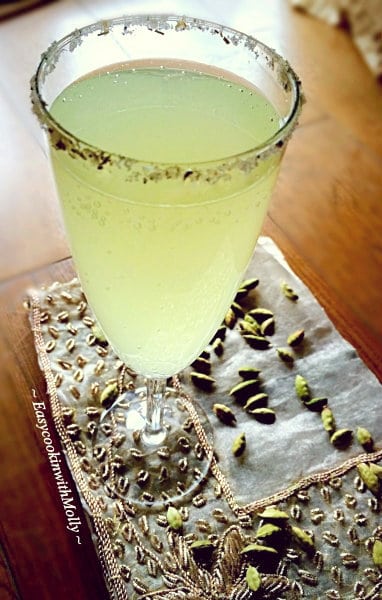 Ingredients
Making Spritzer with Wine: (With Alcohol) -
½ Cup Fresh Lemon Juice – You can use fresh or store bought
2 Tbsp Sugar – You can use sugar or sugar-free as per choice
½ Tsp Cardamom Powder
1 Sprigs of Fresh Rosemary – Crushed (If using dry rosemary, add 1 Tsp)
2 Cups Moscato (Wine) – You can use any wine of choice or skip this ingredient and use water
2 Cups Club Soda – Chilled
Making Spritzer with Water: (Non-Alcoholic) -
½ Cup Fresh Lemon Juice – You can use fresh or store bought
¼ Cup Sugar – You can use sugar or sugar-free as per choice
½ Tsp Cardamom Powder
1 Sprigs of Fresh Rosemary – Crushed (If using dry rosemary, add 1 Tsp)
2 Cups Water – Chilled
2 Cups Club Soda – Chilled
Rimming the Glass (OPTIONAL) -
½ Cut Lime Wedge
1 Tbsp Sugar
¼  Tsp Cardamom Powder
¼  Tsp Dry Rosemary Powder
Instructions
Rimming the Glasses:

In a flat plate, add sugar, cardamom powder, rosemary powder and mix evenly.
Using the lime wedge, coat the mouth of the serving glasses.
Dip the serving glasses into the mixture of sugar to coat the mouth.
Keep in refrigerator to chill.

Making Spritzer with Wine: (With Alcohol) -

In a medium bowl, add lemon juice, sugar, cardamom, rosemary and muddle for a minute.
Strain the lemon juice in another bowl.
Take a large pitcher, add strained lemon juice, Moscato and give it a quick stir.
Remove the glasses from the refrigerator.
Fill half way with Moscato-Lemonade and add club soda.
Serve Chilled

Making Spritzer with Water: (Non-Alcoholic) -

In a medium bowl, add lemon juice, cardamom, rosemary and muddle for a minute.
Strain the lemon juice in another bowl.
Take a large pitcher (To make the lemonade), add strained lemon juice, water, sugar and stir for a minute or two.
Remove the glasses from the refrigerator.
Fill half way with lemonade and add club soda.
Serve Chilled
7.8.1.2
299
http://www.easycookingwithmolly.com/2015/05/cardamom-rosemary-lemonade-spritzer/