Come summers and all we want is lots n lots of chilled refreshing drinks and for those of us who
love tea's & fruit's, this is the perfect season.
Homemade Peach Green Tea
There is an abundance of a different variety of fruits in the market and many of them when mixed with tea, results in great flavors.
So, today, I'm sharing my recipe for a refreshing Homemade Peach Green Tea.
I love drinking freshly brewed light green tea and this homemade peach green tea is one of my favorite.
It's made using lush, ripe peaches, green tea, honey, lemon juice and ice.
Once combined with water, it gives this brilliant orange color and tastes absolutely delicious.
The addition of lemon drops, along with honey, helps accentuate the peach flavor and makes the tea even more healthy.
You can use regular black tea as well instead of green tea however just remember to simmer less as a black tea if simmered for longer gives a bitter taste.
If you're vegan, you can replace honey with any other natural sweetener and enjoy the same.
—————
As always, I Looove when you try my recipes and send me pictures & feedback.
You can tag my recipes tried by you using #easycookingwithmolly on any of the social media below:
Connect with Me Here:  Facebook / Pinterest / Instagram / Twitter / Subscribe to our Newsletter / Google+
Yield: 2 People
Homemade Peach Green Tea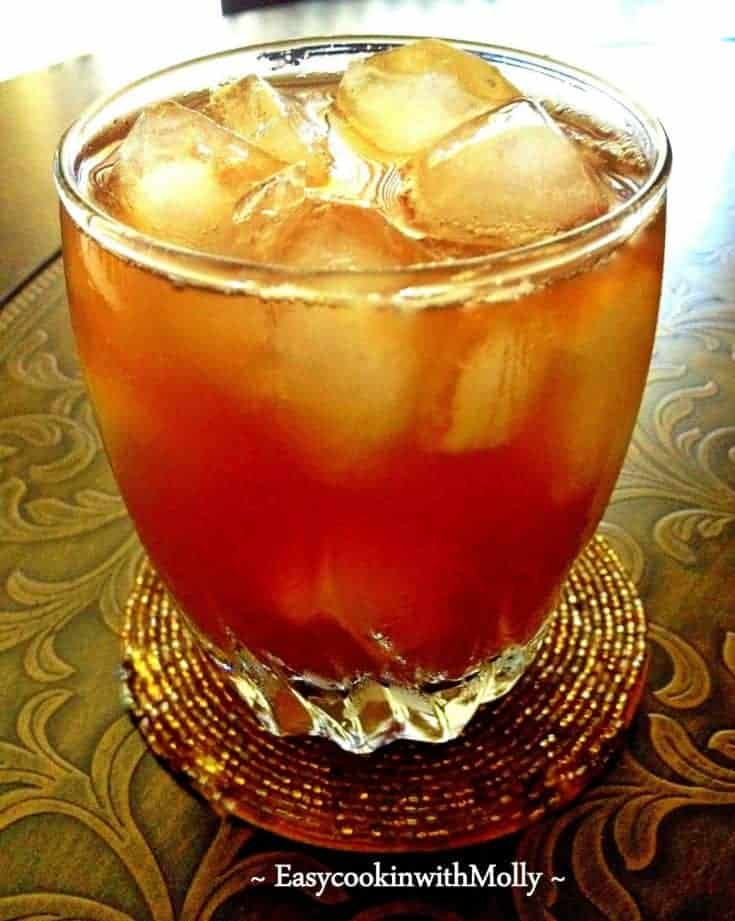 Ingredients
Ingredients
2 Cups Water
2 Green Tea Bags – You can use any green tea as per choice
½ Fresh Peach – Chopped (I'm using fresh peach however you can use frozen peach as well)
1 Tsp Honey – You can use sugar or sugar substitute as per choice
½ Tsp Lemon Juice
1 Cup Ice-Cube
Instructions
In a pot, bring water to a boil and then reduce the flames to low.
Add chopped peach and green tea and simmer on low heat for 2 minutes (For a light green tea flavor OR as per choice for stronger flavor)
Add lemon juice and increase the heat to high.
Bring to a boil and switch off the heat.
Remove the tea bags and dissolve honey into the hot mixture.
Pour the tea mixture in a hand blender and pulse for a minute or till the peaches are all dissolved.
Transfer the tea into a jug and refrigerate for 1hour.
When ready to serve, take 2 glasses, fill with ice, pour peach tea and serve chilled.
Nutrition Information
Serving Size
4
Amount Per Serving
Calories

1
Sodium

4mg