This post is sponsored by © the J.M. Smucker Company, all opinions are my own
Dunkin' Donuts® Spiced Caramel Coffee Latte Recipe: easy to make barista-style coffee at home with a hint of spice is everything you need this winter season.
A little bit of warm spices and our favorite Dunkin' Donuts Caramel Cake Flavored Coffee make these Spiced Caramel Coffee Latte a perfect drink to welcome the change in season!
Who could resist that first feeling of a slight nip in the air, changing colors of the leaves or the thought of warm snuggly blankets?
As Fall/Winter is soon approaching and nothing signifies them more than hot coffee drinks.
I mean we do have hot drinks in summer too BUT, the 'warmth, satisfaction and that fuzzy-snuggly feeling' you get sipping them in winter – Priceless!!
And for us, Fall loving people, I had to start stocking up on Dunkin' Donuts Coffee (Bakery Series) from Walmart and here I'm with our house favorite (Cheer in the background): Dunkin' Donuts Caramel Coffee Cake Flavored Coffee.
I mean THIS is what literally charges us everyday (or night) and it's a mix of two things we love: Coffee + Caramel Cake!
The flavors are luscious and spot on. So we decided, why not give it a slight extra cheer this winter and add a splash of delicious 'Winter Spice Mix' to it.
So, we made a quick mix of some of our favorite winter spices (totally customizable as per your need) like:
Cinnamon
Clove
Nutmeg
Ginger
We got all these spices + add-ons from Walmart too, so it's a one-stop for all your needs.
Once you have all the ingredients, just make the coffee using your favorite coffee machine/pot.
Once the coffee is ready, add spice-mix, milk and some whipped cream (Yessss!!!)
We also got some Smucker's Caramel Topping ready-made caramel sauce from Walmart and topped our Spiced Caramel Coffee Latte with it.
And finally, sprinkle some more of the spice mix on top and this my friend is how easy it is to create 'Barista-Style' Spiced Caramel Coffee Latte at home.
No special equipment needed just your everyday coffee machine/pot and our favorite Dunkin' Donuts Caramel Coffee Cake flavored coffee.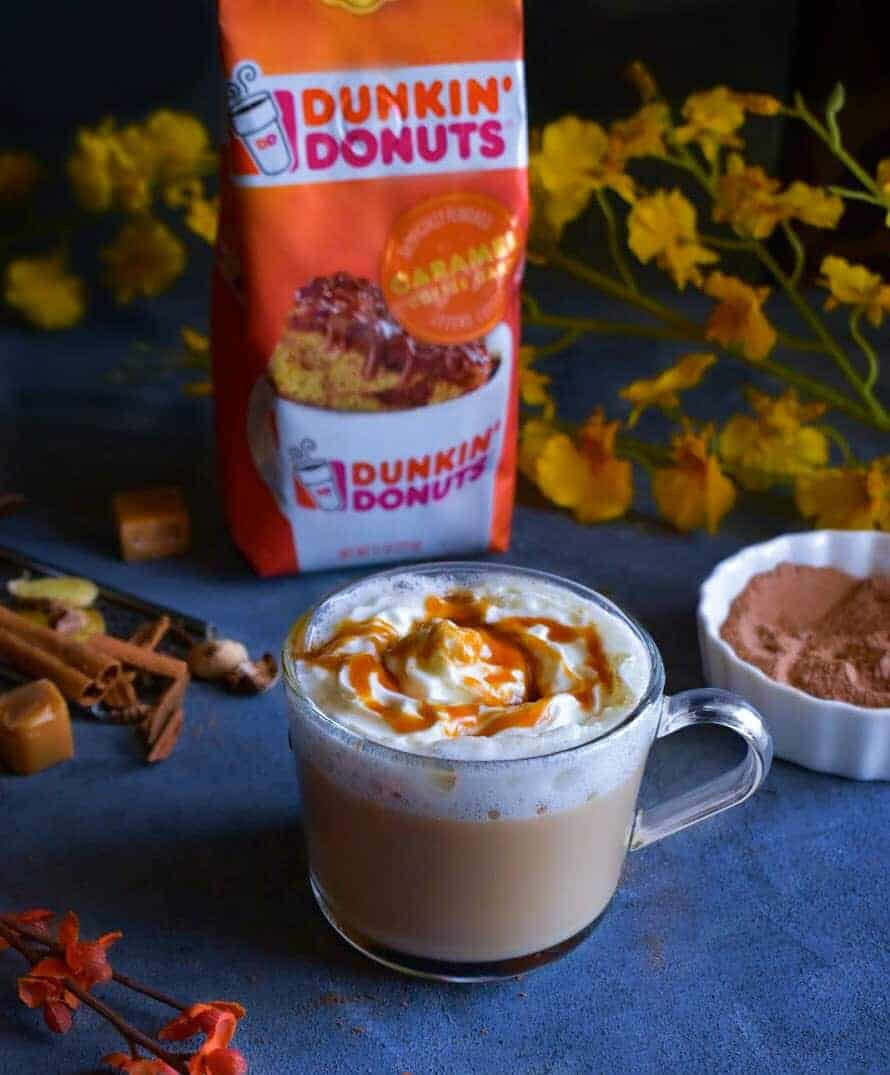 These Spiced Caramel Coffee Latte are so easy to make that they make for a perfect drink to make for a small to large gathering too.
Perfect for date night or just a casual 'Night-In' with your favorite friends 🙂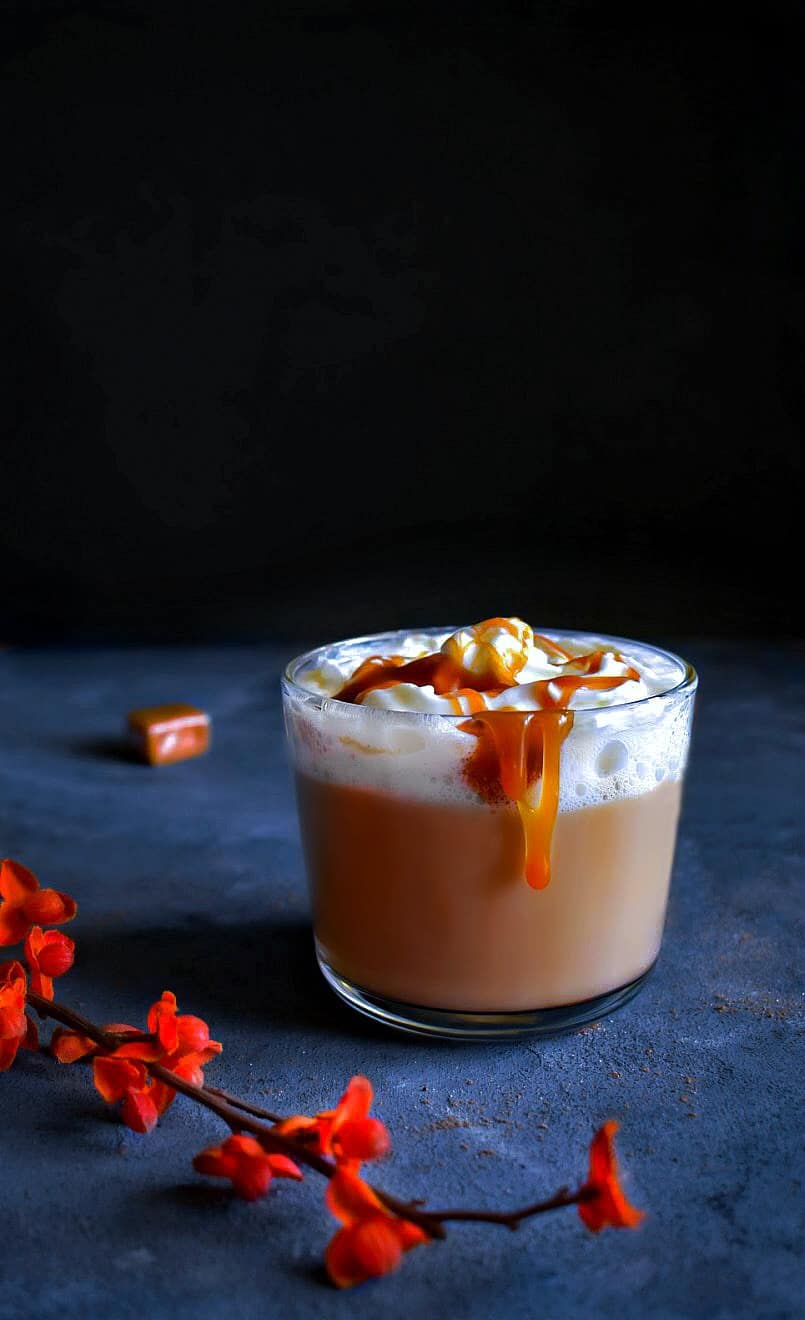 So go ahead, make the most of this winter season and enjoy every bit of it with these Spiced Caramel Coffee Latte along with your loved ones.
:: You May Also Like ::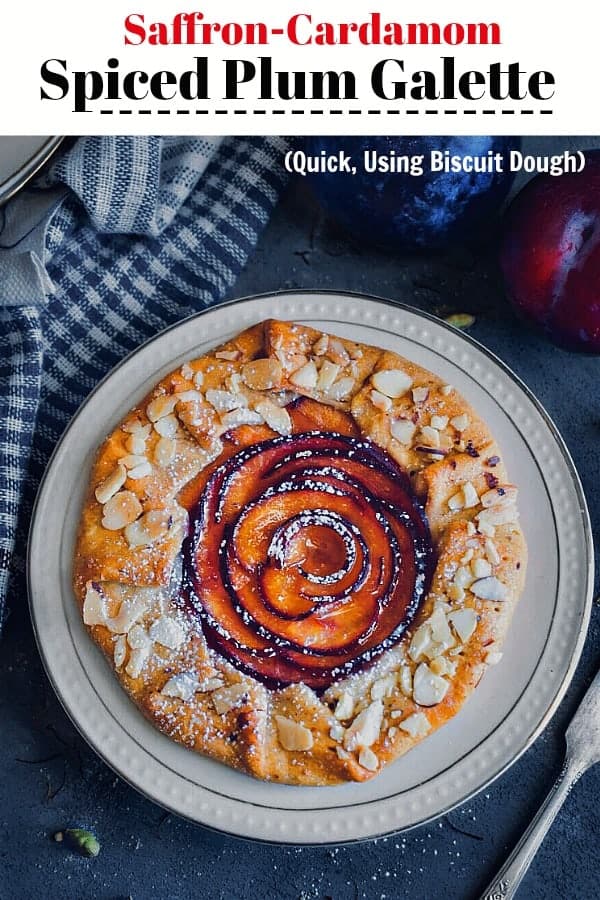 ---
Tried Our Recipe – AWESOME!!!
Now Quickly SNAP A PICTURE & TAG :
#easycookingwithmolly + @easycookingwithmolly on Instagram –>
Connect with Me Here: Facebook / Pinterest / Instagram
Yield: 2 People
Spiced Caramel Coffee Latte Recipe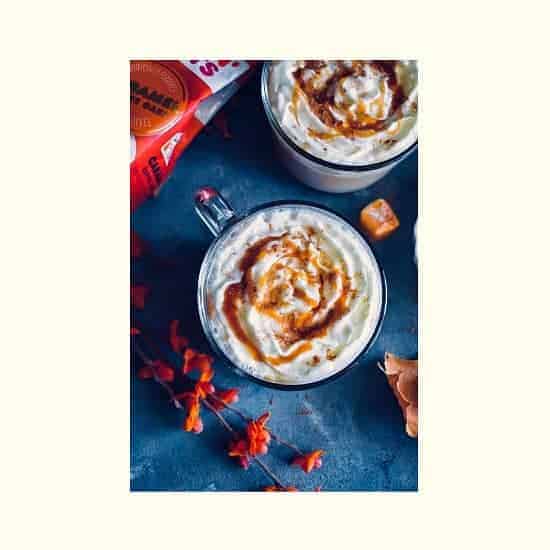 Easy to make barista-style Spiced Caramel Coffee Latte coffee at home with a hint of spice is everything you need this winter season.
Ingredients
1 Cup Dunkin Donuts Coffee
1 Cup Milk - use any variety or vegan options
1 Tbsp Caramel Sauce - store bought or homemade
For Spice Mix: (This spice mix is for 6 cups)
1 Tsp Cinnamon Powder
1/4 Tsp Clove Powder
1/4 Tsp Nutmeg Powder
1/2 Tsp Ginger Powder
Instructions
In a bowl, whisk the spices and keep aside.
Make coffee as per instructions in your coffee machine/stovetop percolator.
Heat the milk on stovetop or microwave.
Now, fill half the cup with coffee, 1/4 Tsp spice mix, milk and whisk (use battery whisk or fork).
Top with whipped cream and pinch of spice mix.
Finally, add some caramel sauce on top.
Similarly, make another cup and serve hot.
Nutrition Information:
Serving Size:
2
Amount Per Serving:
Calories:

85
Sodium:

9mg
Carbohydrates:

18g
Protein:

3g