"This post is sponsored by Clover Sonoma. All Opinions as always are my own"
No-Bake Raspberry Yogurt Granola Tart: this lightened up, no-cook tart is bursting with delicious summer flavors and makes for a PERFECT Back to School recipe.
Hey Everyone, with 'back-to-school' already upon us and with literally no time to spare, these No-Bake Raspberry Yogurt Granola Tart is a life saver.
They are what I call 'Multi-Level' recipe in our food world. It can be served as breakfast, snack or even dessert for the whole family.
You'll know my love for yogurt and when I recently tried yogurt from Clover Sonoma, I was literally blown away!!!
Seriously, I have been having yogurt from ever since I can remember things but their variety and the distinctive creamy taste just turned me into an Instant Fan.
Before, we discuss the No-Bake Raspberry Yogurt Granola Tart (which is so super easy), let's talk a little about What Clover Sonoma is?
Its a local family owned and operated the dairy company from Petaluma, CA (45 minutes north of SF in Sonoma County). 
It's a 100 years old company (est. 1916) and they passionately support animal welfare, sustainable business practice, and the local community. 
They are the First dairies in the U.S. to say no to Monsanto and the use of the rSBT hormone.
They are also the First dairy in the U.S. to become American Humane Certified for the humane treatment of our cows.
And I'm sure, just like me, it's truly important for you to know a little about the products we use.
Now, getting back to our No-Bake Raspberry Yogurt Granola Tart, the ingredients are super simple and easily available in local grocery stores near you.
The tart can be made and consumed instantly but I would recommend chilling the 'Granola Cups' for firmer and better hold.
Now the fun part about this recipe is that it's literally 'No-Bake' and 'No-Cook'! All you have to do is make the granola cups/tart and that's it.
Rest is all about layering, adding the raspberries and favorite toppings!!! Yup, it cannot get easier and delicious than this.
Next Few Pictures are detailing 'How We Made the Granola Tart/Cups':
So once the granola tart base is ready, I placed them into the fridge for 15 minutes along with the yogurt.
Then simply, took the tart out of the plastic wrap and placed it on a flat surface (make sure it's clean).
Topped it with Clover Sonoma Organic Greek Yogurt (Vanilla Bean Flavor), raspberries and some chocolate sprinkles and sauce.
That's it, the No-Bake Raspberry Yogurt Granola Tart is ready and it makes for a Perfect Surprise Back-to-School treat/snack/breakfast or even dessert for the whole family.
I made them for a party at home and it was Super Hit with the kids and adults.
The chilled, creamy yogurt with a sudden burst of raspberry flavors along with chocolate is sure to win any hearts!
So, I would highly recommend you to check Clover Sonoma Yogurt in stores near you and try these No-Bake Raspberry Yogurt Granola Tart ASAP!!!
Also, remember that Clover Sonoma is Newly certified as a B Corporation, which means Clover meets the highest standards of verified social and environmental performance.
Infact, many of you might have already seen Clover's beloved mascot, Clo the Cow on marketing vehicle for the brand through billboards and it's trucks.
:: You May Also Like ::
2 of my Non-Sponsored Similar Category Recipes
---
Tried Our Recipe – AWESOME!!!
Now Quickly SNAP A PICTURE & TAG :
#easycookingwithmolly +  @easycookingwithmolly on Instagram –>
Connect with Me Here:  Facebook / Pinterest / Instagram / Twitter / Subscribe to our Newsletter / Google+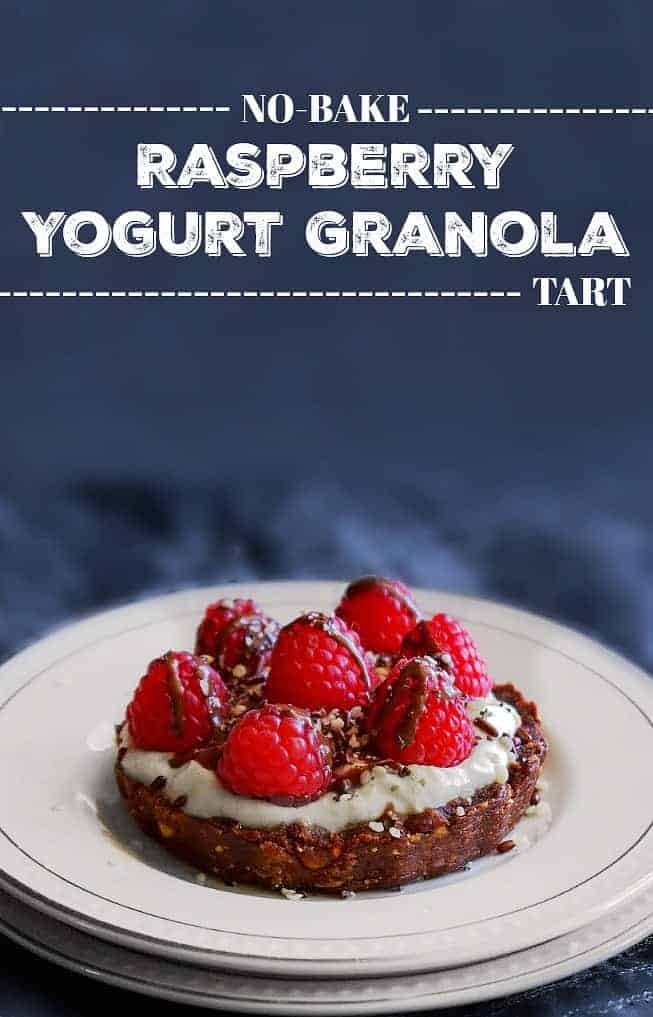 Yield: 6 Tarts
No-Bake Raspberry Yogurt Granola Tart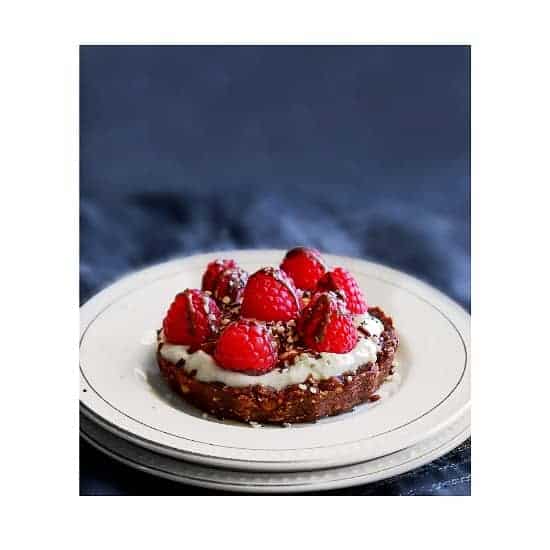 Ingredients
Tart Shell Ingredients:
1 Cup Quick or Rolled Oats
1/4 Cup Chocolate chip - you may use 2Tbsp Cocoa powder too
pinch of salt
1/8 tsp cinnamon
3 tbsp Almond Butter
3 Tbsp Slivered Almond
Tart Topping:
2 Small Cups Clover Greek Yogurt - I'm using Vanilla Bean
1/2 Cup Raspberries - washed and dried
Chocolate Syrup
Chocolate Flakes
Instructions
Cover the tart mold with cling wrap and leave some at the edges that can help pull the tart out (check picture in post).
In a food processor, add all the 'Tart Shell' ingredients and pulse to form a smooth crumbly mixture.
Now take 2-3 tbsp crust mix and press it firmly in the tart molds till 1/3 left in top.
Once the tart mold is firmly pressed, cover it with cling wrap and keep in the fridge for 10 minutes.
Once the shell is set, lift the cling wrap up and remove the tart shell and place on large plate..
Now take the greek yogurt and top it on the shellt.
Add raspberries and drizzle chocolate syrup and sprinkles.
Serve fresh or store in the fridge until needed.
Nutrition Information:
Serving Size:
1
Amount Per Serving:
Calories:

1092
Total Fat:

33g
Saturated Fat:

3g
Sodium:

137mg
Carbohydrates:

141g
Sugar:

57g
Protein:

59g