Soft, fluffy and absolutely delicious pancakes that are topped with chocolate syrup and favorite summer berries. Fluffy Eggless Pancakes recipe can be made 2 Ways (Buttermilk & Yogurt).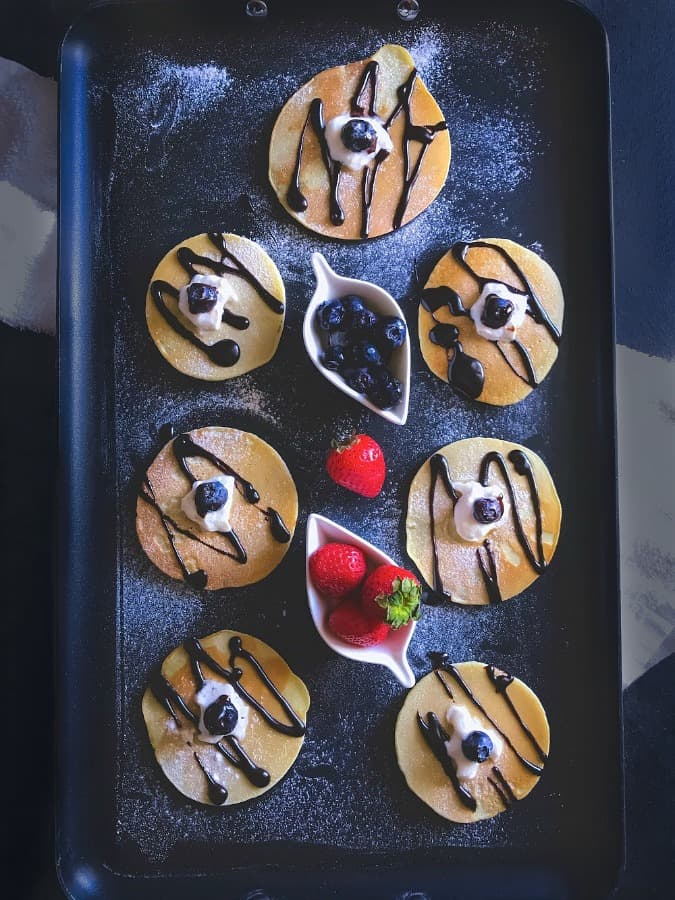 Nothing compares to waking up to the smell of freshly made pancakes and coffee.
It's like a match made in heaven and this r
ecipe
is just the thing you need to bring a huge smile on your beloved's face on a Monday morning 🙂
'Pancakes for Breakfast' works like magic for us on days when we are not gulping smoothies…
I'd say my heart always wishes for a pancake even when I'm drinking my favorite smoothie 😉 and this is my best bet.
Especially when I'm cleaning the fridge or left with no-eggs.
The Ingredients for our Fluffy Eggless Pancakes Recipe:
All-Purpose Flour
Buttermilk or Yogurt, whichever version you are using
Baking Powder + Baking Soda
Sugar
Vanilla Extract
Water
Olive Oil
Fruits & Syrup, for decoration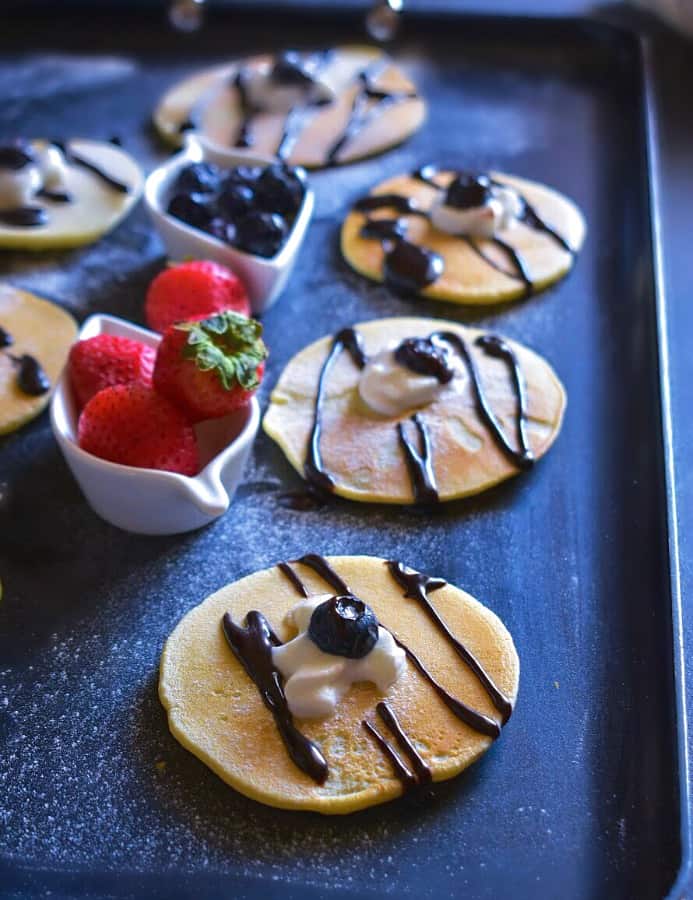 Also, there have been days when we used up all the eggs in some entree or dinner and are left with none the next morning but we want to eat pancakes – you get the point!!
That's exactly when this recipe comes most handy and on occasion when I go 'OFF' eggs/meat for weeks (just a detox).
Also, there are a lot of our friends/family, who don't eat eggs and this recipe is one of their favorite breakfast recipes.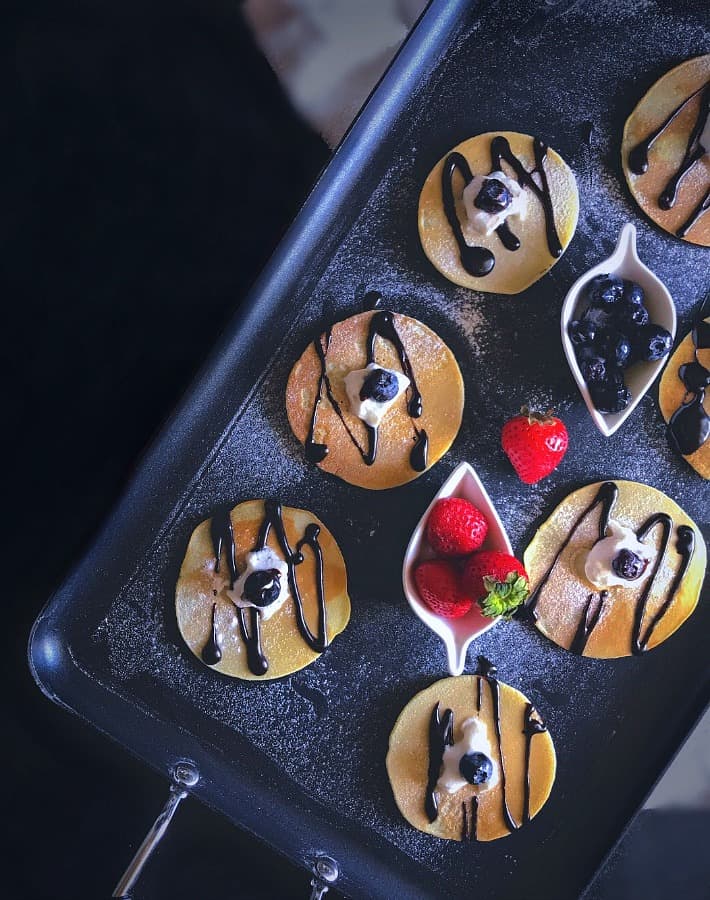 So I decided to make these Fluffy Eggless Pancakes Recipe two ways, 1st using Buttermilk and 2nd using yogurt.
No matter which way you make them, it comes out delicious everytime.
So, definitely try the Fluffy Eggless Pancakes Recipe using these basic kitchen ingredients and enjoy with loved ones.
Tried Our Recipe – AWESOME!!!
Now Quickly SNAP A PICTURE & TAG :
#easycookingwithmolly + @easycookingwithmolly on Instagram –>
Connect with Me Here: Facebook / Pinterest / Instagram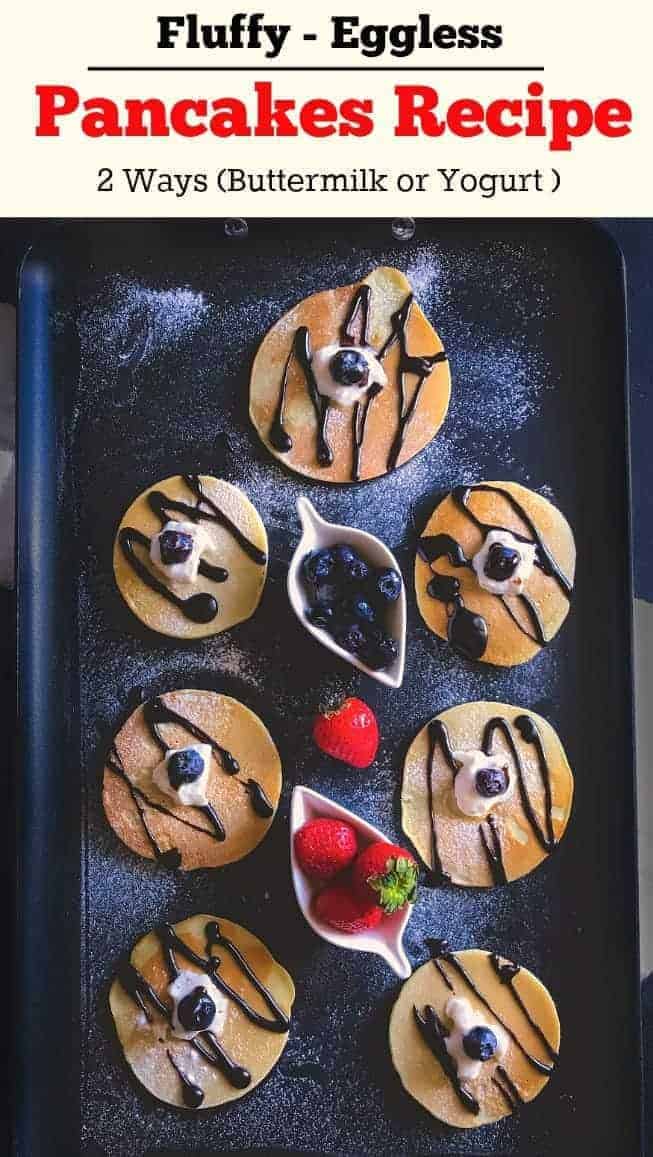 :: You May Also Like ::
Yield: 7 Medium Pancakes
Fluffy Eggless Pancakes Recipe – 2 Ways (Buttermilk & Yogurt)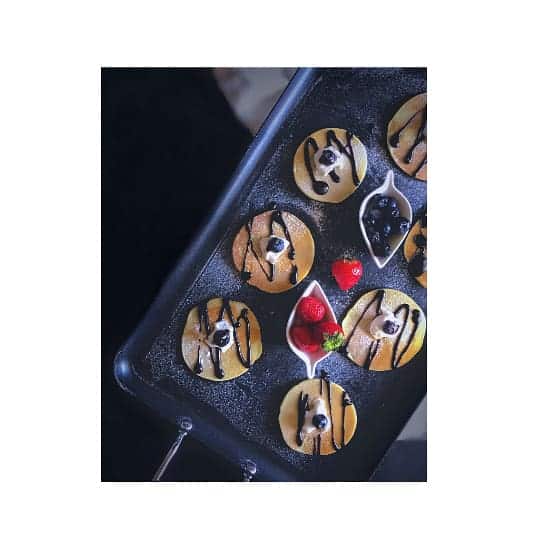 Fluffy Eggless Pancakes Recipe – 2 Ways (Buttermilk & Yogurt)
Ingredients
Eggless Pancakes using ButterMilk:
1 Cup All Purpose Flour
1 Cup ButterMilk
1 Tbsp Water
1 Tsp Salt
1 Tbsp Sugar
1 Tsp Baking Powder
1/4 Tsp Baking Soda
2 Tbsp Butter
1 Tsp Vanilla Essence
————
Eggless Pancakes using Yogurt:
1 Cup All Purpose Flour
2/3 Cup Plain Yogurt - thick or greek yogurt
1/3 cup Milk
2 Tbsp Water
1/2 tsp Baking Powder
1/2 tsp Baking Soda
1/4 tsp Salt
1 tbsp Sugar
1 tbsp butter, melted and cooled
1 Tsp Vanilla Essence
Instructions
Whichever technique you use, you need to mix liquid ingredients first and then add dry ingredients:
Making the Fluffy Pancake Batter: (using either of the buttermilk or yogurt mixes):
Preheat a griddle or small non-stick frying pan or a skillet to medium heat.
In a bowl, mix together the dry ingredients.
In another bowl, whisk together the wet ingredients and gently add the dry ingredients (2-3tsp at a time).
Whisk everything together to form a lump-free batter.
Making the Fluffy Pancakes:
Add oil/spray to the pan, and add one dollop of the pancake batter at the center of the pan.
Spread it in a circle using a ladle (spread more for thin pancakes or less for thick pancakes).
Flip when you see bubbles on the top and cook till the bottom is golden brown.
Similarly, finish making all the pancakes.
Transfer the pancakes on a serving plate, add some fresh berries on top, drizzle with chocolate syrup and sprinkle some powdered sugar.
Serve immediately.
Nutrition Information:
Yield:
7
Serving Size:
2
Amount Per Serving:
Calories:

196
Total Fat:

26g
Saturated Fat:

14g
Cholesterol:

50mg
Sodium:

500mg
Carbohydrates:

70g
Sugar:

25g
Protein:

24g