Spicy and Skinny Cheese Corn Toast: a perfect combination of deliciousness, convenience and health. These toasts are your next FAV recipe for breakfast or anytime quick snack.
These Spicy and Skinny Cheese Corn Toast have been on my mind to share here for quite a long time now and I was finally able to catch some pictures for you'll (as they disappear magically even before I could take out my camera).
Yesterday, was SuperBowl Sunday here in USA, in other words, it's a whole day of game, food, and drinks!!
And these toasts were my addition to a SuperBowl party hosted at our friend's place.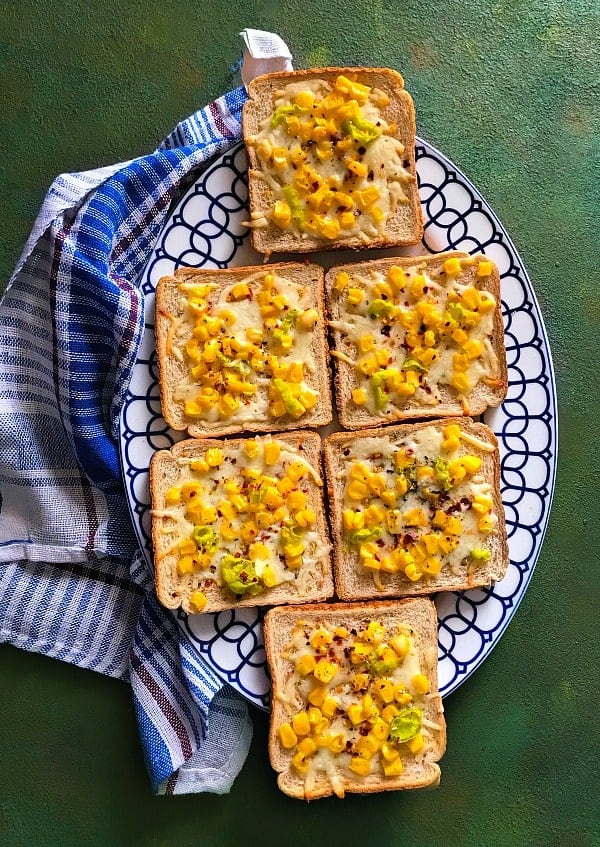 Since everyone was getting mostly fried or heavy food, I wanted to keep it simple and light.
So I made these Spicy and Skinny Cheese Corn Toast which is usually a family favorite recipe for our weekend brunch/breakfast.
I kept the toppings extremely simple and light, like extra skim mozzarella, frozen sweet corn kernels and some banana peppers.
Finally added some crushed peppers and Italian seasoning and these corn toasts were baked for 10 minutes. I literally baked 10 slices at one go, making it extremely easy to prepare for a crowd.
However, I would suggest one important thing and that is you can prep them 1-2 hrs before but bake them just 10-15 minutes before serving.
So I actually prepped the bread with toppings and loaded everything in 3 large baking trays.
Simply cling wrapped everything and took it to our friend's place. Then we baked it 10 minutes before the game started.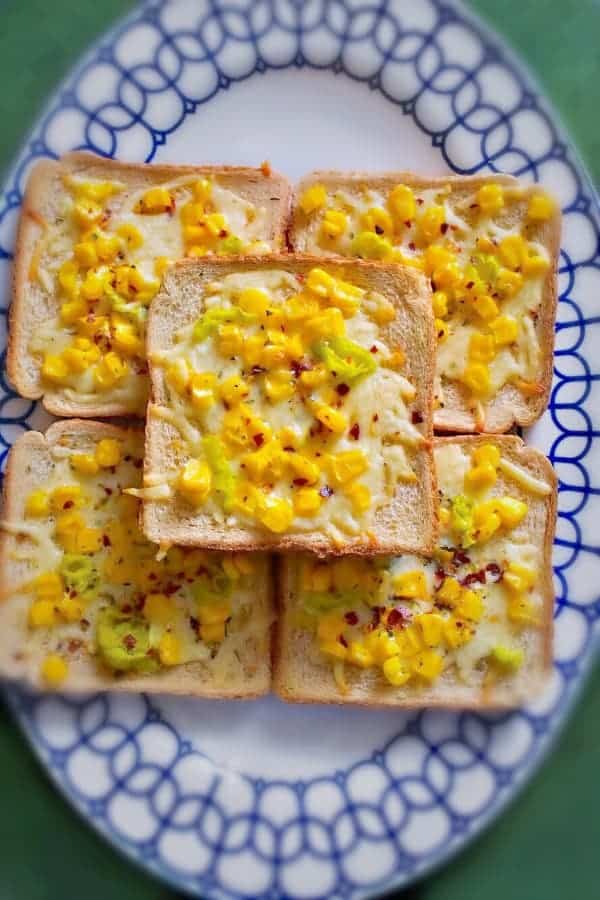 Not only were they light and crispy but a favorite among men as they tasted PERFECT with a chilled beer. I guess the combination of spiciness, corn, and beer is one made for each other.
:: You May Also Like ::
---
As always, I Looove when you try my recipes and send me pictures & feedback. You can tag my recipes tried by you using #easycookingwithmolly on any of the social media below:
Connect with Me Here:  Facebook / Pinterest / Instagram / Twitter / Subscribe to our Newsletter / Google+
Yield: 10 toasts
Spicy and Skinny Cheese Corn Toast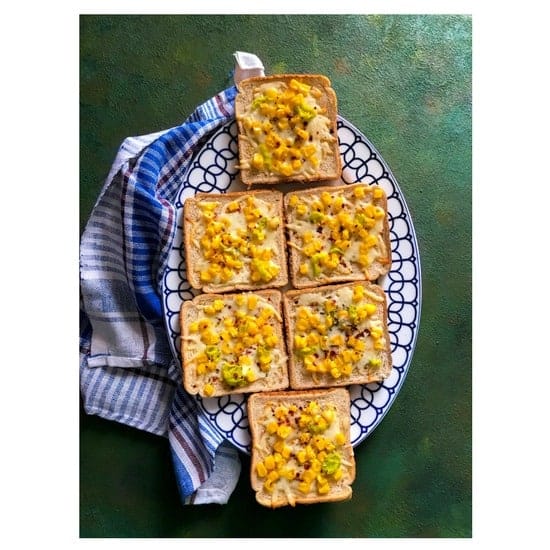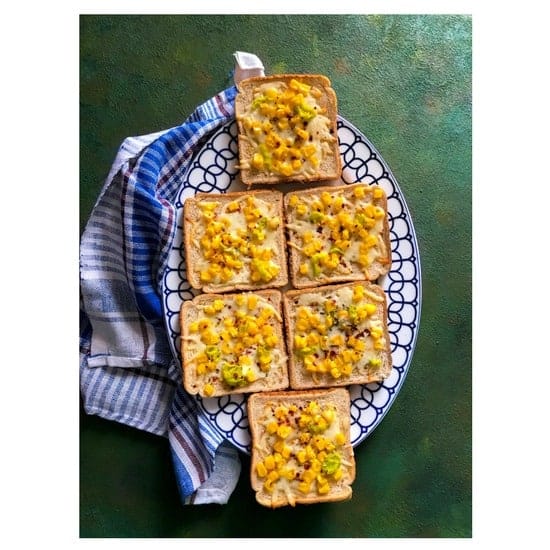 Ingredients
1 Cup Frozen Sweet Corn Kernels - thawed
2 Cups Skim Milk Mozzarella Cheese - shredded
10 Bread Slices - use any kind you like
3 Banana Peppers - chopped (you may use jalapeno too)
1/2 Tsp Red Chilli flakes
1 Tsp Italian Seasoning
Salt to Taste
Oil Spray
Instructions
Preheat oven at 200F
?Place the bread slices on baking tray.
Spray each slices with little oil spray (help toast it better)
Add mozzarella on each slice (add as per your taste).
Now add thawed sweet corn on each slice.
Sprinkle some banana peppers on each slice.
Now sprinkle red chili flakes and Italian seasoning.
Bake for 10 minutes at 200F.
Once baked, transfer to serving dish and serve immediately.
You may add sauce/ketchup as per choice.
Nutrition Information
Serving Size
1
Amount Per Serving
Calories

1561
Total Fat

55g
Saturated Fat

28g
Cholesterol

145mg
Sodium

2930mg
Carbohydrates

185g
Sugar

24g
Protein

83g