Skinny Rosewater Pomegranate Champagne Cocktail: this gorgeous cocktail recipe is a combination of tart-sweet flavor mixed with chilled bubbly. A perfect addition to your Valentines Day or Date Night.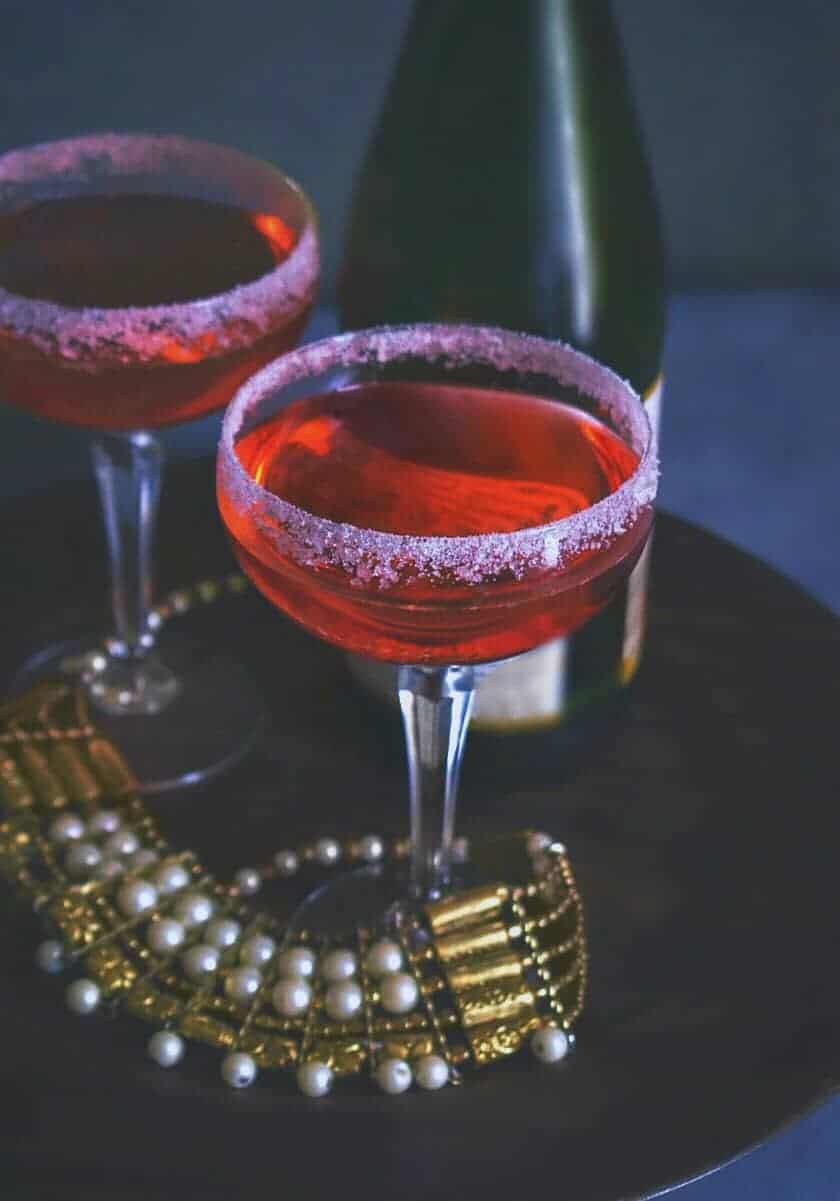 Valentines is right around the corner and I'm going to surprise my Hon with this special and totally delicious 2-minutes Skinny Rosewater Pomegranate Champagne Cocktail!
Now he is a man with a liking for single malt whiskey or beer and I loooove cocktails but, we both love tart/lemony flavor drinks, so a sweet-tart cocktail is where we meet in-between 😉
And since we both love trying new style or flavor of cocktails, this is a perfect choice – Sweet-tart-slightly flowery, Perfect for Valentines!
Also, this drink keeps me on track with my 'Healthier Eat' philosophy … I mean I try to cut sugar wherever I can and rather would enjoy that creamy dessert once in a while.
We also recently bought a new cocktail bar set and I had been itching to use it in a new recipe.
So this cocktail was meant to be and what better occasion than the Valentines to celebrate love with these Skinny Rosewater Pomegranate Champagne Cocktail.
Now, I'm sure you must have had pomegranate cocktails before and would be wondering what's new?
First, this is the skinny version (no sugar syrups involved) and I'll discuss in details below.
Second, YOU HAVE to try this combination of Rose with Pomegranate – they are Made for Each Other !!! (Seriously Try it)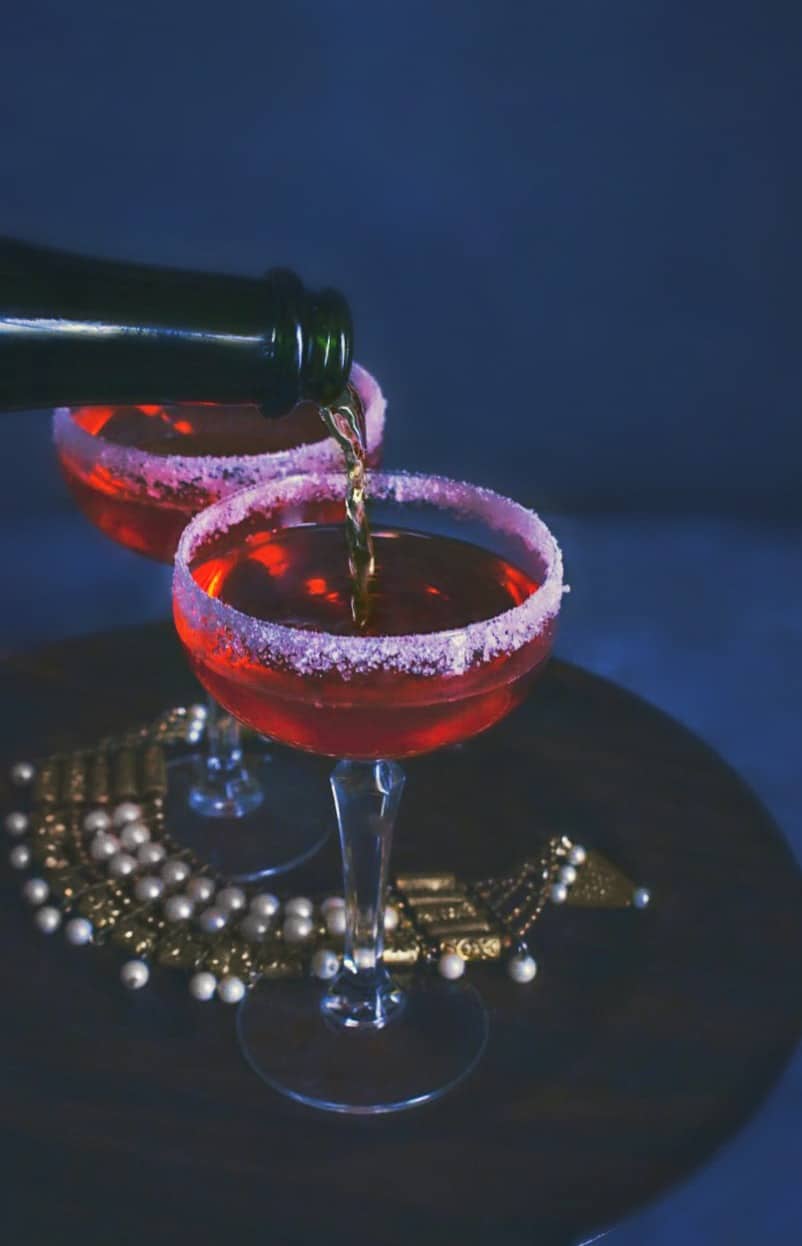 For me, cocktail making is so therapeutic that at times, I literally end up making so many glasses and variations that we've to call friends for an impromptu 'drink and pizza party' ….
Which my friends say is a Total Win-Win situation for us all (wink, wink & wink).
But this one is special – the red color is completely gorgeous and the taste is absolutely divine.
The Skinny Rosewater Pomegranate Champagne Cocktail fits so smoothly in your special celebration of love that you'd wonder what you drank before.
Tips to Make the Skinny Rosewater Pomegranate Champagne Cocktail :
————— Rosewater —————
It's extremely easily found in many big retail stores (check the cocktail mix aisle).
It's also easily found in any Indian/Middle Eastern stores as its an essential ingredient in many desserts.
Substitute – use a not so expensive 'Rose Wine'
————— Pomegranate —————
I'm using an all natural Pomegranate drink that's just 5 calories per serving and has no added sugar, that's what makes it skinny.
Most store-bought juices have sugar and if you're trying to avoid it (especially if you're eyeing that dessert on Valentines), this is a great option (mentioned in ingredient).
You could use homemade pomegranate juice too (if handy), just add some water to thin it a little.
Substitute – you can use any pomegranate juice in the market but check the sugar/calorie content.
————— Champagne —————
This is the fun part and you can go with any choice of champagne.
Substitute – you can use any sparkling wine/bubbly
So go ahead and try this Skinny Rosewater Pomegranate Champagne Cocktail and make it a part of your Valentines or other celebrations.
This cocktail pairs well with any kind of cuisine you plan to have along with it but it tastes amazing with sizzler or something spice 🙂
The sweet-tart flavors really compliment your spicy dishes and a perfect occasion to spice up things a little 😉
Stay Tuned for another Valentines Recipe Coming Soon & Check these out Too :
---
DID YOU TRY MY RECIPE – AWESOME!!!
Now Quickly SNAP A PICTURE & TAG :
#easycookingwithmolly +@easycookingwithmolly on Instagram –> As I Loooove to see you recreate my recipes.
Connect with Me Here: Facebook / Pinterest / Instagram / Twitter / Subscribe to our Newsletter / Google+
---

Yield: 3 Glasses
Skinny Rosewater Pomegranate Champagne Cocktail
Ingredients
1/2 Bottle Light Pomegranate Juice (2 oz) - I'm using Bai Ipanema Pomegranate*
1/2 Bottle Champagne (3 oz) - chilled **
1 Tbsp RoseWater - any brand ***
1 Tbsp Pure Lemon Juice - optional
2 Tbsp Glass Rimming Sugar-Salty Mix - optional
Instructions
Rim the champagne glasses (optional).
In a cocktail shaker, add pomegranate juice, lemon juice, rosewater and shake to mix everything.
Pour this mix into the champagne glasses.
Pour champagne over it and serve immediately.
Notes
* Bai Ipanema Pomegranate - is all natural and extremely light. Just 5 calorie / serving. you can use any light juice/ pomegranate infused drink with less calorie
** Champagne - if you want, you can substitute with any bubbly or sparkling wine.
*** RoseWater - if not available, use rose wine
Nutrition Information
Serving Size
1
Amount Per Serving
Calories

64
Sodium

5mg
Carbohydrates

16g