This post was sponsored by Eat Smart as part of an Influencer Activation for Influence Central and all opinions expressed in my post are my own.
Easily Achieve Health and Wellness Goal with Eat Smart: 'Health is Wealth' and today I'm going to help you find ways to get one step closer to your health and wellness goals.
To me, there is nothing more important than my family and friend's health and I strongly believe that everyone can 'Easily Achieve Health and Wellness Goal with Eat Smart'.
I also strongly believe that 'health and wellness' is not something that can be achieved in a day but we have to work constantly to achieve it. And just like mom says, the first step starts with eating our veggies and fruits daily.
Which I'd love to do but with work and other responsibilities, sometimes eating healthy goes to the back burner or I'd say, it just skips. But then everytime I grab for a sugary-salty quick snack, my heart sighs and wishes that I'd rather be eating something healthy.
That's exactly 'How' I came across these ' Eat Smart ' salads. I finally had enough of skipping a meal or eating too much snack and I needed to put something good in my system that I feel happy and healthy about. But at the same time, I wanted something that's ready to go (especially for him or busy days), delicious or easy to use with clean labels and 'Eat Smart' fits right in.
It's the first brand within its category to commit to clean ingredients and labeling, with plans for all products to contain a "100% Clean Label" by the end of 2018.
What is means for us is that their products will be free from high fructose corn syrup, artificial preservatives, hydrogenated fats, as well as artificial colors, flavors, and sweeteners by the end of next year.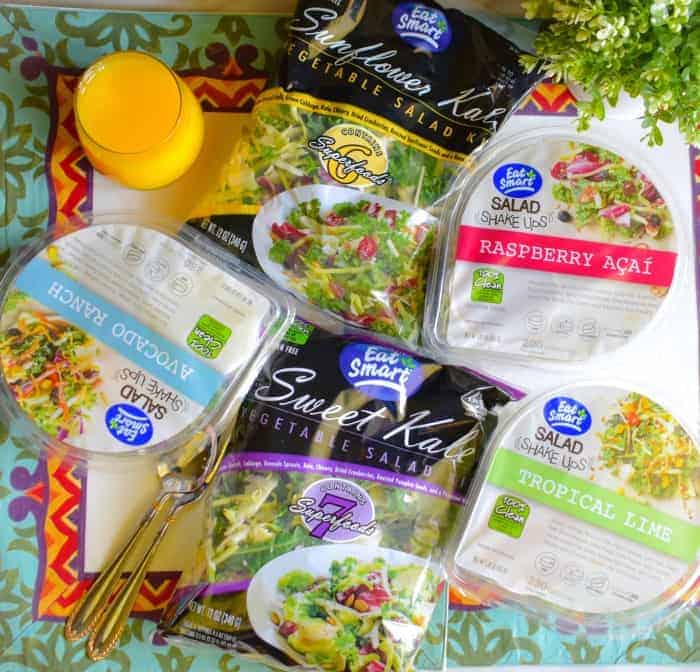 What's even more interesting is that they have a wide variety to choose from like their 'Gourmet Salad Kits or Salad Shake Ups' which comes in varies flavors (different veggies, dressing and add-ons seeds).
To me, that's really important because we do like to have variety to choose from as healthy eating doesn't have to be limited to just one kind of food.
Here are some varieties of salad's that they offer:
Gourmet Salad Kits
These chef-inspired salad kits offer sophisticated blends of six or more superfoods and are perfect for those looking for innovative, convenient, and healthy eating options that are easy to integrate into busy lives
The following flavors currently contain a 100% Clean Label. No Artificial Colors, Flavors, Or Preservatives:

Sweet Kale
Strawberry Harvest
Sunflower Kale
Salad Shake Ups
Salad Shake Ups feature a unique lockable lid for easy mixing, and a sturdy and deep bowl, making it the perfect way to enjoy your superfood on the go.
With no artificial colors, flavors, or preservatives, these nutrient-packed salads contain the Clean Label and are available in three flavors:

Avocado Ranch, a crunchy blend of cabbages and vegetables, crispy toppings, and a creamy avocado ranch dressing
Tropical Lime, vegetables and dried fruits blended with a creamy coconut lime chili dressing
Raspberry Acai, vegetables and dried fruits with a variety of seeds (hemp, flax, and chia) and a tangy raspberry acai dressing
That' definitely a lot of variety to choose from and I finally chose the 'Sunflower Kale' as the first salad to try. It came in an easy to carry packing and all the add-ons (dressing and seeds) were separately packed inside the packet.
Now, I love kale and when you offer me that along with 6 other Superfood included, it's definitely going to become my new favorite goto option. It comes with a honey dijon mustard dressing.
Now, eating healthy doesn't get easier than this and it's all clean label. Also, a lot of times I tend to skip lunch or it gets too late due to work or running errands that I don't get time to eat but then I end up munching on mostly loaded sugar or salty snacks as they are ready to eat.
But since I've started keeping these salad kits, things are much easier and I even carry them along with me when I step outside. They easily fit a large office bag or even our big handbag.

So definitely give the Eat Smart salad a try and you can even sign up for their informative newsletter by clicking the logo below:
Connect with Me Here: Facebook / Pinterest / Instagram