This shop has been compensated by Collective Bias, Inc. and its advertiser. All opinions are mine alone. #YesYouCAN #CollectiveBias
Sweet Spicy Chicken Meatballs with Cranberries: is a juicy, flavorful recipe perfect for your holiday feasts. They can be made in advance. Serve them as an appetizer or an entree as they are multi-purpose.
Hey Everyone, Hope you'll are doing good!
I really hope you must have read my previous post about starting a 'Holiday Series Food Recipes' feature from this week to Christmas.
It's where I'll share some of my most favorite recipes, along with our popular fusion recipes that are crowd pleasers and that have been made numerous times.
(that goes true with any recipe that's posted on my site – It's definitely passed some real stringy-fussy-over-the-moon kinda taste test!)
Ingredients for the Sweet-Spicy Chicken Meatballs with Cranberries:
Ground Meat, I'm using chicken
Cranberries, fresh or frozen
Tomatoes
Onion
Ginger+Garlic
Seasoning: soy sauce, salt, pepper, and Italian seasoning
Breadcrumbs
Eggs
Before, we go further, here's a very important question – Who Loves Meatballs?
Especially those juicy, cute lil ones that you can't just stop gorging upon…I do see some heads nodding in a big bright 'yes' 🙂
Well, I love them too and at our place, we must have tried 10-15 different varieties that were all homemade.
It's like a goto comfort food which serves two purposes, easy to make and can be made beforehand.
How to Make the Sweet-Spicy Chicken Meatballs with Cranberries:
You can serve them as appetizer or entree or just nosh on it like I did while making them – Lol.
While our weekend grocery/shopping & quick stopover at Walmart, I picked up some Hunt's Tomatoes, RO*TEL, MANWICH and couple of cans of PAM cooking spray –
I mean I always love to stock my kitchen pantry with these products as they taste delicious and also saves you a lot of time (cutting/chopping/prepping).
Just open the can, add and move on with the recipe. I mean it happens so many times with me, that I've spent more time prepping for the recipe than actually cooking it.
And especially, during holiday's when we are so pressed on time, these cans are such a boon ….
Oh by the way, did you know PAM actually came out with a 'Coconut Oil' cooking spray too! Isn't it fantastic – the more the merrier!
That remind's me, I wanted to share a quick tip with you'll, especially when sauteing or frying food
: TIP :
If you spray the pan lightly before adding the oil (required for the recipe), the food cooks much more evenly and doesn't stick or crumble…this is especially handy if making fish.
Now, coming back to our delicious recipe, it's really easy, just get any choice of ground meat, mix egg, breadcrumbs, seasoning, cranberries, oil.
Then comes the fun part, add some MANWICH into the mixture and form balls, fry and then make the special cranberry sauce (recipe given below).
Mix everything together and serve as per the choice of appetizer or entree.
If serving as an entree, you can pair it with rice/bread/spaghetti or even burger buns.
As I mentioned earlier, this is a very versatile recipe that can also be made in advance and frozen up to 2 weeks.
Before we dive into the recipe details, here's a picture of where (Walmart Aisle) you can find the products.
Also do visit the Yes You Can link for more fun Holiday recipes.

This recipe can be easily made gluten-free, by adding gluten-free breadcrumbs
You May Like: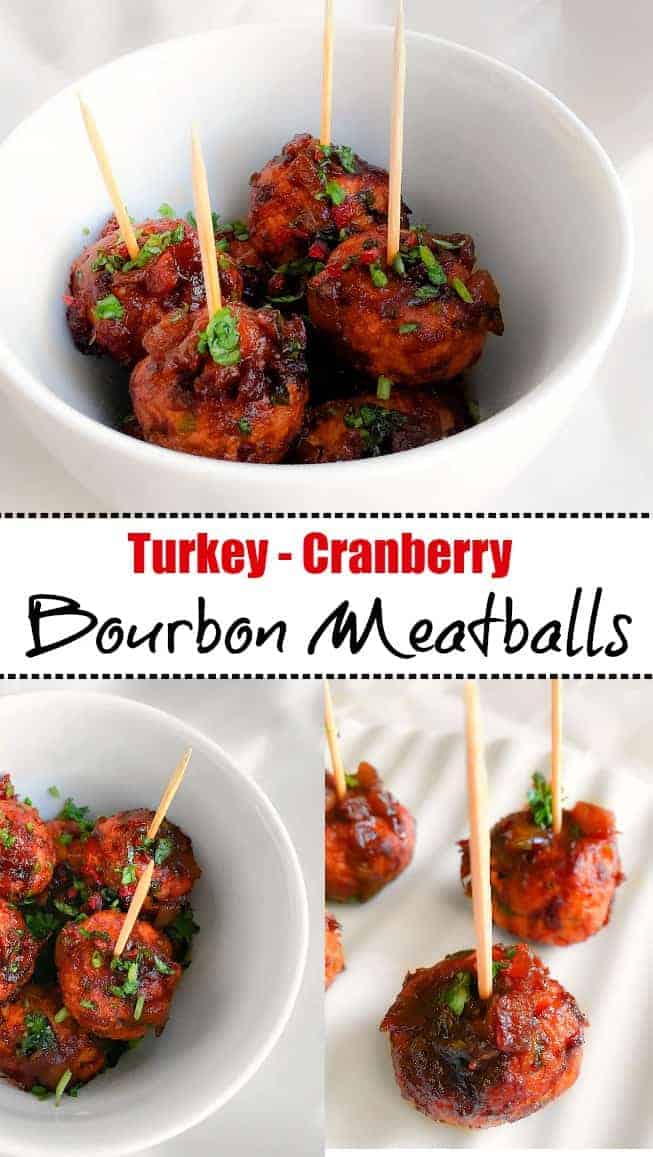 ---
Tried Our Recipe – AWESOME!!!
Now Quickly SNAP A PICTURE & TAG :
#easycookingwithmolly + @easycookingwithmolly on Instagram –>
Connect with Me Here: Facebook / Pinterest / Instagram
Yield: 4 People
Sweet Spicy Chicken Meatballs with Cranberries
Sweet Spicy Chicken Meatballs with Cranberries is a juicy, flavorful recipe perfect for your holiday feasts. They can be made in advance. Serve them as an appetizer or an entree as they are multi-purpose. 
Ingredients
1/2 Can Hunt's Diced Tomato
1/2 Can RO*TEL - I'm using tomato + green chili option
5 Tbsp MANWICH - any kind you like (I brough original flavor)
1 Can Pam Cooking Spray
1lb Ground Chicken - you can use any meat of choice
1 Egg
1/2 Cup Breadcrumbs*
1 Large Onion - thinly chopped
1 Tsp Fresh Ginger + Garlic - mashed or grated
5 Tbsp Dried Cranberries - chopped
Cilantro for Garnish
3 Tbsp Oil
** For the Sauce **
1 Cup Soy Sauce
2 Tbsp Honey - use sweetener of choice
2 Tbsp Hot Sauce - use as per choice
Salt - as per choice
1/2 Tsp Pepper
Instructions
In a large bowl, add ground meat, MANWICH, breadcrumbs, egg, 2 tbsp cranberries and mix evenly to form a smooth dough.
Make 15-20 balls (depending on the size you want to make) and then keep aside.
Take a large non-stick pan, spray with PAM cooking spray and then add 1 tbsp oil (let it heat for a minute).
Now, add the meatballs and evenly cook on both sides (it takes 2 minutes to cook 6-7 balls over medium heat).
Follow the step above till all meatballs are cooked and place the cooked meatballs separately.
In the same pan, spray with cooking spray and add the remaining oil.
Now add chopped onion and saute till golden brown.
Add Hunt's diced tomatoes and RO*TEL tomatoes, saute and cook covered over low heat for 3 minutes (or till tomatoes start leaving water on the edges).
Once, the tomatoes are slightly cooked, add all the sauce ingredients, remaining cranberries and cook covered for 3-4 minutes over low heat.
Now, add cooked meatballs and saute everything together for 2 minutes.
If you are serving it as an appetizer, then switch off the heat, transfer to a serving bowl, decorate with some fresh cranberries and serve.
If serving as an entree, you can add 1 cup of water for some sauce and let cook for another 2-3 minutes. Then serve with choice of sides.
Nutrition Information:
Yield:
4
Serving Size:
4
Amount Per Serving:
Calories:

500
Total Fat:

38g
Saturated Fat:

9g
Trans Fat:

0g
Unsaturated Fat:

24g
Cholesterol:

219mg
Sodium:

800mg
Carbohydrates:

48g
Fiber:

4g
Sugar:

25g
Protein:

53g