Mexican Rice with Beans Using Brown Rice: Absolutely quick & flavorful Mexican Rice using beans, brown rice and Mexican seasoning.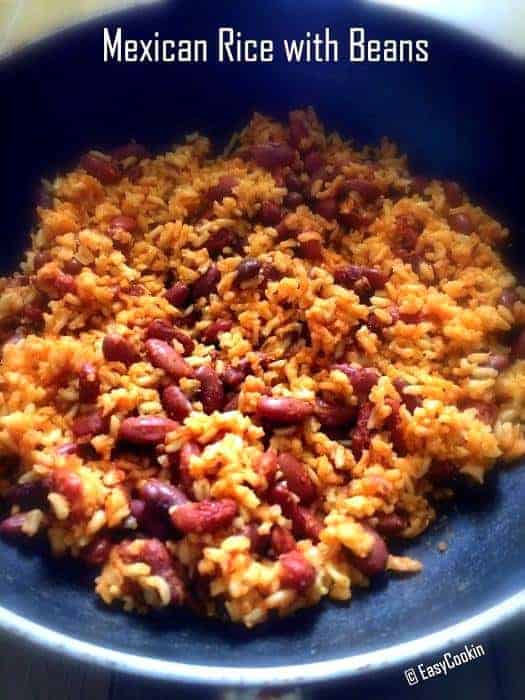 Winter is a season where your food cravings/taste buds just go on a twist or toss…..I mean with so many holidays and best of the holiday treats the food choices are endless.
So continuing our holiday food spree, Today I wanted to share with you all a very healthy, quick and flavor-packed recipe of Mexican Rice with Beans Using Brown Rice.
It's made using healthy veggies along with rice, seasoning and any kind of broth (vegetable/chicken). And to give it an extra spark, you can add some tabasco sauce and Taco seasoning but as said, it's completely optional.
I know a lot of us LOVE to eat rice ….. it's like a top-level comfort food dish (any variety) but because of some restrictions, we hardly eat it regularly ….. some of us are watching carbs or white food intake.
Hence, whenever I get a chance, I try to incorporate brown rice into a regular (white rice) dish …. Now the main challenge with such recipes is that some of them ONLY taste good in white rice and there's so substitute.
BUT this Mexican Rice with Beans Using Brown Rice is one such exception. The brown rice lightly sauteed with Mexican seasoning and beans makes for a complete #comfortfood recipe with a healthy twist.
It tastes absolutely yummy and I guarantee you won't miss the white rice here and we can eat it more often.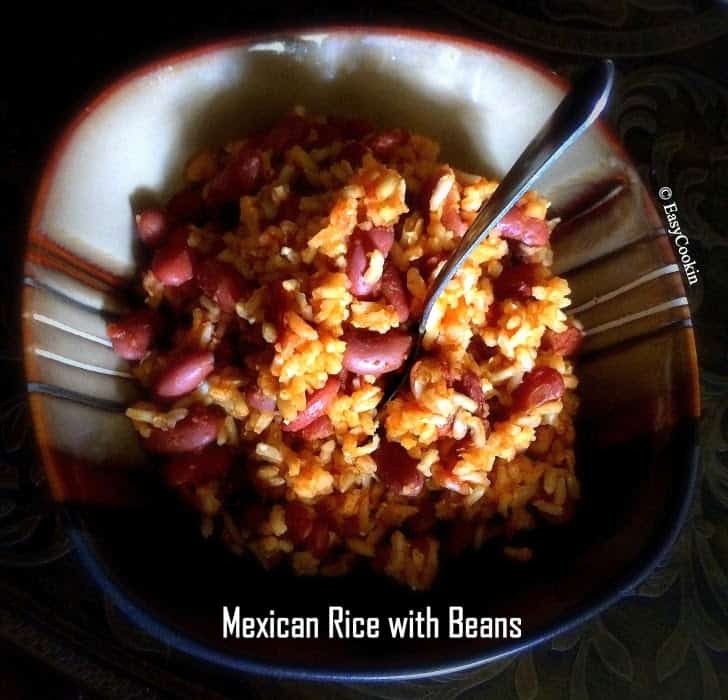 Go Ahead and Try this Recipe for a Quick, Delicious & Healthy Meal.

Mexican Rice with Beans

Serves: 4 People

Serving Suggestion: Serve as an entree or as a side.
Tools:
Large Pot – To cook the rice
Large Spoon/Spatula – For sauteing and stirring
Large Fork
Serving Plates/Bowl
:: INGREDIENTS ::
2 Cups Brown Rice –You can use any long grain rice
1 Cup Boiled Red Beans – You can use canned beans too(Just drain water)
½ Cup Onion – Finely Chopped
1 Can Tomato Sauce – You can use fresh or canned tomato
3 Cloves Garlic – Finely Chopped
1 Jalapeño – Finely Chopped
1 Chicken Bullion – You may use veggie bullion/homemade broth/water as per convenience
3 Cups Water – You can "Omit" this if using broth.
Juice of One Lemon
3 Tbsp Olive Oil – Any Flavorless oil
:: Spices ::
2 Tsp Salt (As per taste)
1 Tsp Red Chili Powder
¼ Tsp Crushed Black Pepper
1 Tsp Mexican Seasoning  – For some extra flavor.
1 Tbsp Tabasco Sauce – You can use any pepper based light texture sauce like Tapato/Cholula/Etc


:: METHOD ::
In a large pot, heat oil for a minute.
Turn heat to medium, add chopped onion, jalapeño and sauté for a minute(The onions would turn slight brown).
Now, add rice, garlic and sauté for about 3mins (Till rice looks golden caramelized brown).
Add tomato sauce and sauté for another minute.
Now, add seasoning, chicken bullion, beans, water, stir everything and cover the pot for the rice to cook for about 10-15mins.
Once the rice is cooked, sprinkle lemon juice and fluff the rice evenly.
Optional Step – Sprinkle tabasco and taco seasoning on top
Transfer in serving bowls/plates and Serve Hot/Warm.