Chole ki Tikki – Garbanzo Beans Patty
:
An easy peasy appetizer that taste amazing and a healthy snack.
Anything which has "healthy" attached to it, always brings a smile cause even before we eat it, we think of having an extra helping.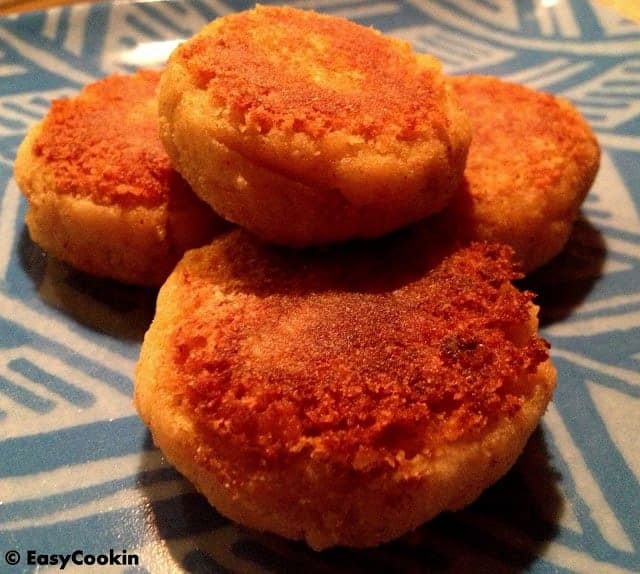 Garbanzo Beans-Yogurt Patty
This Tikki is basically made using two ingredients "Garbanzo" & "Yogurt" (If Vegan, You can use Vegan Yogurt), both have very mild taste but along with the listed ingredients, this turns out to be a very creamy, soft and aromatic flavored tikki.
PS: I so wanted to garnish them with fresh cilantro but they were gone even before reaching the table.


NOTE: *Please do ensure that the yogurt is without any water (hang it for a while in a cheesecloth). This is a key ingredient.
* Also, be little careful while cooking them as they are so tender that they might break.
Chole ki Tikki (Garbanzo Beans Patty)
Serves: 2
Serving Suggestion: Serve as appetizer or along with meal. It can also be used as patty or
tikki for burgers/rolls or as filling.
Tools:
1 Large nonstick pan
1 Large Mixing Bowl
Ingredients:
1 Cup Garbanzo Beans (Chole) – Boiled
½ Cup Yogurt (If Vegan, Please use Vegan Yogurt)
1 Tsp Ginger Paste
2 Green Chilies – Diced – Optional
2 Tbsp Flour – You may use any flour that is available.
3 Tbsp Oil – U can use any oil
Powdered Spices:
1 Tsp Coriander Powder (Dhania)
1 Tsp Mango Powder (Amchur)
½ Tsp Garam Masala
½ Tsp Red Chili Powder
1 Tsp Salt (As per your taste)
Method:
In a mixing bowl, add all the listed ingredients except oil and mash them to form a dough like
consistency.
Divide the dough into equal round balls and form into desired shape of a patty/tikki. (Makes approx 8 big tikki's)
Heat the nonstick pan on high, add 1 Tbsp oil and place 4 tikki's on it.
Lower the heat to medium and let the tikki cook and get evenly brown (Takes about 2-3 minutes each side).
Turn the tikki's to the other side and cook evenly.
Repeat step 4-5 to complete all the tikki's.
Serve Hot.