Homemade Watermelon Juice : It's a healthy juice ready in 2 minutes and is great as detox too.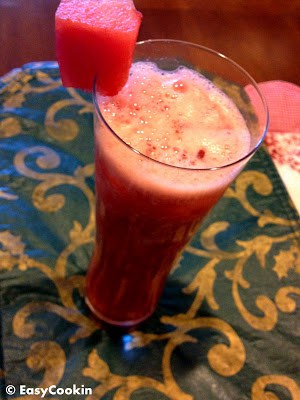 Come summers and the grocery stores are full of summer vegetables and fruits.
And the most sought after fruit here in USA, in summers, is watermelon, infact in the starting of summers we came back empty handed twice in a row over weekend as the stores ran out of it.
But then the 2nd time we didnt give up the quest of a delicious watermelon and drove an extra 2-3miles till we finally got our hands on one.
Although we did get it but got bored eating it 2days in a row as it was a really huge one, so finally it ended up as juice coz we just couldn't throw it 😉 (U know Y)
So here's the recipe for it and it actually reminded me of the street side juice shops we had in Delhi. Especially the ones in CP/local markets/near collages where we used to hang out in the summer evenings and used to have the juicewale bhaiyya put extra spice masala over the drinks :))
Serves: 2
Serving Suggestion: Serve cold


Tools:
Magic Bullet OR Hand Blender with jug
2 Tall Glasses


Ingredients:
1 Cup watermelon – deseeded n cubed (keep 1-2 aside for decoration)
1/4 Cup Ice Cubes
1 Tsp Lemon Juice – Optional
1/2 Tsp Salt
Pinch of Black Pepper Powder
1 Tsp Chat Masala – Optional (available at any Indian grocery store)
Method:
Place all the mentioned Ingredients in a jug and using a hand blender, blend everything together till a smooth n clear juice like consistency is achieved.
Pour into tall glasses decorated with watermelon cube, sprinkle some chat masala and serve chilled.
* Since ours was a very sweet watermelon hence I didnt add any extra sugar in it however if you feel the need, feel free to add sugar/sugar substitute.