Frozen Strawberry Smoothie Breakfast Cup: Protein-packed and extremely easy to make breakfast cups that makes breakfast a dream. They are vegan, glutenfree and easy to carry.
These delicious and everyone's favorite Frozen Strawberry Smoothie Breakfast Cup were part of our Mother's Day brunch at home yesterday and I had to share this easy-peasy recipe with you. These cuties were gone even before everyone sat down for the meal as we couldn't stop nibbling on them !!!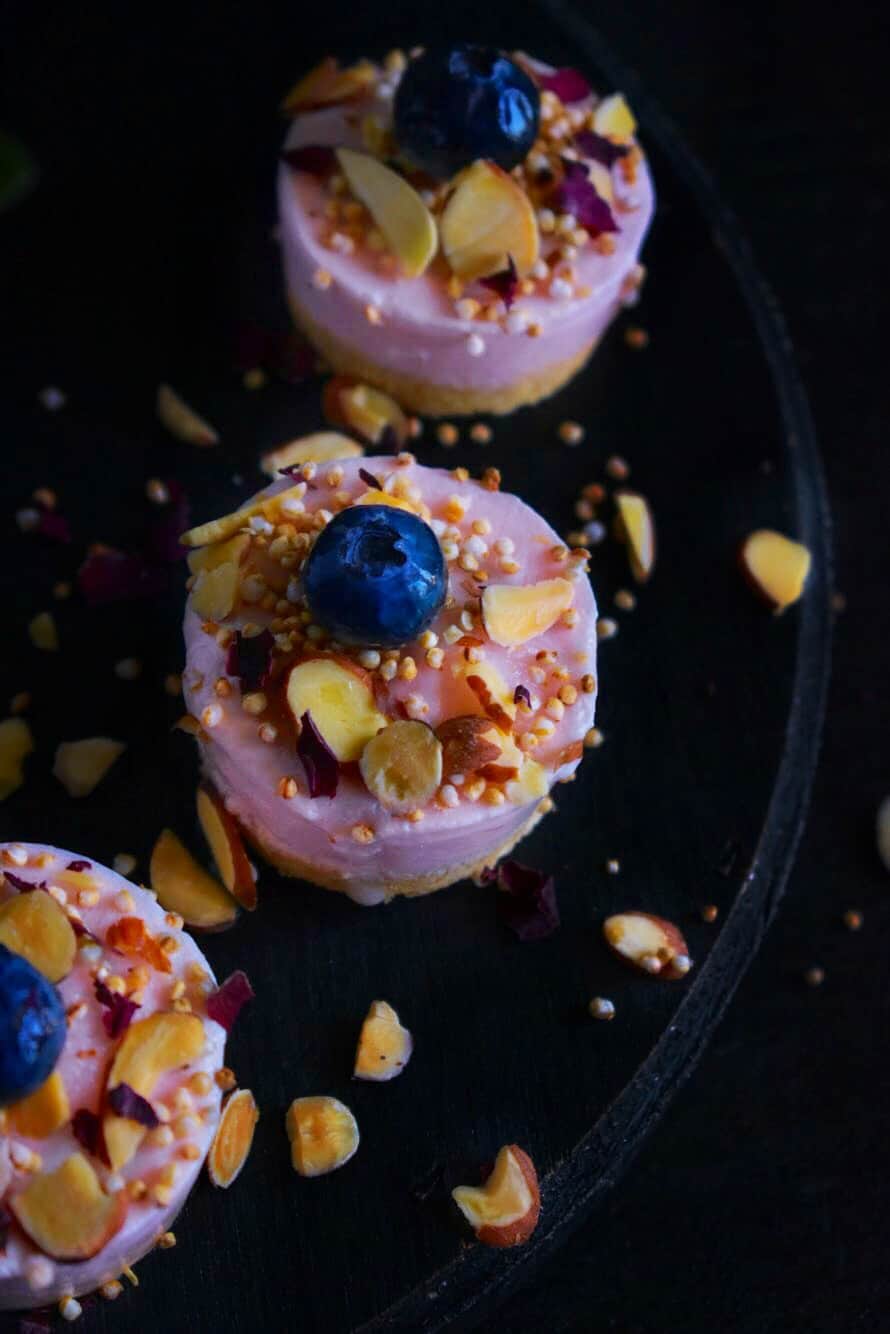 It was a perfect sunny-breezy …. typical California day yesterday and these cups made an excellent centerpiece for the breakfast brunch. We got a huge batch of organic farmers market strawberry and they were absolutely perfect in these Frozen Strawberry Smoothie cup.
These cups are extremely easy to make and we used a mix of almond + roasted quinoa for the base. The smoothie is made of coconut, almond and a scoop of plant protein.
You can definitely drink up the smoothie as is too but they Frozen Strawberry Smoothie Cup make an excellent anytime breakfast.
To make the base/cups, you can simply grind almonds + quinoa together, spray a mini muffin cup with olive oil spray and press a scoop of this almond mix in each mold. Then add smoothie on top and freeze for 2-3 hrs.
Once frozen, gently tap the mini muffin cups upside down and these Frozen Strawberry Smoothie cup slide out really easily.
I topped them with some slivered almond, quinoa and dry rose petal for a beautiful display. Finally added some frozen blueberry on top and served up for Mother's Day brunch.
:: You May Also Like ::
---
Tried Our Recipe – AWESOME!!!
Now Quickly SNAP A PICTURE & TAG :
#easycookingwithmolly +  @easycookingwithmolly on Instagram –>
Connect with Me Here:  Facebook / Pinterest / Instagram / Twitter / Subscribe to our Newsletter / Google+ 
Yield: 24 Mini Cups
Frozen Strawberry Smoothie Breakfast Cup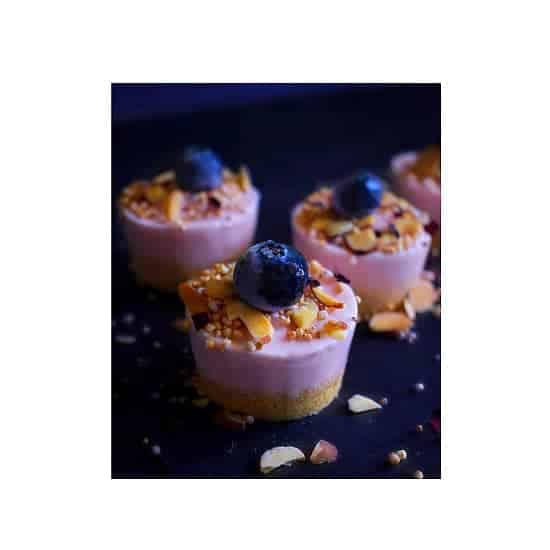 Ingredients
Smoothie Ingredient:
1 Cup Fresh Strawberry - washed and cleaned
2 Cups Coconut Milk
1 Scoop Protein Powder - I'm using a plant protein powder
1 Tbsp Decoration / Toppings of Choice
1 Tsp Blueberries - frozen or fresh
Base Ingredients / Cups:
1/2 Cup Almonds
1/4 Cup Roasted Quinoa
Instructions
Making the Base/Cups:
Blend almond and quinoa till they form a smooth mix.
Remove and add 1 Tsp coconut Milk in it (this helps them form a cup shape in molds).
Spray a mini muffin tray with oil.
Add 2 Tbsp of this almond mix and press with spoon.
Keep in freezer for 10 minutes.
Making the Smoothie & Freezing the Cups:
Add the smoothie ingredient in a blender and pulse to mix everything evenly into a smooth mixture.
Add each mini muffin cups with this smoothie till top.
Keep in freezer for 2-3 hrs or till completely frozen.
Serving the Cups:
Remove the muffin tray from freezer and turn it upside down on a slab.
Gently tap to release the cups from mold.
Place the Frozen Strawberry Smoothie Cups on a serving tray.
Sprinkle with favorite topping and serve immediately.
Storage:
You can place these frozen cups in a ziplock and use as and when needed.
Nutrition Information
Serving Size
1
Amount Per Serving
Calories

1619
Total Fat

137g
Saturated Fat

89g
Cholesterol

35mg
Sodium

103mg
Carbohydrates

73g
Sugar

14g
Protein

48g