This post was sponsored by Ling Ling, all opinions expressed in my post are my own.
Super Quick Chili Garlic Shrimp Stir Fry: easy and delicious Asian style shrimp stir-fry recipe with veggies and served with LING LING  FRIED RICE. 
This Super Quick Chili Garlic Shrimp Stir Fry is my absolute favorite Asian style entree recipe to make at home.
It's a perfect combination of comfort food and flavor but I always used to worry about what to serve along with it until I came across these  LING LING FRIED RICE.
The stir-fry shrimp with fried rice makes for a perfect 'take-out / restaurant style' meal but all made at the comfort of your home and in under 15 minutes.
These LING LING FRIED RICE come in 5 Asian inspired flavors like:
 YAKITORI CHICKEN
YAKINIKU BEEF
THAI-STYLE CHICKEN
CHINESE-STYLE VEGETABLE
BIBIMBAP BEEF
So, for the 'Super Quick Chili Garlic Shrimp Stir Fry, I'm using the Thai-Style Chicken fried rice flavor.
The packaging is extremely easy to open and each box comes with 2 bags of cooked fried rice.
All you have to do is either heat it in a skillet (after thawing the rice) or simply microwave it in a microwavable safe bowl as per package instructions.
Infact, I bought a couple of extra boxes of these fried rice to be used later during the week.
They would make life so much easier while making weekday dinner too.
I'm thinking of trying Chinese Style fried rice flavor with another recipe soon.
I was also pleasantly surprised that each grain of rice was so flavorful.
Then I read about Ling Ling using the 'infused cooking method' using their signature sauces to give the fried rice that even flavor.
So, go ahead and try this Super Quick Chili Garlic Shrimp Stir Fry with LING LING  FRIED RICE.
Before you head over to buy your favorite flavor, here's a COUPON Offer from LING LING:
———————————————————————————————————————-
*COUPON Offer: $2 off a box of LING LING  FRIED RICE at any retailer where the products are sold *
---
As always, Iooove it when you try my recipes and send me pictures & feedback. You can tag my recipes tried by you using #easycookingwithmolly on any of the social media below:
Connect with Me Here:  Facebook / Pinterest / Instagram / Twitter / Subscribe to our Newsletter / Google+
Molly Kumar
Yields 2 Cups
Super Quick Chili Garlic Shrimp Stir Fry (with Ling Ling Fried Rice)
2 minPrep Time
12 minCook Time
14 minTotal Time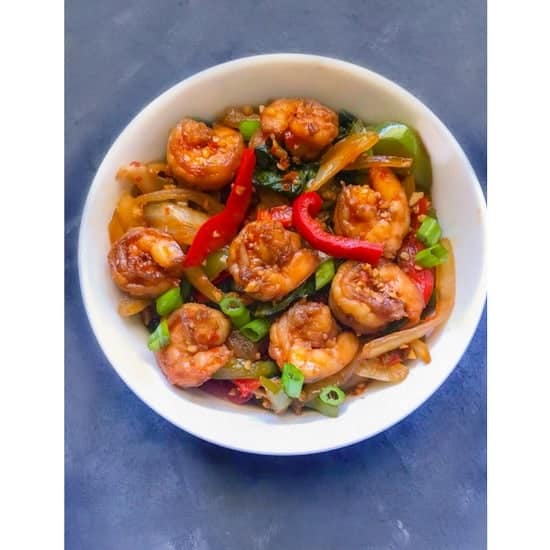 Ingredients
1/2 lb. Large Frozen Shrimp - thawed
1 Tsp Chili Flakes
1/8 Tsp Fresh Mince Garlic
1 Small Red Bell Pepper - sliced
1 Small Green Bell Pepper - sliced
1 Small White Onion
1 Leaf Green Onion
2 Tbsp Soy Sauce
2 Tbsp Hot Sauce
1/2 Tbsp Honey
1 Tsp Rice Vinegar
2 Tbsp Sesame Oil
Salt as per taste
Instructions
In a small bowl, mix honey, soy sauce, hot sauce, chili flakes and vinegar.
Heat oil in a wok or skillet.
Add mince garlic, shrimp and stir fry for 2 minutes over medium heat (or till shrimp is cooked).
Now, add bell peppers, onion and stir fry for another minute over high flame.
Add the mixed sauce, salt and stir for another 2-3 minutes over medium flames.
Turn off the heat and transfer to a serving dish.
Decorate with chopped green onion.
Heat the Ling Ling 'Thai Style Fried Rice' as per microwave instructions.
Serve shrimp and fried rice together as a meal.
7.8.1.2
285
http://www.easycookingwithmolly.com/2017/10/super-quick-chili-garlic-shrimp-stir-fry/