Lemon Poffertjes – Mini Dutch Pancakes: These extra spongy, light mini Dutch pancakes are filled with lemony flavors that would make a perfect breakfast for two.
Lemon Poffertjes – Mini Dutch Pancakes
They are drizzled with dark chocolate, dusted with powdered sugar and served with fresh raspberries.
"PoffertjesPoffertjes Poffertjes – buy a dozen" these words were like magic to my food hungry soul during our visit to Copenhagen.
Apart from a seeing the beautiful local places, the highlight of our trip was a 'Once in a Life'  kind of food experience in Geranium (It has the World's Best Chef & 3 Michelin Star).
After a 14 course wine and food (they describe it as lucid, light and dynamic) menu – I could totally say my 'Soul was at Peace & I was in Gastronomical Heaven'!
So as soon as we were back, I tried creating my favorite (the easiest of the lot) Poffertjes/Aebleskivers that I had as snack or breakfast during our trip and today I'm sharing with you'll my Lemon Poffertjes – Mini Dutch Pancakes (Valentines Special) which makes a perfect breakfast for two.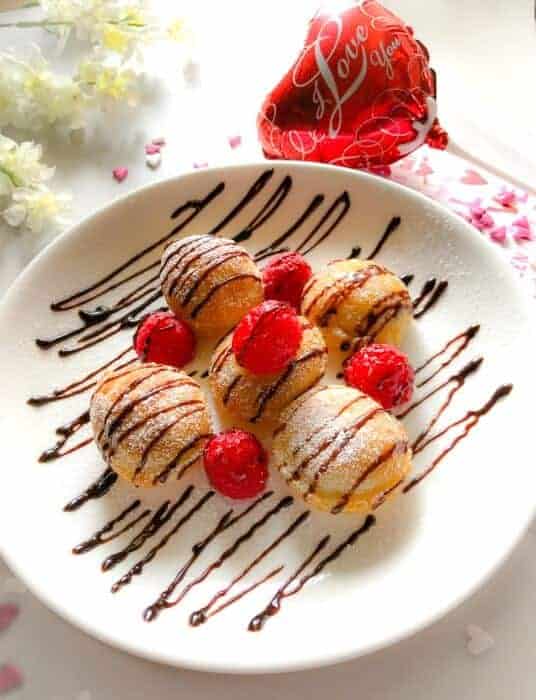 Now, if you're wondering what is 'Poffertjes' – they are mini Danish pancakes that resemble a ball and are extremely spongy-airy. They are usually served with a dollop of butter and dusted sugar on top or with a berry jelly.
Something very similar to our American pancakes but there are a couple of difference as Poffertjes are more light, airier and are made using buckwheat flour.
But today, I'm sharing my favorite of the many various recipes of poffertjes that I've tried and that is the Lemon Poffertjes – Mini Dutch Pancakes (Valentines Special).
I'm using lemon and buttermilk to make it even more extra spongy and I'm using my special 'Poffertjes Pan' for it.
It's a non-stick pan with little dents in between for us to add the batter and turn it evenly to form a ball.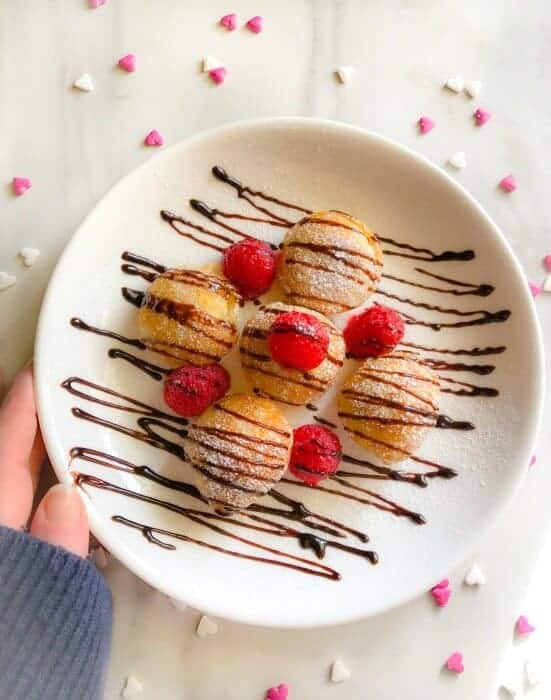 The batter is really simple and these are made using all-purpose flour.
You can eat the poffertjes as is too but since it's Valentines, I'm going all out!!!
Giving it some extra love n sprinkles of dusted sugar, dark chocolate sauce, and some fresh raspberries.
And every bite that you'll taste will give you that lemony-berry flavor and that chocolate sauce with sugar is simple perfection.
If you don't have the poffertjes pan, you can try making them in a regular pan too (they won't be raised or ball-shaped) but there will be no difference in taste.
So, if you're still looking for that one special recipe to impress that someone, this Lemon Poffertjes – Mini Dutch Pancakes (Valentines Special) can definitely be your front contender.
All that lemon+chocolate+sugary+fruity combination will surely please anyone.
~ You can try these Recipes too for Valentines ~
Stay tuned for another Valentines Special Breakfast Recipe Coming Next Week !
Until Next Time ~ XoXo
         Here's a Short Video on How to Make Poffertjes in the traditional Pan:

---
DID YOU TRY MY RECIPE – AWESOME!!!
Now Quickly SNAP A PICTURE & TAG :
#easycookingwithmolly +  @easycookingwithmolly on Instagram –> As I Loooove to see you recreate my recipes:
Connect with Me Here:  Facebook / Pinterest / Instagram / Twitter / Subscribe to our Newsletter / Google+
Connect with Me Here:  Facebook / Pinterest / Instagram / Twitter / Subscribe to our Newsletter / Google+
Lemon Poffertjes – Mini Dutch Pancakes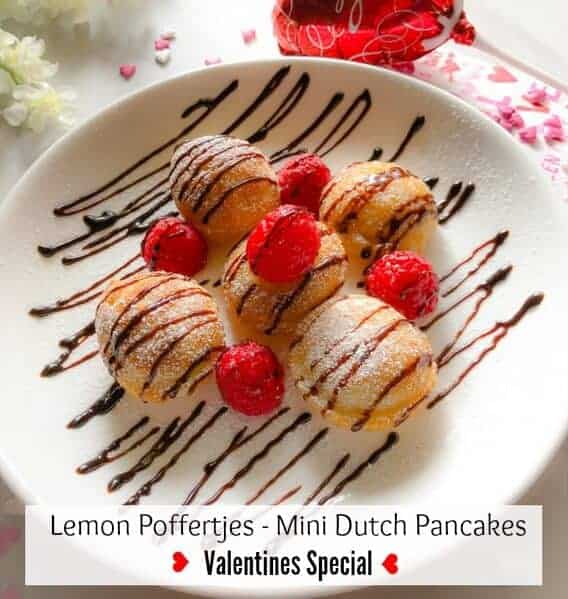 Ingredients
1 Cup All-Purpose Flour
1/3 Cup Buttermilk
4 Tbsp Milk
1 egg
2 Tbsp Lemon Juice - you may use fresh or bottled
Pinch of salt
2 Tbsp Sugar
1/2 Sachet Dry Yeast - about 3gms
3 Tbsp of water
4 Tbsp Oil
Decoration:
5 Raspberries
1/4 Cup Dark Chocolate Sauce - placed in a ziplock
1 Tbsp Powdered Sugar
Instructions
Heat the Poffertjes pan or a regular pan. (My pan makes 10 at a time)
Heat the milk in a cup (microwave) for 30 seconds.
Dissolve the yeast, sugar in luke warm milk, water, and stir and keep aside for minute (the yeast will bubble up).
Whisk the egg In a large bowl.
Add flour, salt, yeast and whisk to form a lump free batter.
Now, add the lemon juice and whisk everything thoroughly.
If using Poffertjes Pan:
Drop 2-3 drops of oil in each depression of the poffertjes pan.
Add 3 tbsp of batter in each depression of the pan.
Wait till you see bubbles forming on top (takes 20 seconds).
Using a skewer, raise the poffertjes till the remaining liquid batter falls down in the depression.
Cook for 10 seconds and then flip the poffertjes to the other side.
Cook till the other side is also cooked (golden brown color).
Remove from pan and similarly make all the other poffertjes.
If using regular Pan:
Heat the pan and add 1tbsp oil.
Spread the oil evenly on the pan.
Using a spoon, drop 2 tbsp batter in the pan and spread it into a mini circle.
Similarly place more batter till the pan is full.
Let cook till you see bubbles on the top.
Flip the batter and cook on the other side (till golden brown on each side).
Remove from pan and cook all the poffertjes are cooked.
Decorate the Poffertjes:
Place 5-6 poffertjes in a plate and place raspberries around it.
Drizzle with chocolate sauce and dust with powdered sugar.
Serve Fresh.
Nutrition Information
Serving Size
1
Amount Per ServingCalories 1410 Total Fat 65g Saturated Fat 10g Cholesterol 9mg Sodium 191mg Carbohydrates 206g Sugar 59g Protein 24g