This shop has been compensated by Collective Bias, Inc. and the Coca-Cola Company. All opinions are mine alone. #StartYourYearRefreshed #CollectiveBias
Power Packed Orange Smoothie Bowl (with Turmeric) is super delicious and packed with nutrients to help you start your year refreshed and filled with energy. It makes a perfect breakfast or anytime snack or light meal. 
I couldn't wait to share this 'Power Packed Orange Smoothie Bowl' recipe as it's my favorite sunny bowl of breakfast these days. After all, that month of holiday eating combined with the holiday activities (shopping, hosting parties, meetups with friends, late nights), we both were feeling so tired and almost sluggish in our daily activities that I definitely needed to come up with a 'pick-me-up' food quickly to supercharge us. And that's when I made this smoothie bowl also called 'Our Little Bowl of Sunshine' … ( I literally drooled and kept looking at the bowl for 5 minutes before digging in). 
We were in Safeway (grocery store) when I thought of this and right in front of me was the Minute Maid Light pack and that's it, we quickly brought rest of the ingredients like fresh cut fruit from the produce section, a few oranges and bottles of "vitaminwater" and POWERADE. Once home, I gathered rest of the ingredients (which I already had at home) like Minute Maid Orange Juice, protein powder, oats, pistachio, yogurt, and turmeric (as it calms our digestive system + heals it) – Picture Below 
We are also adding pomegranate seeds to decorate the smoothie bowl, for that crunch (also, we are inseparable in winters – I just love pomegranate seeds so much). The smoothie bowl is literally made in 2 minutes and I took a minute to decorate this bowl which I'm absolutely in love with. Also, I feel after all that month of eating everything, it's best to relax our system by consuming more fresh fruits. They not only add all that nutrients + fiber to our diet but taste awesome (and involve no-cooking 😉 ). I'm also making this smoothie bowl whole lot citrussy (Vitamin C gives us that extra power to fight sluggishness + cold) hence I'm adding Minute Maid Light Lemonade + Minute Maid Orange Juice + fresh oranges. The addition of oats and protein powder makes it more filling and we definitely need all the protein especially in the morning to help energize our system.  
Hence, I definitely was so excited to share this 'Power Packed Orange Smoothie Bowl' recipe with you'll to help you stick to your New Year goals or we can call it a – "Starting Your Year Refreshed"!
Before you make that visit to Safeway, Take Advantage of a great deal they are running –
* Buy $15 worth of participating items, Get $4 off your Fresh Cut Fruit via Catalina
* $4 off can be found on receipt as a coupon/credit for your next purchase of Fresh Cut Fruit
(Also, I found the Minute Maid Light in the refrigerated section at Safeway, fresh fruits from the produce section and the "vitaminwater" & POWERADE from specialty beverage aisle (same as water aisle)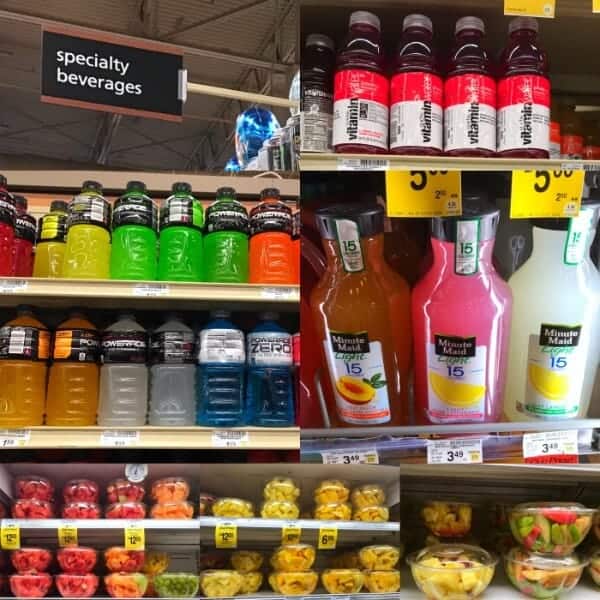 Yield: 2 Medium Smoothie Bowls
Power Packed Orange Smoothie Bowl
Ingredients
1 Cup Yogurt - Any kind or Vegan Yogurt
1/2 Cup Ice
1/2 Cup Minute Maid Orange Juice
1/2 Cup Minute Maid Light - Lemonade
1 Orange
1/2 Tsp Organic Turmeric
1/4 Cup Cantaloupe
1/4 Cup Oats - any kind or glutenfree oats
4 Tbsp Crushed Pistachio
1Tsp Honey or any sugar substitute. (Optional)
Decoration:
1/2 Cup Pomegranate Seeds
2 Tbsp Blueberries
Instructions
Add all the ingredients except Oats In a blender jar.
Pulse the blender to form a smooth mix.
Add 3 Tbsp Oats and blend again. (If using honey/sugar, you can add it now)
Pour the smoothie into 2 bowls.
Decorate with pomegranate, blueberries, Oats, Pistachio and sprinkle some Turmeric on top.
Serve Fresh.
I couldn't resist but share tons of photos in this post as I absolutely loved looking at it and here's a big bite shot where you can see all the yummy goodness we mentioned above. As a new year start, I would recommend, eating more of fresh fruits, juice and feeling refresh all year around. Take a look at Minute Maid Site for more ideas and tips – here or Follow them on Social Media : Facebook / Pinterest / Youtube
Until, Next Time ~ XoXo
Connect with Me Here:  Facebook / Pinterest / Instagram / Twitter / Subscribe to our Newsletter / Google+