I'm so excited sharing the recipe of "Energy Bites" that are absolutely delicious and healthy but also because I was the winner at California Almond. They sent me a box full of organic yum goodies and I made these beautiful looking bites from them with few extra ingredients. They are extremely easy to make (no cooking or baking) and can be eaten as desserts too.
You may wonder – Why do I call them energy bites ?
That is because of all the yummy ingredients like nuts, almond butter, honey, chocolate along with oats and gramflour which replenishes the body with some key nutrients, that helps relief the energy slumps or snack pangs. They can be easily stored in air-tight containers in fridge for upto 3 weeks or and can be easily carried in zip-lock bags when travelling. Pack them as treats or snacks for any age group.The ingredients used here are all as per my taste however feel free to mix ingredients of your choice like any other nut or raisins or flavor.
Yields 16
Energy Bites
5Prep Time
10Cook Time
15Total Time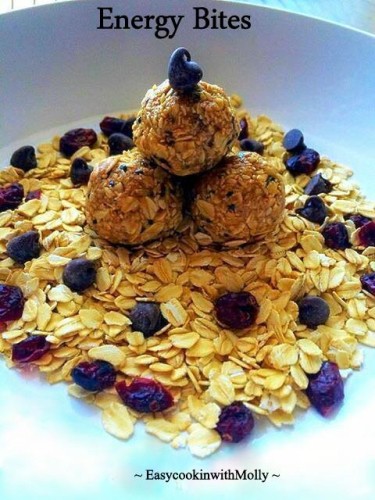 Ingredients
ToolsLarge Bowl – For mixing the ingredients together.
Serving Dish  OR Air – Tight container with lid – For storing the energy bites
IngredientsDry Ingredients:1 Cup Thick Rolled Oats
1/2 Cup Unsweetened Shredded Coconut
1/2 Cup Sesame Seeds
1/4 Cup Mini Chocolate Chips - Chopped
1/4 Cup Almonds - Chopped
1/4 Cup Dry Cranberry - Chopped
1/4 Cup Roasted GramFlour (Besan) – (OPTIONAL) Also known as chickpea flour
3 Tbsp Chia Seeds
3 Tbsp Flax Seeds
1 Tsp Cinnamon Powder
1 Tsp Ginger Powder
Wet Ingredients1/4 Cup Honey
1/4 Cup Almond Butter
Instructions
Add the dry Ingredients in a bowl and mix evenly.
Now add the wet ingredients and mix.
Wet your hands, scoop a big spoonful of mix in your palm and roll into circular balls.
Follow this step till all the mixture is used. (Keep wetting your hands in between as this will help mixture from sticking to your palms)
Transfer the balls in a bowl and keep in fridge for 2-3 hours to help firm the balls.
Serve when desired and keep in fridge in air tight container.
7.8.1.2
139
http://www.easycookingwithmolly.com/2015/04/energy-bites-no-cooking-needed/
Nutrition