Methi Paneer – Cottage Cheese in Indian Sauce: absolutely creamy, saucy and delicious Indian style recipe using paneer, dahi and methi. 
Who doesn't love preparing an under 10 minutes entree that can please your eyes, tongue n tummies. And you know that if you're a vegetarian from India, the next best thing that can be substituted for meat is "Paneer"(Cottage Cheese). Infact you get so many varieties of it in India that you can even eat it raw because of its soft, mild and slightly flavored taste. But the combination of Paneer with Yogurt and Methi(Fenugreek Leaves) is pretty powerful and delicious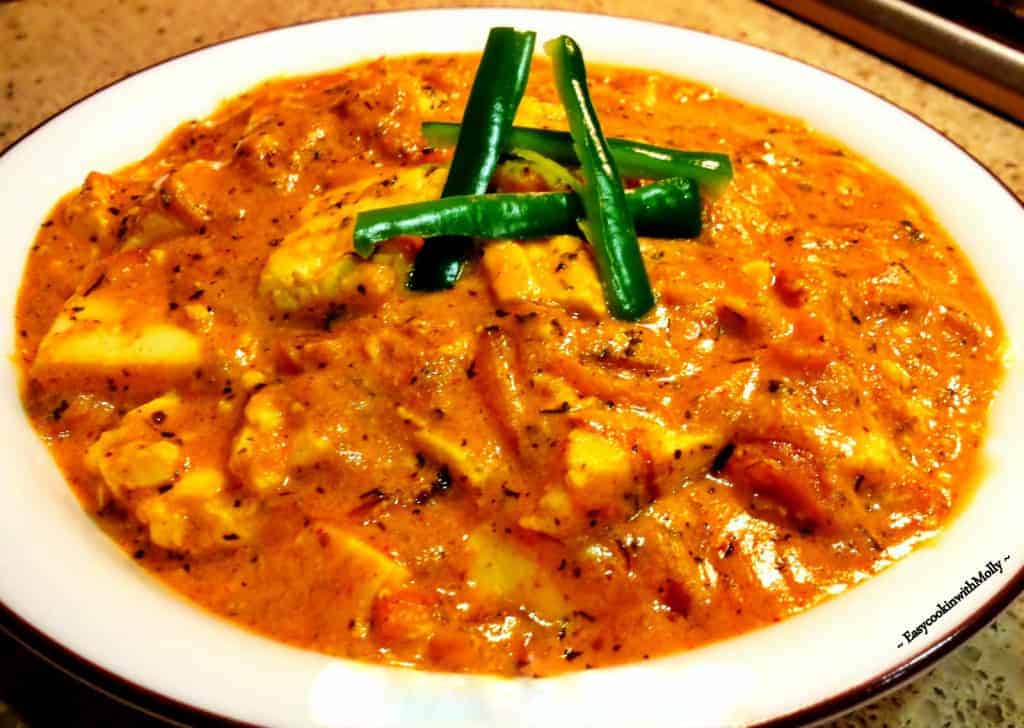 Serves: 4
Serving Suggestion: Can be served with Bread or Rice
Tools:
1 Large
nonstick wok
Ingredients:
1 Cup Cottage Cheese – Cut into bite sizes pieces (Paneer)
½ Cup Plain Yogurt – Make sure the yogurt is thick
¼ Cup Fresh Fenugreek
Leaves – Chopped (Fresh
Methi)
1 Tsp Ginger+Garlic
Paste
4 Tbsp Oil (Any flavorless oil)
¼ Cup water
2 Large Onion – Finely Sliced
2 Tomatoes – Finely Sliced
1 Tbsp Tomato Paste – (If not available, can add tomato puree)
½  Large Green Chilies – Julienne – Add as per taste
2-3 Drops Orange Food
Color
Powdered Spices:
1 Tsp Turmeric – (Haldi)
½ Tsp Cinnamon Powder – (Dalchini)
1 Tsp Garam Masala
Powder – Homemade OR Store bought
1 Tbsp Coriander Powder
– (Dhania)
1 Tbsp Cumin Powder – (Jeera)
1 Tsp Powdered Red
Chili Powder
2 Tsp Powdered Salt
(As per your taste)
Method:
In a large non-stick
pan, heat oil on high, add sliced onions, ginger+garlic paste and sauté till
golden in color.
Add "powdered spices",
sliced tomatoes and cook till tomatoes mix into the onion mixture and form a
thick brown mix.
Now add tomato paste,
cook for 2 min.
Add yogurt, orange fruit
color, fresh methi leaves, paneer and sauté for 2-3 min (till methi is cooked
slightly).
Now add water and sauté on
low heat for 2-3 min, once the mixture boils, turn off the heat.
Decorate with green
chilies and serve hot.