This post is written in partnership with Coastal Range Organics and as always, the opinions here are all my own.
Kung Pao Chicken Meatballs with Zoodles: Fingerlicking one-pot recipe that's sweet, spicy and super easy to make.
It's easier than your next takeout meal and includes healthy zucchini noodles.
These Kung Pao Chicken Meatballs with Zoodles are one of our go-to healthy meal on these hectic cold winter days.
It's been extremely cold, rainy and foggy in the bay area and going outside for even the slightest thing feels like such a big chore.
So I'm always looking for healthy, wholesome and easy meal options and that's when I came across 'Coastal Range Organics Chicken' in our local Safeway.
They are a Washington based company, that specializes in frozen chicken products (varieties listed towards the end of post), which makes serving wholesome meals on hectic days much easier and tastier 🙂
I was impressed by them as they:
Raise free-range chickens on a fully organic diet with all-natural.
100% vegetarian grain feed that does not contain any animal by-products
Hence, all this makes their products all natural and tastes great.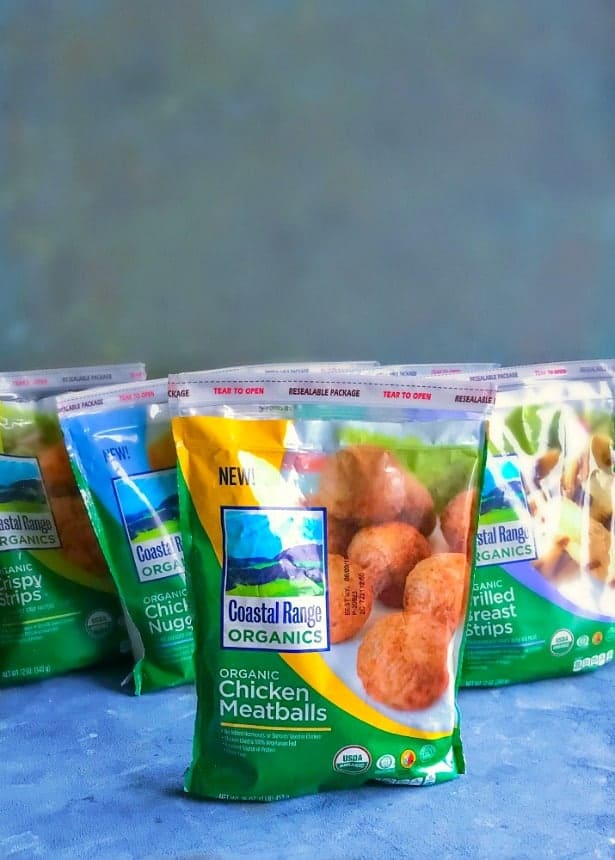 So I had to try them and picked up a couple of their products and decided to use the Coastal Range Organics chicken meatballs for these Kung Pao Chicken Meatballs with Zoodles .
Now, we loooove Chinese recipes and kung-pao is one recipe that Mr. absolutely loves.
Its spicy flavors (It originates from Sichuan region in China which is famous for its peppercorn) and it was our most ordered Chinese takeaway recipe until one day I decided to make some at home.
I definitely tried different versions of it and we finally found this version to be our fav – it's what I call our happy median (he being a spicy food lover and me going towards more sweet flavors).
Also, this version is much healthier and uses very less cornstarch (to thicken the gravy) and theirs no artificial flavor enhancers.
My 'Kung Pao Sauce' is extremely easy to make and you can make a huge batch and freeze if need be.
Then grab some of the readymade Coastal Range Organics chicken meatballs and you have the recipe ready in 15 minutes.
Now, the original kung pao dish is served with steamed rice or noodles, however, I'm making it even healthier.
I'm using zucchini noodles or you can use zucchini ribbons if spiralizer is not available.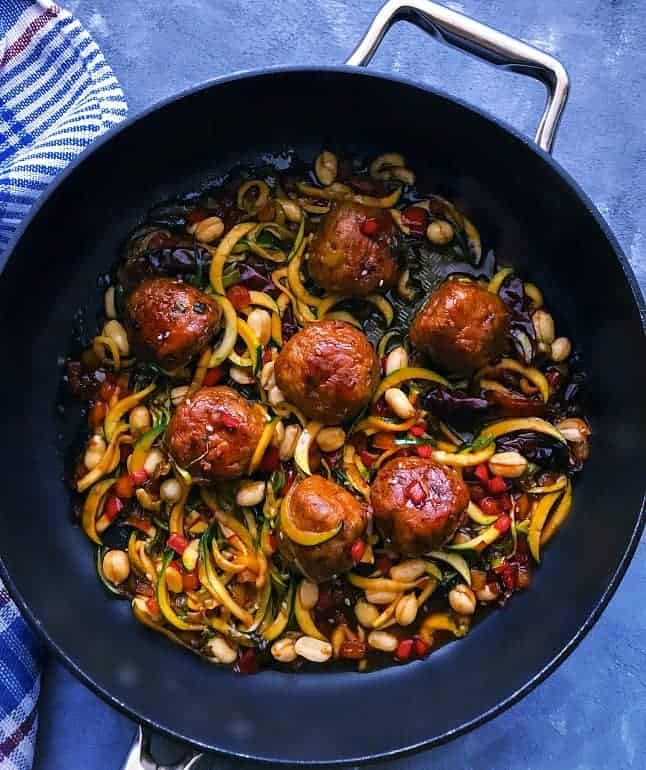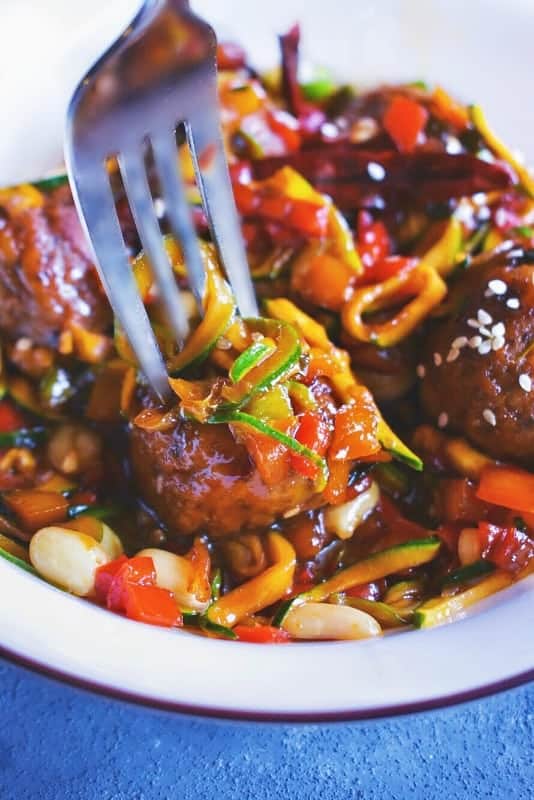 The ONLY thing you need to remember while using Zoodles, is that you don't need to cook it for long or cook it at all.
They are so thin and tasty that I usually add them to my recipes towards the very end … that is when the other ingredients are almost cooked.
That way, the zoodles have that 'al-Dante – firm to the bite' and doesn't feel mushy.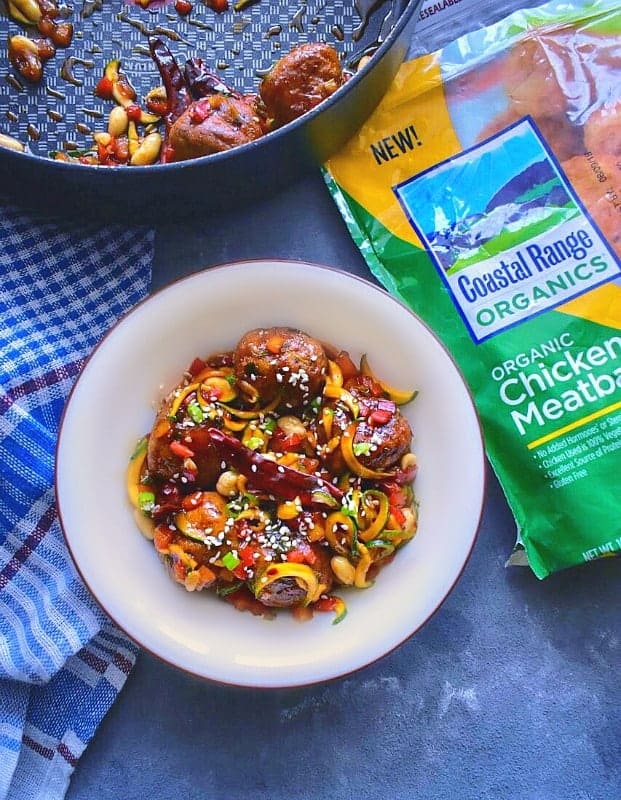 So, go ahead and try these quick, delicious and healthy Kung Pao Chicken Meatballs with Zoodles and enjoy your favorite Chinese takeout at home that's ready in 20 minutes.
Do look for the Coastal Range Organics products in the frozen food aisle at your nearest Safeway or Savemart store in WA or CA.
Also remember their products are:
No Added Hormones† or Steroids† Used in Chicken
100% Vegetarian Fed
USDA Organic Seal & Certified Organic by a Third-Party certifying agency
I got these 6 different varieties of Coastal Range Organics chicken, however, listed below are all their available products: – (Click Link Below for Info on Each Product):
Coastal Range Organics Chicken Nuggets
Coastal Range Organics Grilled Breast Strips
Coastal Range Organics Crispy Strips
Coastal Range Organics Chicken Burgers
Coastal Range Organics Chicken Meatballs
Coastal Range Organics Popcorn Chicken
Coastal Range Organics Buffalo Wings
Coastal Range Organics Boneless Wyngz
---
If you're trying any of my recipes, I'd love to see your pictures or receive your feedback. You can tag my recipes using #easycookingwithmolly on any of the social media below:
Connect with Me Here:  Facebook / Pinterest / Instagram / Twitter / Subscribe to our Newsletter / Google+ 
Yield: 10 Meatballs
Kung Pao Chicken Meatballs with Zoodles
Ingredients
10 Chicken Meatballs
2 Tbsp Sesame Oil or can use any light oil
5 Medium Zucchini, cut into noodles using a spiralizer or a vegetable peeler
5 Mini Peppers - thinly chopped
3 Green Onion Stalks - thinly chopped
1/4 Cup Peanuts - roasted*
1/4 Tsp Sesame Seeds
- For the Kung Pao Sauce -
4 Dried Red Chilies
1/4 Cup Soy Sauce - you may use low sodium soy sauce or tamarind sauce if glutenfree
2 Tbsp Hoisin Sauce
1 Tsp Honey - optional
2 Tbsp White Vinegar
1/4 Tsp Garlic Powder
1/4 Tsp Ginger Powder
1 Tsp Corn Starch
- Garnish -
Chopped Green Onions
1/4 Tsp Sesame Seeds
Instructions
In a bowl, mix all the 'Kung Pao Sauce' ingredients and keep aside.
Heat tbsp oil in a pan or wok and add dry red chillies.
Add chicken meatballs and saute for 2 minutes (till all meatballs get an even brown coating).
Remove the meatballs from the pan.
In the same pan, add remaining oil, green onions and saute for 30 seconds.
Now add sesame seeds, mini peppers and saute for a minute.
Add the kung pao sauce and saute for a minute.
Now add the chicken meatballs, peanuts and saute for another minute.
Finally add zoodles, saute and turn off the heat.
Transfer the Kung Pao Chicken Meatballs with Zoodles in serving bowl.
Sprinkle some chopped green onion and sesame seed on top.
Enjoy
Nutrition Information:
Serving Size:
6 Adults
Amount Per Serving:
Calories:

90
Total Fat:

4g
Saturated Fat:

1g
Sodium:

502mg
Carbohydrates:

11g
Sugar:

6g
Protein:

5g