Bengali Mustard Fish Recipe: Extremely popular Bengali (Indian) fish recipe using homemade mustard paste, fish and Indian spices.
Hi Everyone, I'm back from one stunningly captivating vacation to Yosemite National Park where we ventured around lush forests and pristine lakes.
The trip was a short one but refreshing for mind, body and soul but I definitely missed interacting with you'll.
And the first thing I did after coming back is finalizing the recipe I wanted to share with you for the weekend.
That all said, here's a spicy-addictive recipe of Bengali Mustard Fish Recipe.
It's one of a very famous recipe from Kolkata (also known as Calcutta) the eastern part of India.
Whenever I've visited the city (Calcutta), I've always relished this Bengali Mustard Fish delicacy and every house has their own version from less spicy to absolute tongue tantalizing spicy.
But one thing which is common everywhere is the use of 'home ground mustard paste and love' 🙂
Well, the paste is not your regular out of a can or processed jar stuff, but hand ground mustard on a traditional Indian stone grinder called 'Sheel Nora' or something similar to mortar pestle.
And in some of the houses, the paste is ground right before making the recipes that include mustard paste…..Hence I definitely say, it is the LOVE too 🙂
The traditional mustard fish recipe calls only for mustard paste, some spices, mustard oil and fish, however, the recipe that I'm sharing also uses onion, garlic and ginger paste to make a thick sauce to cook the fish in.
I do love the traditional mustard fish but for some of you, the use of mustard oil and mustard paste might be slightly strong.
Hence this is a perfect recipe to get started or familiarize the taste buds with mustard and then gradually move on to the traditional version.
I'm making this recipe using 'Trout' fish that's cut into thick chunks, however, you can use any fish of choice to make this Bengali Mustard Fish Recipe.
If using tilapia or salmon, please be careful while frying as they both are very delicate and might break.
One Great Trick is to fry the fish first and use the same utensil with extra oil to make the gravy/sauce as it enhances the taste further.
** If you don't like the taste of mustard oil, you can use olive oil/canola oil/vegetable oil.
********* Happy Weekend **********
You Can These Other Bengali Recipes:
Chingri Malai Curry – Shrimp in Creamy Coconut Sauce (GlutenFree)
—————
Dimer Malai curry – Egg in Coconut Gravy
—————
Quick Bengali Sandesh Recipe – Dessert Milk Fudge using Ricotta
---
DID YOU TRY MY RECIPE – AWESOME!!!
Now Quickly SNAP A PICTURE & TAG :
#easycookingwithmolly + @easycookingwithmolly on Instagram
Connect with Me Here: Facebook / Pinterest / Instagram
Yield: 6 People
Bengali Mustard Fish (Indian Style)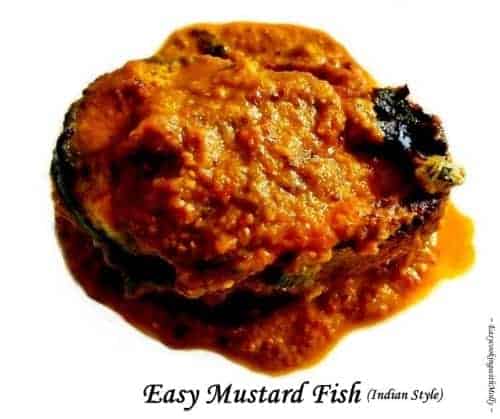 Bengali Mustard Fish Recipe: Extremely popular Bengali (Indian) fish recipe using homemade mustard paste, fish and Indian spices.
Ingredients
1 lb Trout Fish - Cut into equal pieces *
3 Tbsp Onion Paste - Can be made by grinding a large onion-no water added
1 Tbsp Ginger Paste
1/2 Tbsp Garlic Paste
6 Tbsp Mustard Oil - You may use canola/vegetable or corn oil as per choice
1/2 Cup Water
For Mustard Paste:
2 Tbsp Black Mustard seeds - You may use yellow seeds too
1 Large Green Chili
1 Tsp Salt
Spices:
1 Bay Leaf - Optional
1 Tbsp Mustard Seeds
1 Tsp Cumin Powder
1 Tsp Coriander Powder
1 Tsp Garam Masala Powder
Salt - As per taste
Instructions
Marinate:
In a deep bowl, whisk together turmeric, salt and mustard oil.
Coat the fish and let it marinate for a minimum of 15 minutes.
Preparing the Mustard Paste:
In a grinder, add mustard seeds, chili, salt and pulse to form a thick smooth paste. (Be careful not to over grind as it may result in bitter mustard paste)
Making the Mustard Fish:
In a nonstick pan, heat oil till you see smoke coming out (Flame can be high).
Reduce the heat immediately.
Fry the marinated fish to a slightly golden brown consistency on both sides.(Lightly turn the fish as it may break).
Once the fish is fried, keep them aside on paper towel to soak any extra oil.
In the same pan, add 3 tbsp mustard oil and heat it to a smoking point.
Add bay leaf, mustard seeds, nigella seeds and let them splatter cook for for 1/2 minute.
Add onion, garlic, ginger paste and sauté on medium heat till onions are browned.
Now add 2 tbsp of mustard paste, remaining spices and cook for 2 minutes.
Add the marinated fish and cook covered for 3 minutes.
Now remove the cover, add water, sauté the fish slightly and cover cook for another 3 minutes.
Turn of the heat and transfer to serving dish.
Serve hot with rice or grain of choice.
Notes
* For this recipe, you need thick cute fish or fish steak. The thicker they are, the better they fry and taste. You can use tilapia or salmon too
Nutrition Information:
Yield:
6
Serving Size:
2
Amount Per Serving:
Calories:

370
Total Fat:

20g
Saturated Fat:

4g
Trans Fat:

0g
Unsaturated Fat:

14g
Cholesterol:

89mg
Sodium:

796mg
Carbohydrates:

11g
Fiber:

2g
Sugar:

3g
Protein:

36g