Beet Blueberry Ginger Smoothie Bowl  (Valentines Breakfast) ~ Decadent and an almost dessert-like smoothie that's filled with heart-healthy nutrients for that someone special in your life. Makes a great Valentines Breakfast or Enjoy any other day.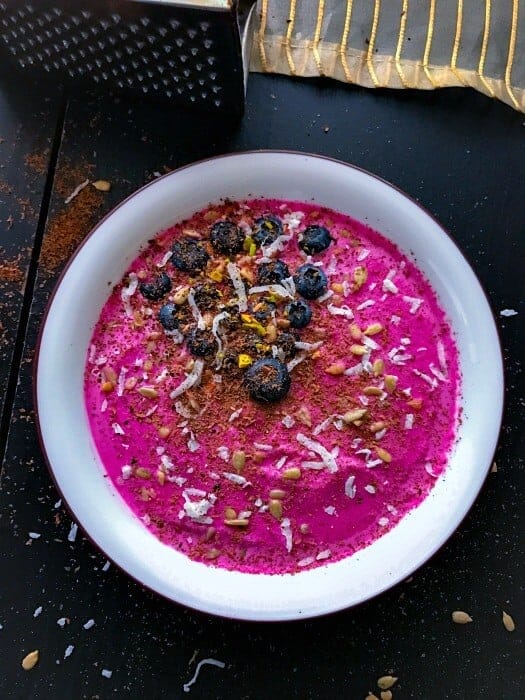 This Gorgeous Gorgeous Beet Blueberry Ginger Smoothie Bowl (Valentines Breakfast) is definitely on our Valentines Breakfast menu along with few other yums.
And if you feel the color is too pink for you, don't be scared, I'll talk about tons of ways to bring it to your liking – I promise. 'Valentines Breakfast' is a huge thing at our place as every other day we hardly get time to sit or even talk to each other in the morning.
Do come valentines n we actually look forward to sitting together for a scrumptious breakfast filled with stuff that he and I like …. cause trust me, our tastes are the polar opposite!
He likes spicy, I like sweet….he loves fried food n I can pass it on, he loves potatoes n I can chew on it forever (unless it's French fries)….so you got the idea, Right
So, Valentines, we meet in the middle just like this smoothie it has beets for the pink color (that I love) n blueberries for him.
I also grated some dark chocolate that he loves n Pistachio that I love …. so it's a happy place for us (maybe I'll tone the pink down a little for him).
Now, coming to the health benefits of  our Smoothie Ingredients:
• Beets are a unique source of phytonutrients called betalains which provide antioxidant, anti-inflammatory, and detoxification support. But betalains undergo very steady loss as the cooking time is increased. Hence I decided to eat it raw or cooked for less than 15-20mins.
• Blueberry is filled with antioxidants which are essential to optimizing health by helping to combat the free radicals that can damage cellular structures as well as DNA. So great for our heart and cognitive behavior.
• Ginger anti-inflammatory, helps in detox and bone health.
So with all these nutritive properties, this Beet Blueberry Ginger Smoothie Bowl definitely tops my Valentines Breakfast menu (and that color)… it's a day to love and cherish each other, so why not start it the healthiest way we can.Stay tuned for more recipes to follow.
Enjoy n share your thoughts or pics of my recipe with #EasycookingwithMolly
Until Next Time ~
Pink, it's my new obsession, yeah
Pink, it's not even a question …… Pink, it's the color of passion (as by my Fav Aerosmith song "Pink")
—————
As always, I Looove when you try my recipes and send me pictures & feedback. You can tag my recipes tried by you using #easycookingwithmolly on any of the social media below:
Connect with Me Here:  Facebook / Pinterest / Instagram / Twitter / Subscribe to our Newsletter / Google+
Other Valentines Recipes: 
Molly Kumar
Beet Blueberry Ginger Smoothie Bowl – Valentines Breakfast

2 minPrep Time

2 minTotal Time
Ingredients

1 Small Beet - peeled and cubed

1/4 Cup Blueberries - frozen or fresh

1 Tsp Fresh Ginger

1 Cup Coconut Milk - you can use any choice of milk

1/2 Cup Ice

2 Tbsp Flax Seeds - optional

1/4 Cup Water - optional - for a thinner smoothie

Topping:

Fresh Blueberries

Coconut Flakes - unsweetened

1 Tbsp Chopped Pistachio

Dark Chocolate Bar - optional

Instructions
Add all the smoothie ingredients in a blender or mixer and pulse to form a smoothie. (you may add water if you want it slightly thinner).
Pour in 2 serving bowls.
Top with blueberries, coconut flakes and pistachio.
Shred some dark chocolate and Enjoy
Nutrition
7.8.1.2

188

http://www.easycookingwithmolly.com/2017/01/beet-blueberry-ginger-smoothie-bowl-valentines-breakfast/