No Churn : Figs – Saffron Ice Cream (Festive Dessert) : creamy, flavorful and delicious in every bite, this ice-cream recipe is your answer to a quick festive delight. 
Who doesn't love ice-creams but the only thing that stops us from making them at home is the tedious process for that creamy bite! Seriously, who's gonna keep churning the ice-cream mix again and again or the other option is to buy an ice-cream maker. Which I would absolutely do, but what do I do till then? That's exactly when we ended up making this No Churn : Figs – Saffron Ice Cream (Festive Dessert).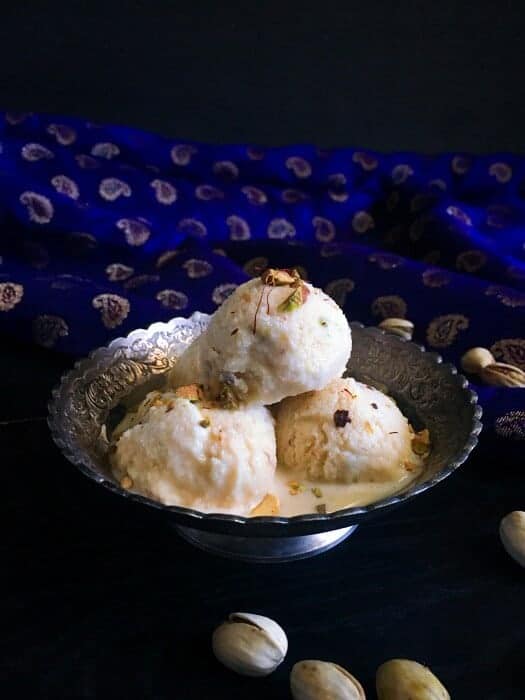 And with the approaching festive season what better dessert that pleases the whole family, is absolutely creamy and wait for the best part – takes just 10 minutes to make and 40 minutes to freeze, now that's what I call a festive delight! I've been making ice-creams at home for the last 2-3 years and yes, I would definitely want to buy an ice-cream maker (always excited to add that one more gadget) someday but till then I'm gonna enjoy this delicious delight one spoon at a time 😉  
This No Churn : Figs – Saffron Ice Cream (Festive Dessert) is also the answer to many of my friends asking for a non-traditional Indian sweet a.k.a mithai (ladoos, barfi, rasgulla, jalebi, etc) but something that goes with Indian or any other festive theme. This ice-cream has all the Indian flavors going (figs, saffron, cardamom, pistachio) and is equally easy to make. Some of you might be worried if this homemade ice-cream would have any crystals or that flakey icey thing going on and the answer is absolutely not. The mixture of coconut milk (full fat) and condensed milk (known as milkmaid in India) gives it a similar texture as of whipped cream which doesn't crystalize. The result is a smooth and creamy ice-cream. What I love most about these no-churn ice-creams is the ability to customize the flavors as per your taste or think mixing all sorts of ingredients like candies / cookies / syrups / fruits / nuts / spices ….. just about bazillion things.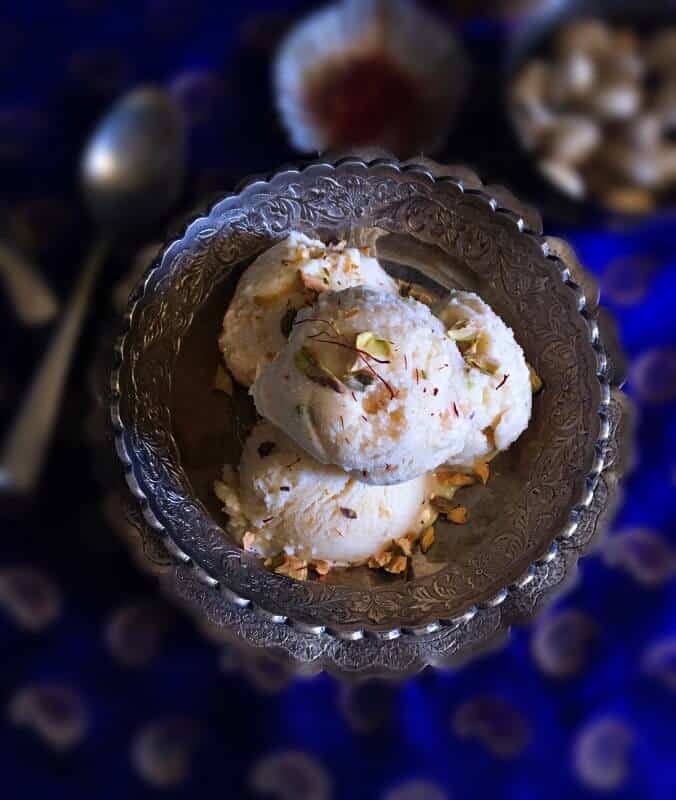 As I write this post, I'm almost done devouring the last bite of this yummy deliciousness and I'd be heading out to get the ingredients for another batch of this ice-cream. I'm making it for our Diwali Festivities along with few other favorite recipes (that I would share soon). Keep an eye and check back as it's gonna be one delicious party.
Until Next Time ~ XoXo
Molly Kumar
Yields 4 people
No Churn : Figs – Saffron Ice Cream (Festive Dessert)
10 minPrep Time
45 minCook Time
55 minTotal Time
Ingredients
1 Can Coconut Milk - use full fat
1 Can Condense Milk - can be low fat
2 Fresh Figs - you can use dry figs too (check note)
1/2 Tsp Saffron
1/2 Tsp Cardamom Powder
10 Pistachio - chopped
Instructions
In a large bowl, whisk together coconut milk and condense milk.
If using fresh figs, scoop the pulp and churn in food processor for a minute.
Add the pureed figs mix in the coconut mixture and whisk everything for a minute.
Now sprinkle some saffron strands, cardamom powder, chopped pistachio and fold everything gently.
Transfer to an air-tight container and freeze for 45-50 minutes (for a soft serve) or 2 hours for an extra firm texture.
Once the ice-cream is set, remove it from freezer.
Scoop 1-2 dollops in a serving bowl and sprinkle with saffron and pistachio.
Similarly scoop the ice-cream in each serving bowl (I'm using 6) and decorate.
Serve Chilled.
Nutrition
7.8.1.2
167
http://www.easycookingwithmolly.com/2016/10/no-churn-figs-saffron-ice-cream-festive-dessert/
—————
As always, I Looove when you try my recipes and send me pictures & feedback. You can tag my recipes tried by you using #easycookingwithmolly on any of the social media below:
Connect with Me Here:  Facebook / Pinterest / Instagram / Twitter / Subscribe to our Newsletter / Google+