Lemon Shrimp Pasta in Garlic White Wine Sauce: extremely easy and restaurant-style shrimp pasta recipe bursting with flavors. It has a lemony garlic white wine sauce and is perfect for a cozy meal.
It's been long since I posted a pasta recipe and this lemon shrimp pasta has been one of our most sought special occasion treat 🙂
I'm using a 'lemon, garlic white wine' sauce in this recipe which is simply Divine!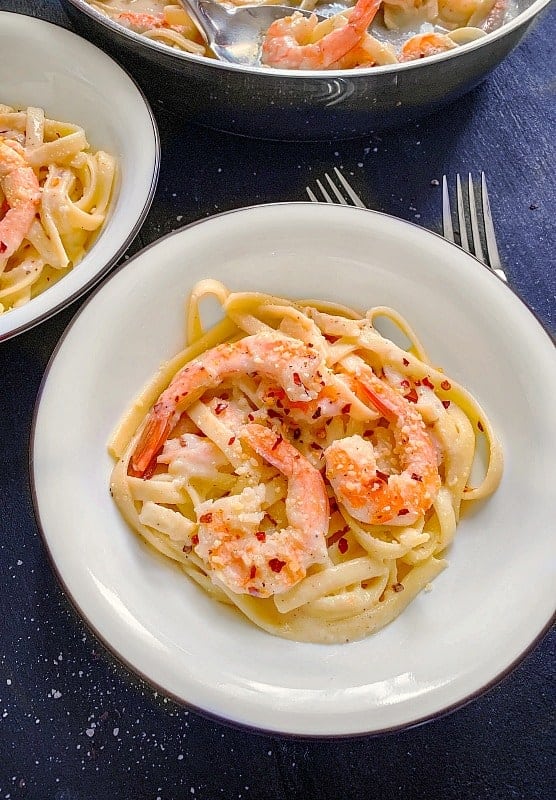 Also, I'm planning it for our Valentine's dinner menu.
With the way, the weather is going and the crazy Valentine rush in restaurants, we are thinking of skipping going out this year.
We would rather stay home, make this cozy White Wine Shrimp Pasta and have a nice dessert along with some wine.
Ingredients for the Lemon Shrimp Pasta in Garlic White Wine Sauce :
Shrimp
Pasta (I'm using fettuccini, but you can use any pasta of choice)
Nice Dry White Wine or Sherry (I'm going to list wine option below)
Some Heavy Cream (or light depending on your choice)
Lemon, Garlic & Herbs (what I call the Flavor Power)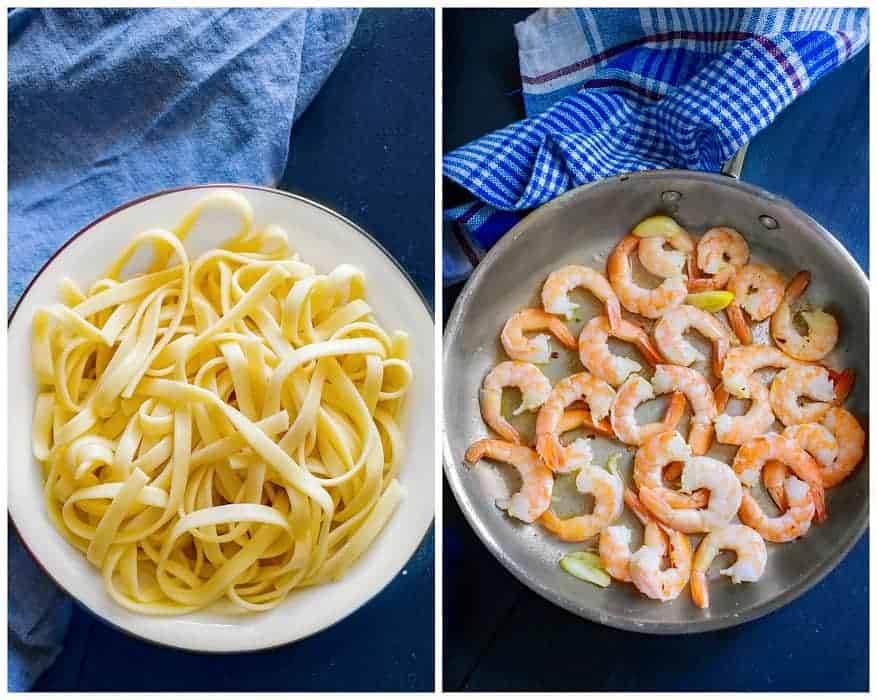 Once you have all the ingredients (listed in the recipe card below), the dish comes together in 27 minutes.
I'm listing a couple of tips below to get the maximum flavor out of this combination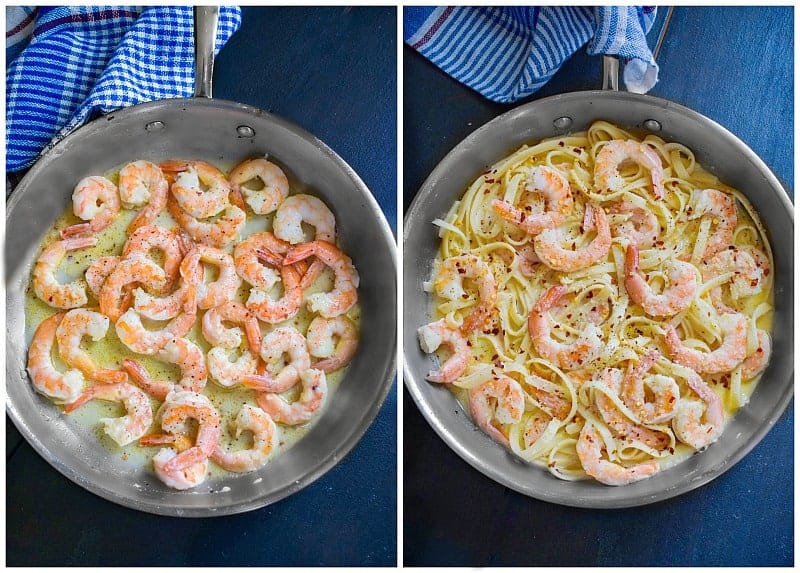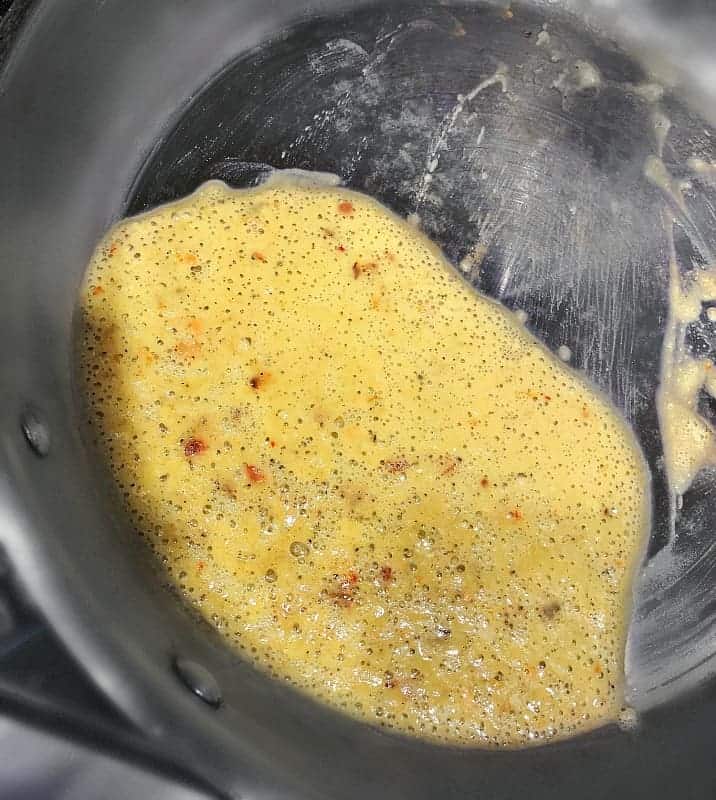 : How to Make Lemon Shrimp Pasta in Garlic White Wine Sauce :
Make the Shrimp First:
I recommend cooking the shrimp first and then using the same pan to make the 'Wine Sauce'.
This adds a nice shrimp flavor to the sauce.
Lump-Free Sauce:
Any cream+flour base sauce needs to be whisked a lot to get a lump-free consistency.
Incase, lumps form, then strain using a siever before you add shrimp or pasta.
Lemon-Garlic Flavor:
Always use fresh lemon juice and garlic in recipes like these. Adds so much more flavor.
Also 'artificial lemon juice' becomes kind of sour in cream, hence fresh lemon juice adds a nice simple flavor.
Addition of Lemon Juice:
Add the lemon juice towards the end of the recipe as it might curdle the cream a little.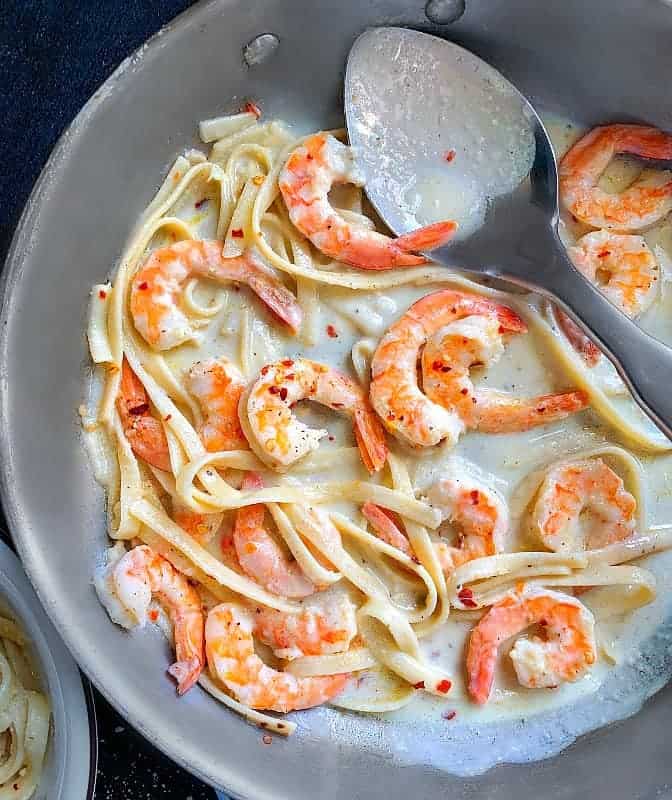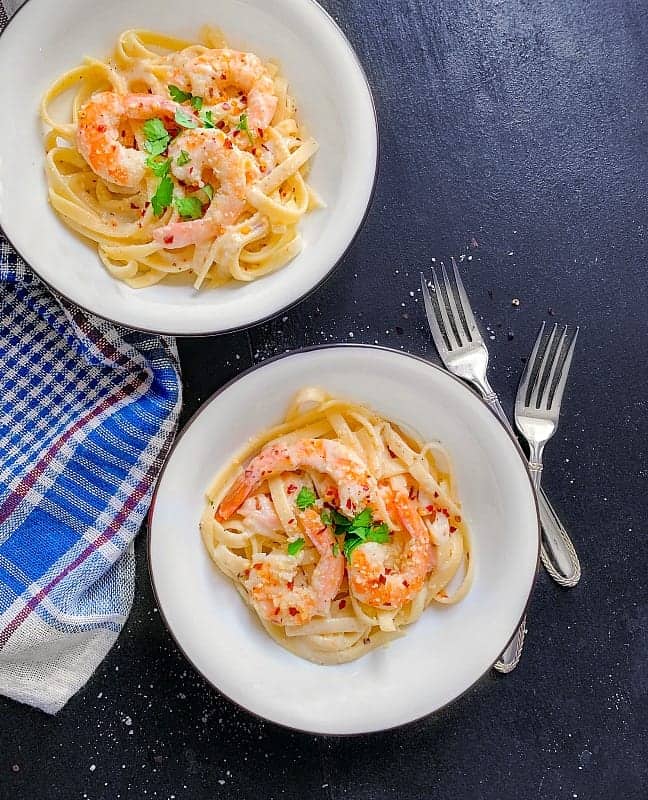 Tried Our Recipe – AWESOME!!!
Now Quickly SNAP A PICTURE & TAG :
#easycookingwithmolly + @easycookingwithmolly on Instagram –>
Connect with Me Here: Facebook / Pinterest / Instagram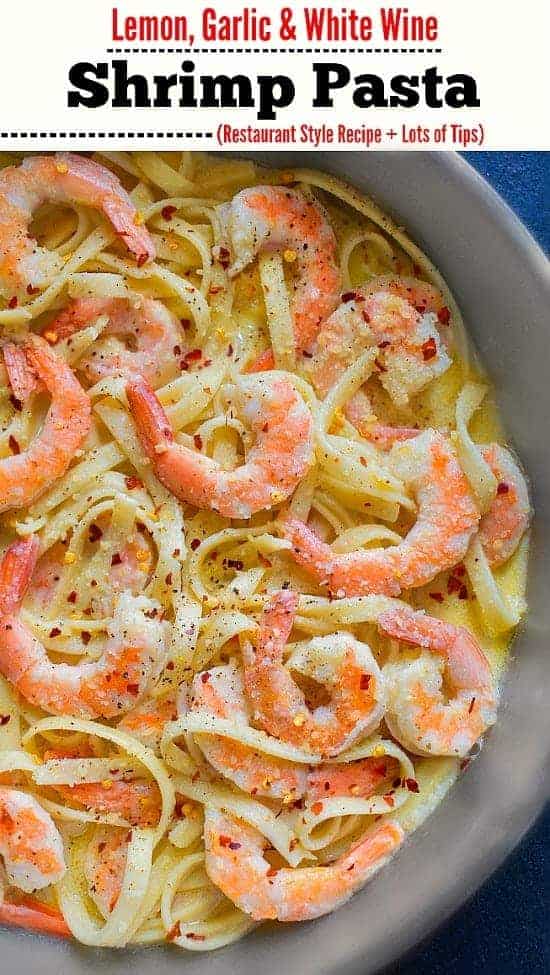 :: You May Also Like ::
Lemon Asparagus Pasta with Peas and Tomatoes (GF/Low Carb) Video
Baked Spinach Gnocchi in Cream Sauce – Lighter Version
Skinny Cauliflower Pasta Bake (Healthy)
Yield: 4 People
Lemon Shrimp Pasta in Garlic White Wine Sauce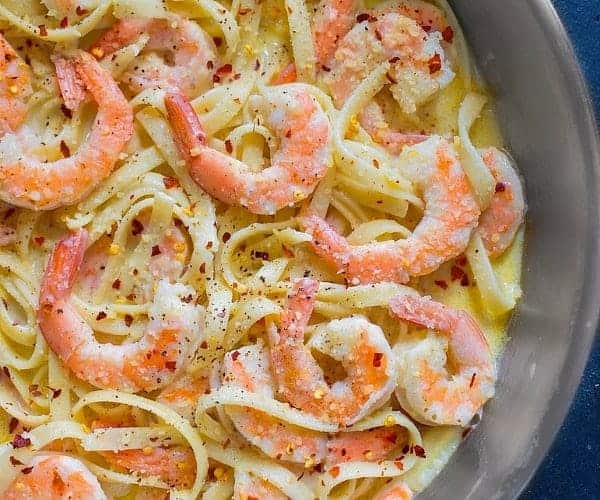 Lemon Shrimp Pasta in Garlic White Wine Sauce: restaurant-style lemon garlic white wine shrimp pasta recipe that's bursting with flavors and extremely easy to make at home.
Ingredients
1 lb Shrimp - peeled, deveined and tail off
8 oz. Fettuccini Uncooked
4 Cups Water - to cook fettuccini
1 Tbsp Butter
2 Tbsp Olive Oil – for sauteeing
Salt+Pepper - as per taste
1/2 Tsp Chili Flakes - optional
For Lemon Garlic Wine Sauce ::
1 Tbsp Lemon Zest
2 Tbsp Fresh Lemon Juice - check notes
4 Cloves Garlic – Crushed
3 Tbsp All-Purpose Flour
1.5 Cup Dry White Wine - check notes
1/2 Cup Broth - use chicken or seafood
1/4 Cup Heavy Cream - can use more if want more creamy
4 Tbsp Parmesan Cheese
2 Tbsp Butter – Use any plain butter you may like
2 Tbsp Herbed Olive Oil - can use any olive oil
1/2 Tsp Italian Seasoning - can reduce or add more as per taste
1/4 Tsp Black Pepper Powder
1 Tsp Salt (As per your taste)
Garnish
2 Tbsp Fresh Cilantro - chopped
1 Tsp Red Chili Flakes
1 Tbsp Parmesan Cheese - grated
Instructions
Cook the Shrimp -
In a large pan, add butter, oil and heat it for a minute on high flame and then reduce the flame to medium.
Now add chopped garlic and chili flakes. Let them crackle for 10 seconds.
Now, add the shrimp, Italian seasoning and let them cook for 3-4 minutes (saute in between).
Once the shrimps are fully cooked, Transfer them to a large plate.
Preparing the Lemon Garlic White Wine Sauce -
In the same pan, add the butter, oil and let it heat for a minute.
Add crushed garlic, stir 3-4 times and then discard the garlic.(This will flavor the sauce with garlic without giving it an over-powering garlic flavor) BUT (You may keep the garlic as per your choice and proceed with next step).
Add the All-Purpose flour and saute for 2 minutes (over medium flame to prevent from burning).
Once the flour is cooked, add the broth and wine.
Whisk everything and reduce the flame to low.
Bring this to a boil once and add the cream.
Whisk everything and let this cook for 1-2 minutes over medium-low heat.
Add the cooked shrimp, lemon juice and seasoning.
Stir everything carefully and mix.
Now add the pasta and give it a quick mix (I like to use tongs to mix everything here).
Let this cook for 2-3 minutes and then turn off the heat.
Transfer to a serving dish and top with fresh cilantro, chili flakes and add some lemon juice on top (if you are using any garnish).
Serve immediately and enjoy.
Notes
Fettuccini Uncooked - or 3 cups cooked, use any pasta of choice (check notes)
Olive Oil – For sauteeing. (You may use any flavorless oil of choice)
Fettuccini: I'm using fettuccini as we love this combo, but any pasta tastes good. You can add spaghetti pasta, bow-tie or even linguini.
Fresh Lemon Juice: it's always better to use fresh lemon juice in a cream-based sauce for enhanced flavors
Dry White Wine: I'm using Pinot Grigio (You may use any Pinot Grigio, Sauvignon Blanc or un-oaked Chardonnay)
Nutrition Information:
Yield:
4
Serving Size:
1
Amount Per Serving:
Calories:

700
Total Fat:

42g
Saturated Fat:

15g
Trans Fat:

1g
Unsaturated Fat:

24g
Cholesterol:

250mg
Sodium:

900mg
Carbohydrates:

69g
Fiber:

3g
Sugar:

3g
Protein:

50g