Stir-Fry Sesame Chicken (Healthier and Light): extremely delicious and popular Chinese recipe made healthier, easier and better than takeout. It can be enjoyed with any grain or noodle and makes a great #mealprep
I hope you try this Stir-Fry Sesame Chicken soon.
This Stir-Fry Sesame Chicken or Healthy Sesame Chicken Recipe is one of our favorite weeknight meal.
It's easier than your takeout order and extremely delicious.
The recipe was initially posted in 2015 and the pictures were taken in an extreme jiffy as we were so hungry and couldn't wait for than 5 minutes to devour this.
Apart from being our favorite goto Stir-Fry Sesame Chicken recipe, it's one of my most searched recipes by you'll or my lovely readers.
So I had been planning to reshoot the pictures and show you all the deliciousness.
So here are the new pics and the recipe details are the same except that I've swapped zucchini with broccoli in the new pics.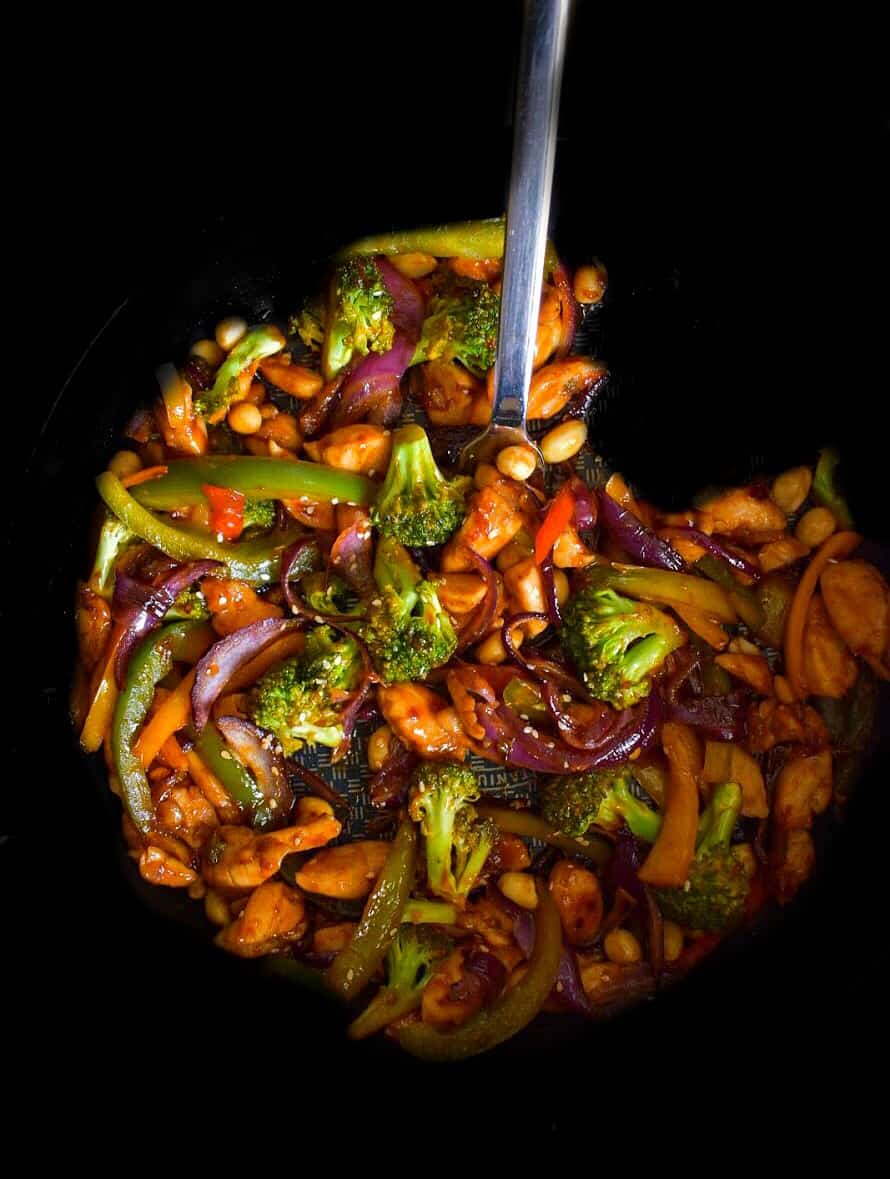 So, here we are with some new pics and you can now see all the vibrant colors of the veggies.
This dish is also popularly known as Sesame Ginger Chicken and Vegetable Stir Fry.
That I've mixed and the saucy-glistening chicken in that sweet-spicy sesame sauce.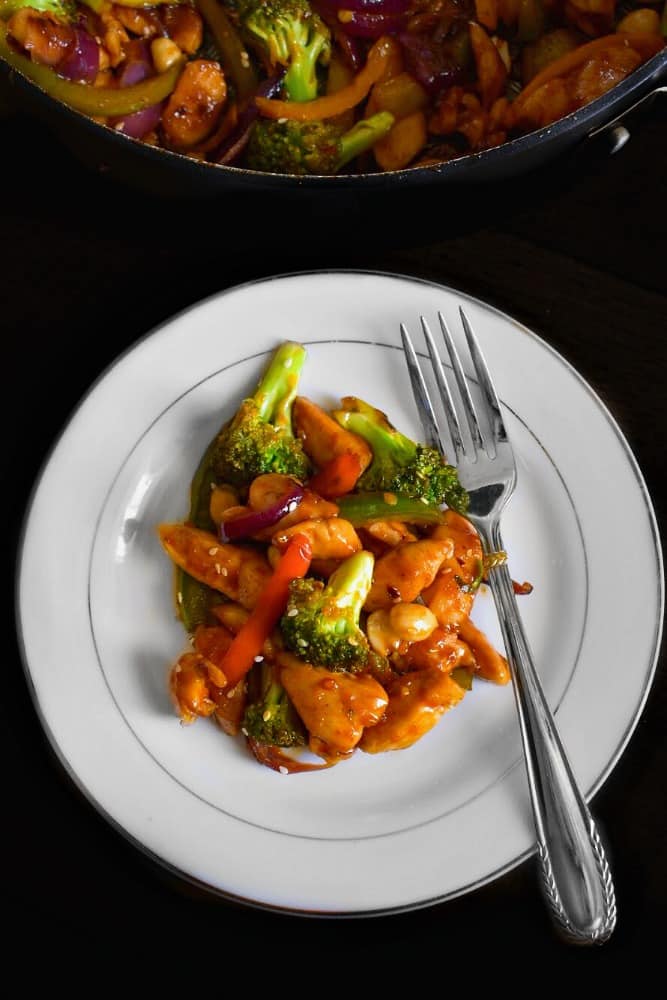 Hello beautiful people, today there was an extra bounce in my step and a wide smile on the face as it's Friday.
Everything looked shinier and brighter.
As you might remember from my last post, I'm trying to get back on a healthier eating routine after spending an entire month or so gorging on all kind of food.
Now my definition of healthy food', doesn't mean boring, bland or curbing any particular food item.
It's more like eating regularly, right quantity, less of high-calorie food and making a healthier version of my favorite recipes.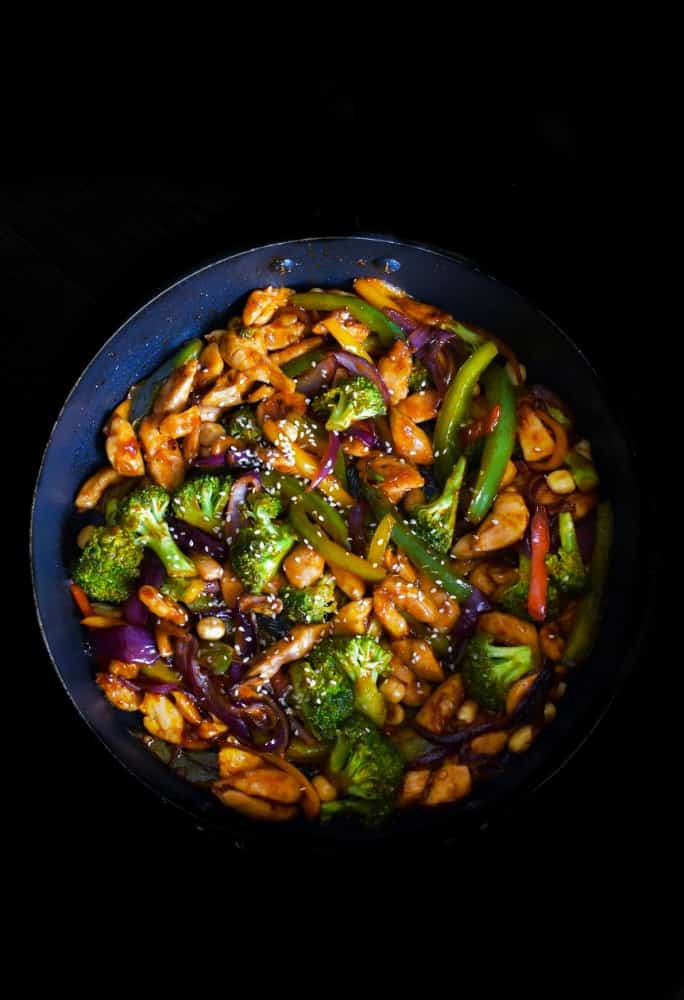 Continuing with that, today I'm going to share a quick but healthy recipe for Stir-Fry Sesame Chicken.
It's one of my goto chicken recipes but it's usually deep fried chicken in a thick sticky sauce using sugar and cornstarch.
My version is without any sugar or cornstarch, low in salt and includes a lot of vegetable along with chicken which makes it lighter and crunchy.
This Stir-Fry Sesame Chicken recipe is made under 15 minutes and can be stored in the refrigerator for 3-4 days. Best served fresh along with your choice of side.
Pro Tip :
When cooking with Soy Sauce, always keep in mind the salt content.
Soy Sauce is high in salt hence if you're adding additional salt, taste the dish before doing so.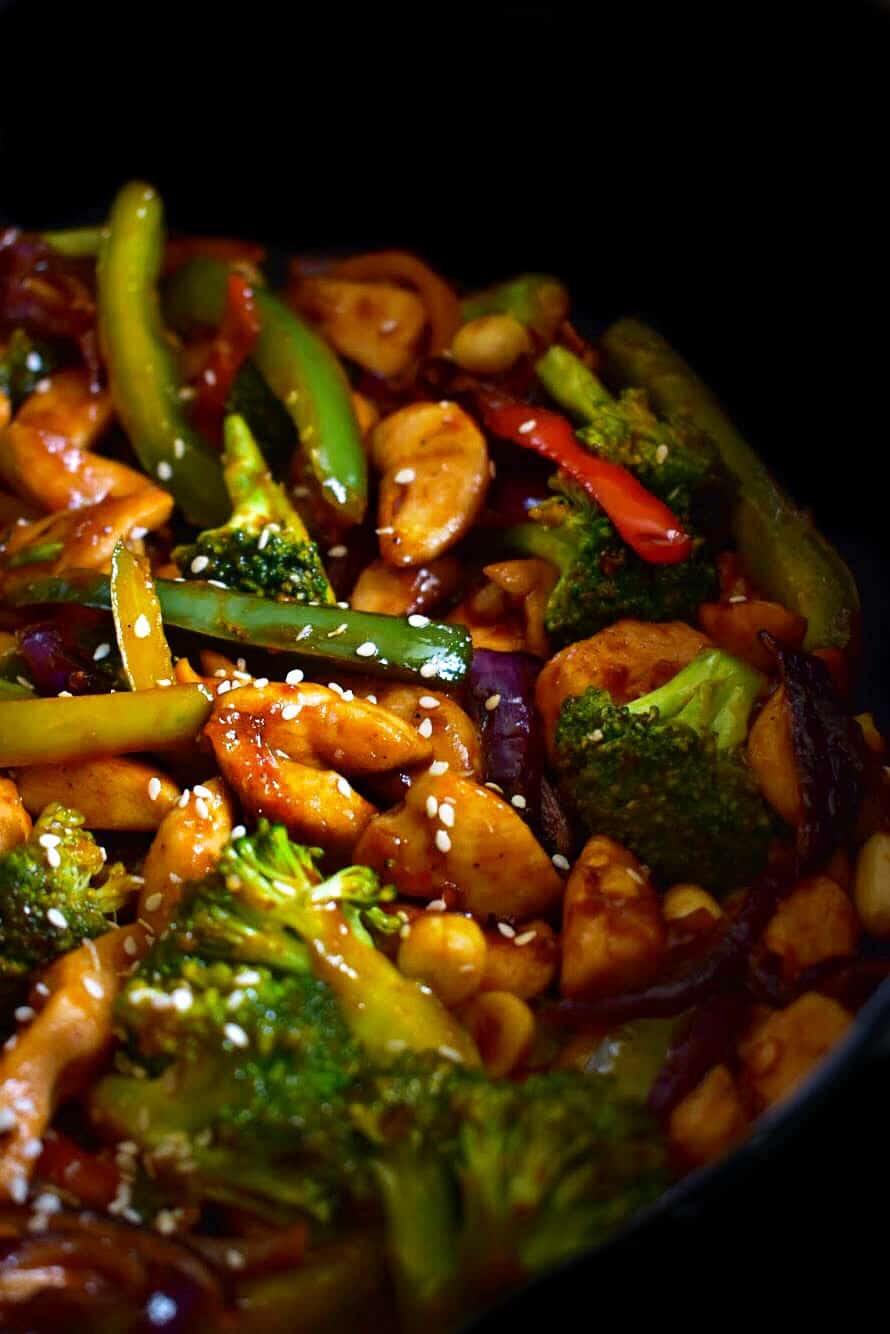 You can also try these Chinese recipes:
---
If you're trying any of my recipes, I'd love to see your pictures or receive your feedback.
You can tag my recipes using #easycookingwithmolly on any of the social media below:
Connect with Me Here: Facebook / Pinterest / Instagram / Twitter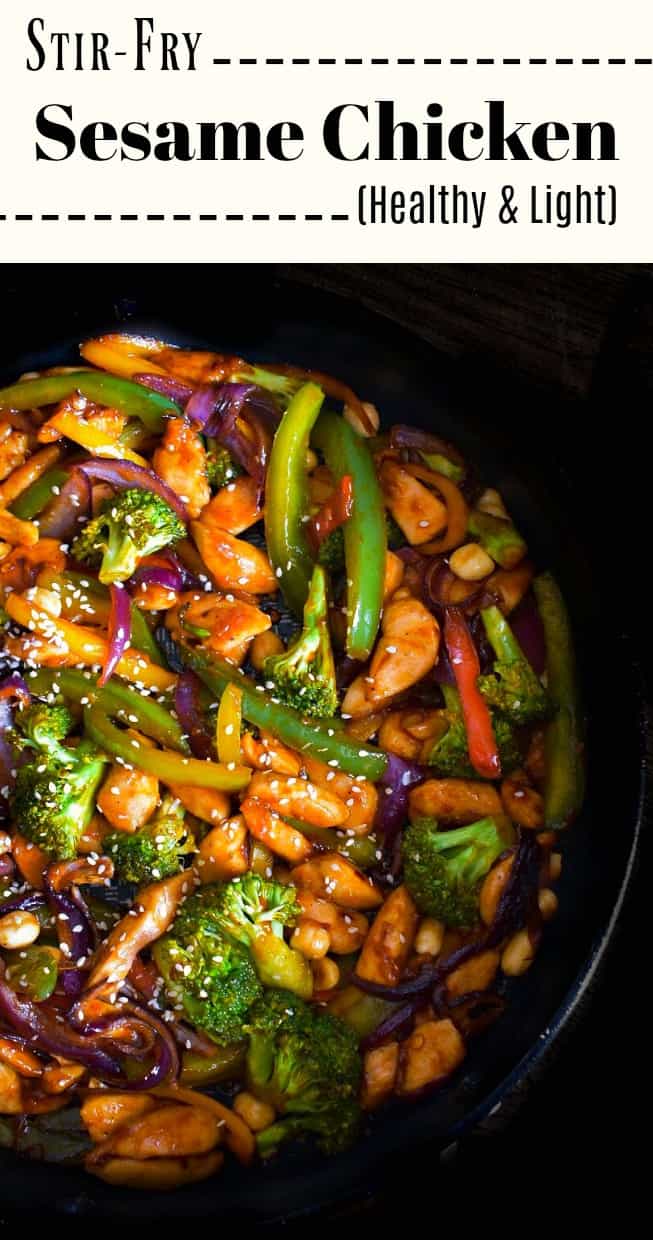 Yield: 4 People
Healthy Sesame Chicken (Stir-Fry)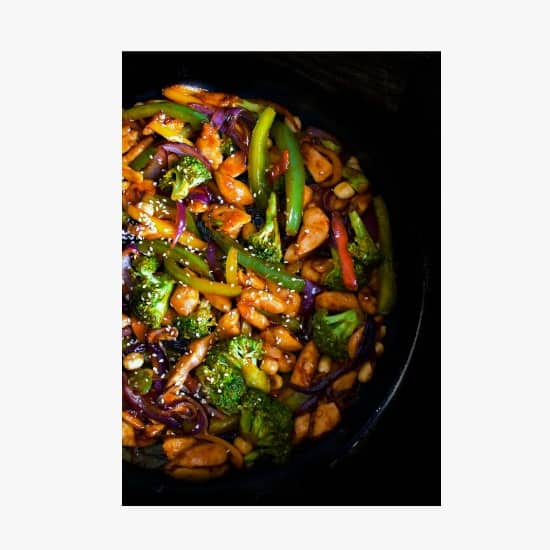 Healthy Sesame Chicken: extremely delicious and popular Chinese recipe made healthier, easier and better than #takeout #mealprep #chineserecipe
Ingredients
4 Chicken Breast – Cleaned and cut into long thin strips (This will help cook the chicken quickly and evenly)
1 Medium Onion - thinly sliced
1 Cup Green Bell Pepper – Cleaned and cut into thin bite size pieces
1/2 Cup Carrot – Cleaned and cut into thin bite size pieces
1/4 Cup Broccoli – Cleaned and cut into bite size pieces
4 Tbsp Sesame Oil – For stir fry (You can use Olive oil too)
2 Tsp Sesame Seeds
For the Sauce:
6 Tbsp Soy Sauce
4 Tbsp Worcester Sauce – Optional
1/2 Tsp Ginger Paste – You can use ginger powder
1 Tsp Rice Vinegar – You may use white vinegar aslo
1 Tbsp Honey
1/8 Tsp Black Pepper Powder
1 Tsp Chili Flakes – Optional
1/2 Tsp Salt (As per your taste)
Instructions
In a small bowl, whisk all the 'sauce' ingredients and keep aside.
Heat the wok or non-stick pan on high with 2 tbsp of oil.
Reduce heat to medium, add chicken and cook for 3-4 minutes (Keep stirring the chicken every half minute. This will help cook the chicken evenly)
Transfer cooked chicken into a medium bowl.
In the same wok, add 1 tbsp of sesame oil, add the veggies and stir-fry for a minute. (We want to tenderize the vegetables slightly, retaining it's crunch)
Now, add cooked chicken, pour the sauce, stir and saute everything together for about 2-3 minutes on high flame.
Turn off the heat.
Transfer to serving dish, sprinkle with sesame seeds and serve hot.
Nutrition Information:
Yield:
4
Serving Size:
1
Amount Per Serving:
Calories:

275
Total Fat:

23g
Saturated Fat:

3g
Trans Fat:

0g
Unsaturated Fat:

15g
Cholesterol:

78mg
Sodium:

300mg
Carbohydrates:

11g
Fiber:

3g
Sugar:

5g
Protein:

54g
Old Pics 🙂