Vegetable Pizza Frittata: This is an easy-peasy stovetop vegetable pizza frittata recipe using ricotta, eggs, and veggies. Perfect for brunch or a quick meal
Easy to make, perfect for any meal and without any cream or flour.
This Vegetable Pizza Frittata is completely out of this world and don't take my word for it but try it for yourself – it's going to leave you craving for more !!!
It's a recipe that's a mix of two of our favorite recipes – a quiche (without the crust + all that creme/cheese) and a pizza (minus the crust+lots of cheese).
But it's made using eggs, veggies, ricotta, and our favorite peperoncini peppers from Mazzetta that jazz your everyday food to a new delicious level.
This recipe has been made for breakfast, brunches, lunches or just name any meal…even snack…it's been popular with our friends/family and is in demand many times.
What makes it unique is the blend of creamy, spicy and light – the ricotta adds such a creamy texture when mixed with eggs.
The peperoncini adds that perfect kick of spice that wakes up our taste buds and the mix of all that veggie gives it this light feel.
If you've not cooked or tasted peperoncini before, then you're definitely missing out on a very delicious ingredient and Enter their Giveaway. (Here's a picture of how they look)
Also, unlike baking a traditional frittata, we are making it on the stovetop and it just takes 10-12 minutes to make 1 Peperoncini, Ricotta and Vegetable Pizza Frittata.
The recipe is equally simple and you can replace the veggie combination with meat or any other veggies of choice but give this one a try first as it will blow your mind!
It's also a great recipe to for a weeknight meal or even when you're looking to feed a crowd – just double/triple or easily quadruple the ingredients (they are so simple that you can't go wrong).
You can prep everything a night before and just mix the batter before finally making the frittata.
Tips to make that perfect frittata (without breaking or sticking the edges):
Non-Stick Pan / Skillet: Use a slightly heavy and good quality non-stick pan or skillet. I prefer skillet as they are heavier and give even heating on low heat.
Cooking Spray / Oil: You need to nicely spray or oil the inside of the pan, so that the batter doesn't stick.
Don't Rush: This is my favorite tip as I used to do this many a time and try to wiggle the frittata while cooking or try turning it over in anticipation. Just wait till you see a firm frittata on the top, then you can flip it.
Flipping the Frittata: Take your time, you can even turn off the heat if you're trying to flip for the first time.
Just cover the pan with a slightly large plate and using gloves, slightly lift and turn the frittata onto the plate and then slide the uncooked side back into the pan.
So, these are some tricks that I always use to get that perfect looking frittata everytime. It does come with a little practice but I'm sure you can do it (if never done before).
So, go ahead and enjoy the recipe and also enter for a chance to win this amazing:
—————– GIVEAWAY from Mezzetta ————–
Enter for a chance to Win 52 Meal Kits from Chef'd! (All who enter will receive a 10% coupon)
—————— Click the Link Above to Enter ——————–
---
As always, I Looove when you try my recipes and send me pictures & feedback.
You can tag my recipes tried by you using #easycookingwithmolly on any of the social media below:
Connect with Me Here: Facebook / Pinterest / Instagram / Twitter / Subscribe to our Newsletter

Yield: 2 People
Vegetable Pizza Frittata (Stovetop Recipe)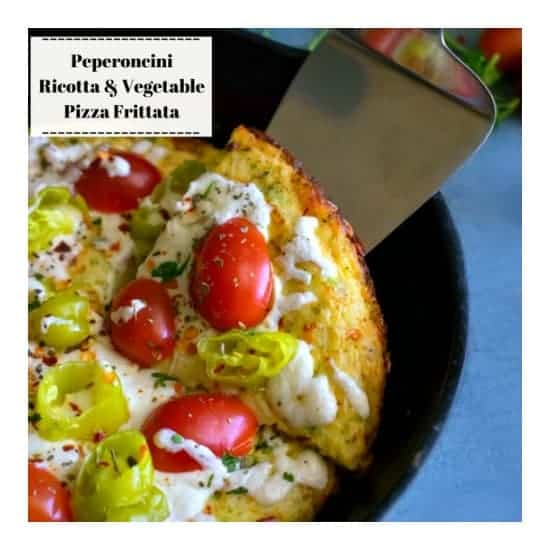 This is an easy-peasy stovetop vegetable pizza frittata recipe using ricotta, eggs and veggies. Perfect for brunch or quick meal
Ingredients
4 Eggs
2 Tbsp WarmWater - to wish eggs
2 Tbso Oil
6 Peperoncini Peppers - thinly chopped
2 Medium Boiled Potatoes - shredded
1/4 Cup Shredded Broccoli
1/4 Cup Shredded Zucchini
4 Tbsp Ricotta
8 Cherry Tomatoes - halved
Salt
Pepper
Red chili flakes
Italian seasoning
3 Tbsp Shredded Mozzarella
Instructions
In a large bowl, whisk together eggs and warm water.
Now add potatoes, zucchini, broccoli, peppers in this and mix everything using a fork.
Heat a skillet and add 1 tbsp oil (let it nicely heat for a minute on medium heat).
Reduce the heat to low and add half of the frittata batter in the pan.
Nicely spread it using a spoon and make sure the top is even.
Now cover and cook over low heat for 2 minutes.
After 2 minutes, remove the cover and let it cook for another 1-2 minute.
You'll see the bottom layer has fully cooked (firm up) while the top would be little wiggly.
Now, take a plate and flip the frittata over the plate.
(Now, you have the top uncooked layer on the bottom of the plate)
Slide the frittata back to the pan and cook the top layer for a minute.
Flip it back (using the same method).
Top with mozzarella, tomato and some chopped peperoncini.
Sprinkle with red chili flakes, italian seasoning and cover with a lit.
Let this cook for another 2 minutes (low heat) and the cheese will melt.
Now transfer the frittata pizza on a serving plate.
Similarly cook the other half of the batter.
Serve the frittata pizza immediately.
Nutrition Information:
Yield:
2
Serving Size:
1
Amount Per Serving:
Calories:

230
Total Fat:

30g
Saturated Fat:

7g
Trans Fat:

0g
Unsaturated Fat:

21g
Cholesterol:

443mg
Sodium:

200mg
Carbohydrates:

53g
Fiber:

9g
Sugar:

13g
Protein:

27g