This is a sponsored post from Bonne Maman and all opinions are mine. #BonneMaman #SayItWithHomemade
Wild Blueberry – Turkey Pull Apart Rolls: These 5 ingredients pull-apart rolls are absolutely delicious with a little bit of sweet-savory combination. Perfect for breakfast in bed for Mother's Day.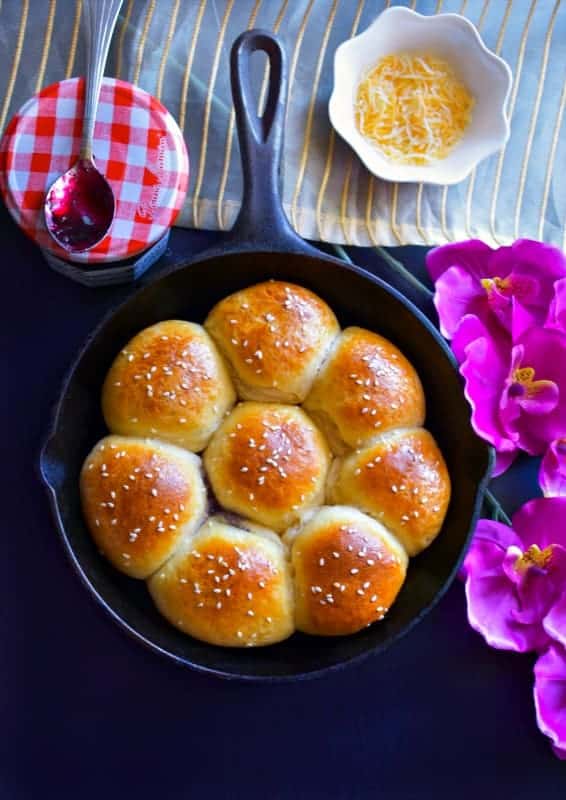 This week has gone by so quickly but I've been confused about days (maybe because last week was a long weekend)…maybe…
but I couldn't wait to share these Wild Blueberry – Turkey Pull Apart Rolls that are my special breakfast in bed recipe.
As you all know we are soon approaching Mother's Day and usually I post one recipe for it every year but this year, I thought why not start with a breakfast recipe and few more for the special day.
Mom's are just so special that no matter what we do, it will never be enough for all what they do for us.
So why not treat her like the queen she deserves to be treated as and start her day surrounded by her favourite people, flowers and best of all 'Breakfast in Bed' 🙂
So, this is my Mother's day recipe to begin the day with and there would be few more that you'll keep seeing in next few posts.
Now, I chose these Wild Blueberry – Turkey Pull Apart Rolls as my mom loves homemade bread/buns/biscuits and she loves jam and thinly sliced meat (cooked), so what better way to combine all three in a simple sweet-savory recipe.
I'm using thinly sliced smoked turkey for the savory part and for sweet, I'm using our family favorite Bonne Maman – Wild Blueberry Preserve. Have you had a Bonne Maman Preserves and Jellies?
They are produced in France and the name literally means "Grandmother or Granny".
The brand is aptly named as the preserves and jellies are made from the best natural ingredients found in your (or your Grandmother's) kitchen, using the same traditional recipe since the brand began.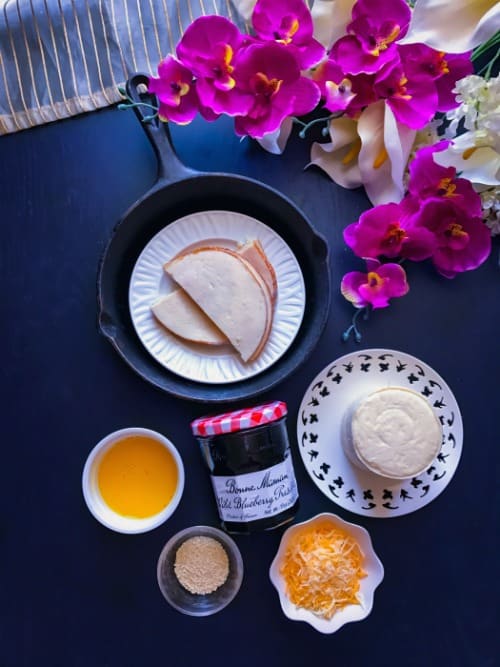 For the rolls, I'm using the flaky biscuit dough that you get in the freezer section of your local grocery store.
Now, the most interesting part is the rich golden brown color of the pull-apart rolls which we usually see in store bought or bakery goods.
The solution is very simple and involves an egg 🙂
Seriously, all you need is an egg wash and the polls are gonna look perfect as if they are straight from a bakery – Trust me on that !!!
Given above is a process picture for theWild Blueberry – Turkey Pull Apart Rolls and they are absolutely fun to make with kids and we definitely need an adult (in this case dad 😉
as you remember it's for mom's breakfast in bed and she can't help – that' the rule).
One the pull-apart rolls are all ready for the oven, the dad or the assigned adult, can then place them in the oven and bake for 15 minutes.
While these get baked, you can assemble your mom's favorite flowers and drink in a tray.
This is exactly how I'm serving the breakfast in bed this Mother's Day and hope you try the recipe soon.
You can add or remove any ingredient as per choice or simply make one stuffed with just the preserve for a sweet surprise.
Learn More About:
-> Bonne Maman on Instagram or Pinterest or Enter a chance to WIN their fantastic sweepstake worth $1270
---
Tried Our Recipe – AWESOME!!!
Now Quickly SNAP A PICTURE & TAG :
#easycookingwithmolly + @easycookingwithmolly on Instagram –>
Connect with Me Here: Facebook / Pinterest / Instagram
---
Yield: 8 Rolls
Wild Blueberry and Turkey Pull Apart Rolls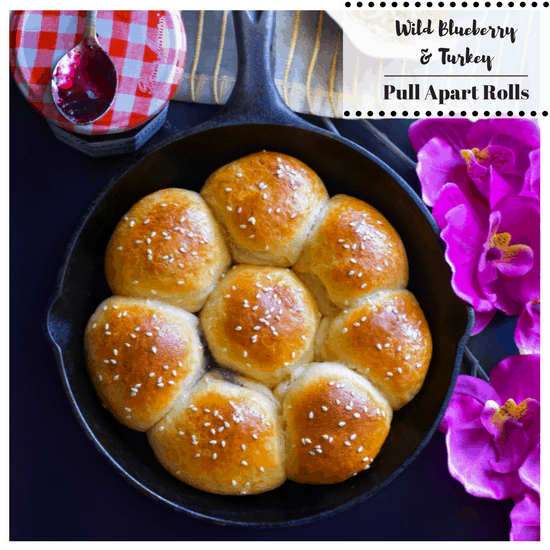 Wild Blueberry and Turkey Pull Apart Rolls: These 5 ingredients pull apart rolls are absolutely delicious with a little bit of sweet-savory combination. #MothersDay
Ingredients
1 Flakey Biscuit Dough - thawed or room temperature
3 Smoked Turkey Slices
4 Tbsp Bonne Maman Wild Blueberry Preserve
3 Tbsp Cheese - use any cheese as per choice
1 Tbsp Sesame Seeds
1 Egg - whisked
Instructions
Pre-heat oven at 190F
Open the biscuit can and separate the biscuits (makes 8 biscuits).
Cut the turkey slices into halves and roll them.
Now, take one biscuit dough and add 1/2 tbsp preserve in the middle.
Now place a rolled turkey, cheese over it and start to close the biscuit dough to form a stuffed roll.
Now place the roll in a skillet or circular baking stray (small).
Similarly, fill all the biscuit dough, form rolls and place them next to each other in the skillet.
Now, take the whisked egg and brush it all over the rolls (brush them twice).
Sprinkle some sesame seeds over each roll.
Place in oven and bake for 15 minutes.
Turn off the oven and remove the pull apart rolls.
Server fresh with some extra preserve on the side.
Nutrition Information:
Yield:
8
Serving Size:
4 People
Amount Per Serving:
Calories:

100
Total Fat:

4g
Saturated Fat:

2g
Trans Fat:

0g
Unsaturated Fat:

2g
Cholesterol:

36mg
Sodium:

264mg
Carbohydrates:

12g
Fiber:

0g
Sugar:

6g
Protein:

5g