Spiced Rum Cranberry Trifle is a creamy, delicious dessert with festive flavors in every bite. It's layers of cream, homemade cranberry sauce, and cake soaked in spiced rum – Truly a Festive Dessert that makes your heart sing ~ Have Yourself a Merry Little Christmas!
Get ready for this 15-minute Spiced Rum Cranberry Trifle dessert recipe that would leave everyone asking for that second round for sure.
I have been getting a lot of messages regarding quick holiday dessert recipes and believe me this one is by far 'The Most' easiest dessert that I've ever made.
It just requires few ingredients and can be assembled in 15 minutes.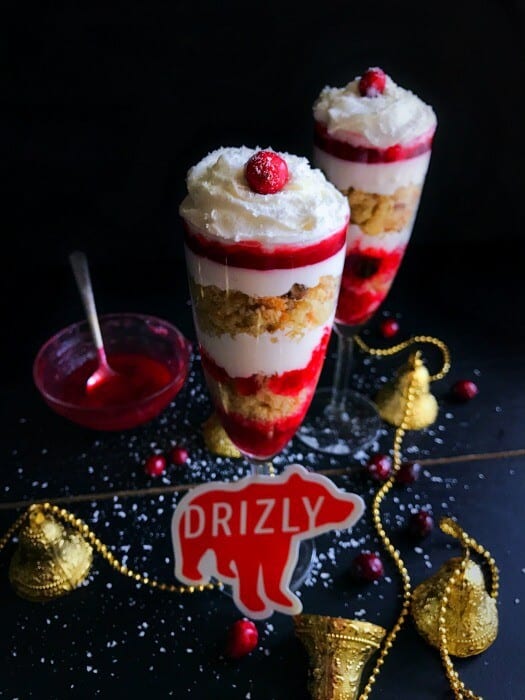 Spiced Rum Cranberry Trifle Ingredients:
Whip Cream
Cranberry Sauce – homemade or store-bought
Cake
Spiced Rum
Pecans – optional
Especially during the holidays, we are running around to get so much done, that I totally love the option of having things delivered at home.
Now, getting back to our Spiced Rum Cranberry Trifle recipe, I'm using common ingredients found in our homes like cream, cake, cranberries and of course spiced rum to jazz it all up.
I did make the cranberry sauce at home but you can absolutely use store-bought or any leftover cranberry sauce that you might have.
Then I crumbled the cake, added some chopped pecans (optional), and spiced rum, and lightly mixed everything using a fork.
To make things a little fancier, I used champagne flutes to layer the trifle but go ahead and use any glass or bowl for the same.
Once everything was layered and the trifle was ready, I dolloped it with some extra whipped cream on top, dusted it with some white chocolate, and added a cranberry on top.
I totally gulped down 2 glasses….just taste testing before I served 😉
Every bite of this Spiced Rum Cranberry Trifle is creamy, fluffy with just the right amount of spiced rum to send you to your food happy zone.
You can make then a night in advance and I'm serving it for my Christmas brunch this year along with a few other yummy treats that I will be sharing soon.
Now, if you don't drink or are avoiding liquor, you can still make the trifle with a splash of cranberry juice or just totally skip the rum.
I hope you get to enjoy this yummy treat soon…..Oh, I forgot, these would be FABULOUS for Date Nights too!
Also, try Drizly to order your next liquor purchase online, you can find more about it here.
~ Until Next Time – XoXo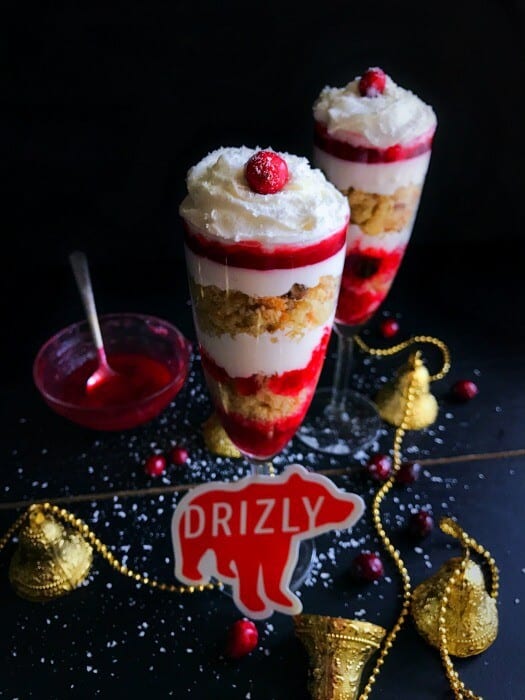 ---
Tried Our Recipe – AWESOME!!!
Now Quickly SNAP A PICTURE & TAG :
#easycookingwithmolly + @easycookingwithmolly on Instagram –>
Connect with Me Here: Facebook / Pinterest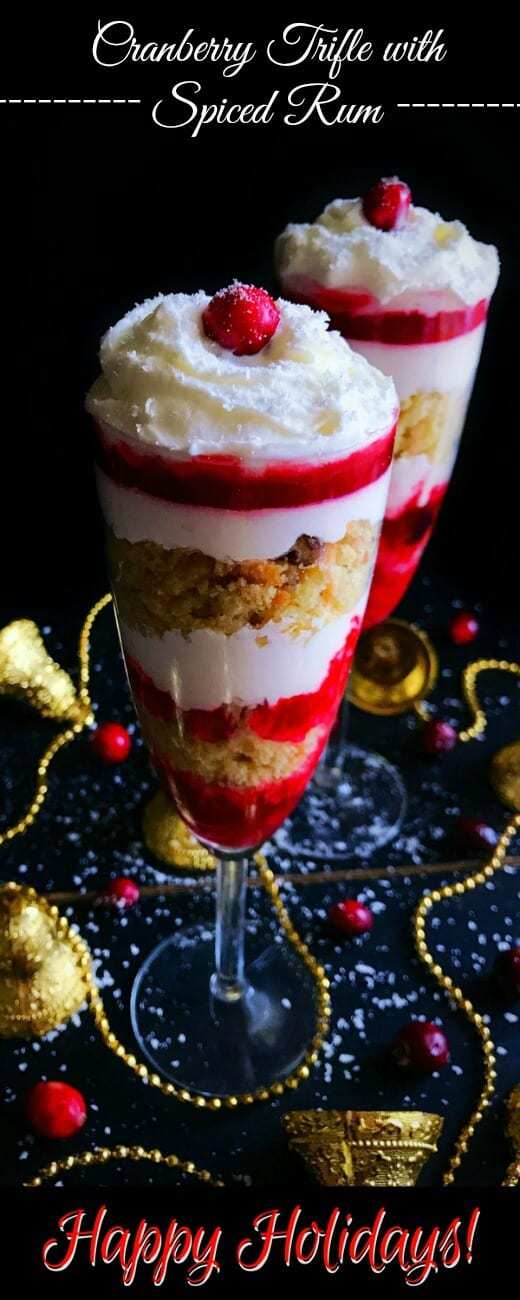 :: You May Also Like ::
Yield: 6 Glasses
Spiced Rum Cranberry Trifle - 15 minutes recipe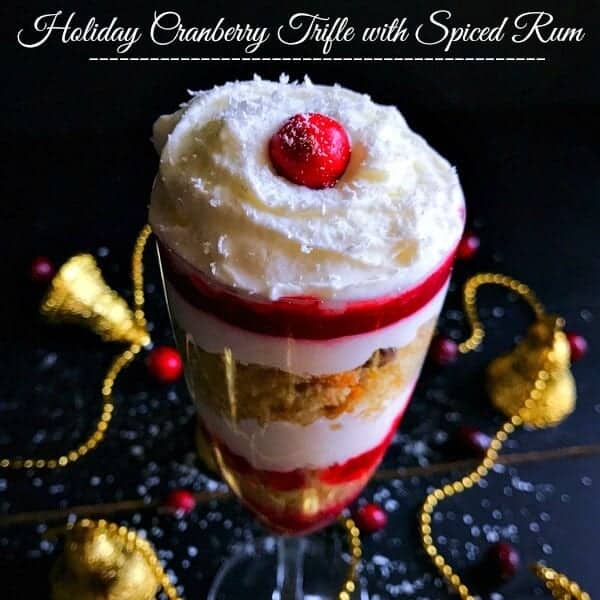 Spiced Rum Cranberry Trifle: creamy, delicious dessert with festive flavors in every bite. It's layers of cream, homemade cranberry sauce, and cake soaked in spiced rum
Ingredients
1/2 Cup Cranberries - frozen or fresh
1 Cup Cream - whisked
1/2 Cup Spiced Rum
1 Small Cake - crumbled - you can take any non-iced cake of choice.
3 Tbsp Pecans - chopped - Optional
6 Glasses - to assemble the trifle
Cranberry Sauce Ingredients:
1 Cup Water - to make the cranberry sauce
1 Cinnamon Stick
2 Clove
1 Tsp Lemon Peel
3 Tbsp Sugar
Decoration :
Can of Whipped Cream
1 Small Piece of White Chocolate
Few Fresh Cranberries - optional
Instructions
Make the Cranberry Sauce :
Add cranberries, water, sugar, cinnamon stick, clove and lemon peel in a small pan and place it on medium heat. (keep stirring every minute).
Bring to a boil and then reduce the heat to low.
Keep stirring the sauce for 3 minutes and then turn off the heat.
Let the cranberry sauce cool completely.

Assemble the Trifle :
In a bowl, crumble the cake, add chopped pecans (optional), spiced rum and mix everything using a fork.
Keep Aside.
Take a serving Glass.
Pour 2 Tsp of cranberry sauce towards the bottom of the glass.
Then, add 2 Tsp of the crumbled cake.
Add 1 Tsp of cranberry sauce over the cake and swirl the glass for the sauce to spread evenly.
Now, add 1 Tbsp of whisked cream and spread around the glass.
Layer with 1 tsp of crumbled cake.
Again, layer with 1 tsp of cream and press gently.
Add a tsp of cranberry sauce, leaving some space on the top for cream.
Using the whipped cream can, layer the cream on top.
Grate with white chocolate.
Place a cranberry on the top.
Similarly, assemble all the 6 remaining glasses.
Serve Fresh or Chill in the fridge.
Nutrition Information:
Yield:
6
Serving Size:
1
Amount Per Serving:
Calories:

350
Total Fat:

46g
Saturated Fat:

26g
Trans Fat:

0g
Unsaturated Fat:

18g
Cholesterol:

148mg
Sodium:

123mg
Carbohydrates:

65g
Fiber:

3g
Sugar:

50g
Protein:

7g
This post is sponsored by Drizly but all opinions are my own.