Chingri Malai Curry (Coconut Shrimp Curry) is a delicate yet delicious recipe from the state of Bengal in India.
Chingri Malai Curry (Coconut Shrimp Curry)
It's the perfect pairing of lightly sautéed shrimp in a coconut sauce which is both mild n slightly spicy (yes you heard it right mild & spicy) at the same time.
I'm a huge seafood loving person and love having shrimp/prawn/fish recipes that are mildly cooked and this Chingri Malai Curry is my all-time favorite Bengali recipe.
As I just mentioned, the recipe originated from Bengal (Eastern side of India) and here's what it means:
Chingri = Shrimp
Malai Curry = Creamy or Cream based Curry
To begin with, the shrimps are tossed with a turmeric, salt (to give it a lush color) mix and lightly sautéed until they achieve a light pink color or cooked.
Now, to achieve that Creamy Curry / Malai Curry consistency that it's so famous for:
The shrimps are cooked in a mix of coconut milk + water along with fragrant spices like cinnamon, clove, and cardamom which enhances the flavor to a new high.
The spices used above are all mild and give this curry a sweet-aromatic flavor which goes perfectly with the lightness of shrimp.
Once all that is simmered in coconut milk (can – not carton coconut milk), it gives this Chingri Malai Curry an exceptional taste.
Overall this Chingri Malai Curry is ready in about 15 minutes but the taste is so heavenly that you'll keep wanting to have more.
It's best enjoyed with a bowl of fresh steamed white rice but you can choose any side as per choice.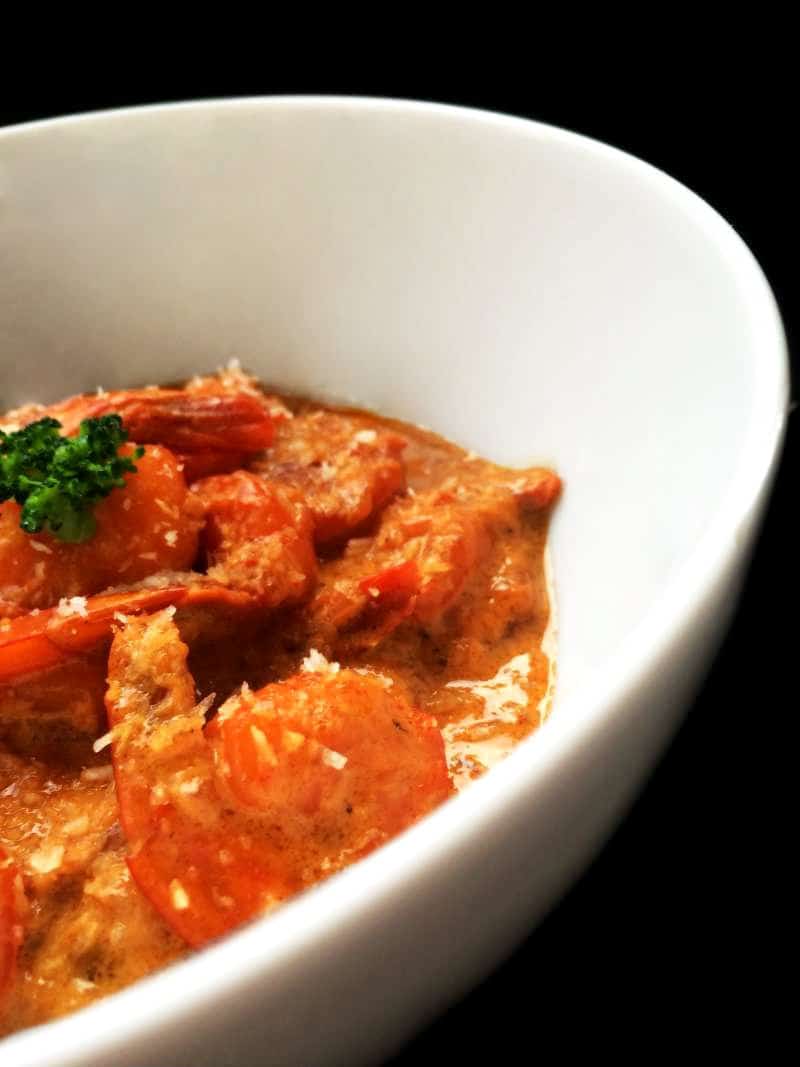 :: Other Bengali Recipes to Try ::
---
As always, I Looove when you try my recipes and send me pictures & feedback.
You can tag my recipes tried by you using #easycookingwithmolly on any of the social media below:
Connect with Me Here:  Facebook / Pinterest / Instagram / Twitter / Subscribe to our Newsletter / Google+

Yield: 24
Chingri Malai Curry (Coconut Shrimp Curry)
1 Large nonstick wok with lid/cover 1 Medium Bowl Serving Bowl
Ingredients
1 lb Uncooked Small Shrimp - Peeled and cleaned (You can use frozen OR fresh shrimp)
1 Can Coconut Milk – I'm using a low fat 14 ounce can (you can use any as per taste)
1 Cup Onion – Thinly chopped or minced
1 Tsp Ginger+Garlic Paste – (You can use fresh OR store bought)
5 Tbsp of Oil
2 Tbsp of Butter OR Ghee
Indian Spice Mix:
2 Bay Leaf
1 Cinnamon Stick
4 Cloves
3 Green Cardamom
2-3 Dry Whole Red Chilies
2 Tsp Turmeric Powder
1 Tsp Red Chili Powder
2 Tsp Cumin Powder
2 Tsp Garam Masala Powder
1 Tsp Sugar – (Use sugar OR sugar substitute of your choice)
Instructions
In a medium bowl, add turmeric, salt, shrimp and toss evenly (to smear turmeric n salt all over shrimp).
Heat the nonstick wok over medium flames, add 3 tbsp of oil and sauté the shrimp till they turn
light pink and then remove immediately(Takes about 6-8 minutes)
In the same wok, add 2 tbsp of oil and 2 tbsp of butter, bay leaf, whole red chili, onion
and sauté till onions are pink (3 minutes).
Add ginger-garlic paste, all spices and sauté for another 2 minutes, till everything is mixed and cooked slightly.
Now add coconut milk, sauté and let the curry (sauce) simmer and cook for about 4 minute over low heat.
Add cooked shrimp, sauté, cover the wok with lid and let it cook on medium heat for 3-4 minutes.
Take off the lid, sauté the curry one last time and switch off the heat.
Transfer to serving bowl and serve hot.
Nutrition Information:
Serving Size:
1
Amount Per Serving:
Calories:

1335
Total Fat:

114g
Saturated Fat:

41g
Cholesterol:

81mg
Sodium:

147mg
Carbohydrates:

80g
Sugar:

30g
Protein:

9g