Roasted Red Bell Pepper Soup
It's was one of the hottest weeks we had in California and I was craving a chilled light soup BUT I didn't want the regular tomato/sweet n sour or other similar soups……..
I wanted something different, slightly tangy-sweet and easy to make with the ingredients I had at home.
Then I remembered a "Red Bell Pepper Soup" that I had tasted during one of my trip to NY, it was fresh, creamy, crisp and a cold soup.
Here's an easy and healthy recipe of the soup with steps listed below with picture:
Roasted Red Bell Pepper Soup
Serves: 4 People
Serving Suggestion: 
Serve Chilled or Hot with bread
Medium Baking Tray – Lined with foil
Medium Bowl filled with Ice Plate
Blender
Sieve
Soup Bowl
: Ingredients :
3 Medium Red Bell Pepper(Capsicum)
2 Medium Orange Bell Pepper – Optional – Substitute with 2 more red pepper
1 Large White Onion – Thickly Chopped – It will all be sautéed and blended
4 Garlic Cloves – Chopped
½ Sprig Dry Thyme – You can use fresh thyme or rosemary or completely skip this step
1 Can Vegetable Broth (14oz) – You can use any broth or plain water
5 Tbsp Olive Oil – You may use any flavorless oil of choice
1 Tbsp Butter – Any butter is fine
1 Tsp White Vinegar – Optional (This is to give it a tangy taste)
2 Bay Leaf
½ Tsp Black Pepper Powder
Salt – As per taste
Cheese to Decorate – Optional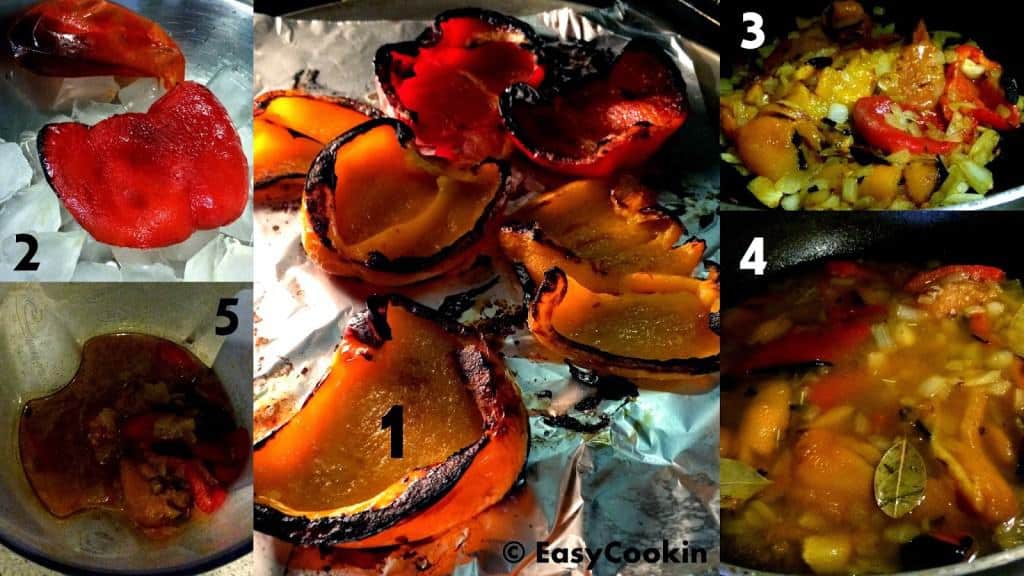 : Method :
Note: Preheat oven at 400 degree
Cut and deseed the peppers, drizzle with 3 tbsp of oil and roast for 30min in the oven and put on
broil for 3min.
Once the peppers are roasted, turn off the oven and place the peppers over ice. (This sudden change in temperature will help remove the burnt skin/peel quickly)
Peel all the roasted peppers and place on a plate
Now heat oil in a large pan, add bay leaf, onion, and garlic.
Saute over lower to medium heat till onions become slightly translucent or brown.
Now add roasted peppers, thyme, salt, black pepper and saute for 2 min.
Add broth/water and vinegar, give it a quick stir and cover with a lid and cook over low heat for 10 minutes.
After 10min (the veggies would have cooked well and you'll get a sweet aroma) switch off the heat and let the mixture cool completely.
Blend this mixture to a smooth consistency and sieve for any extra pulp/fiber.
Heat butter in a pan,  pour the blended soup and give it one boil and turn off the heat.
Serve this soup hot or cold.