Instant Pot Dal Recipe: healthy and fingerlicking Indian Dal / Lentil, ready in 15 minutes using Instant pot.
Instant Pot Dal can be served with bread or rice/quinoa or even couscous.
This dal is also popularly known as Instant Pot Dal Fry or Instant Pot Dal Tadka.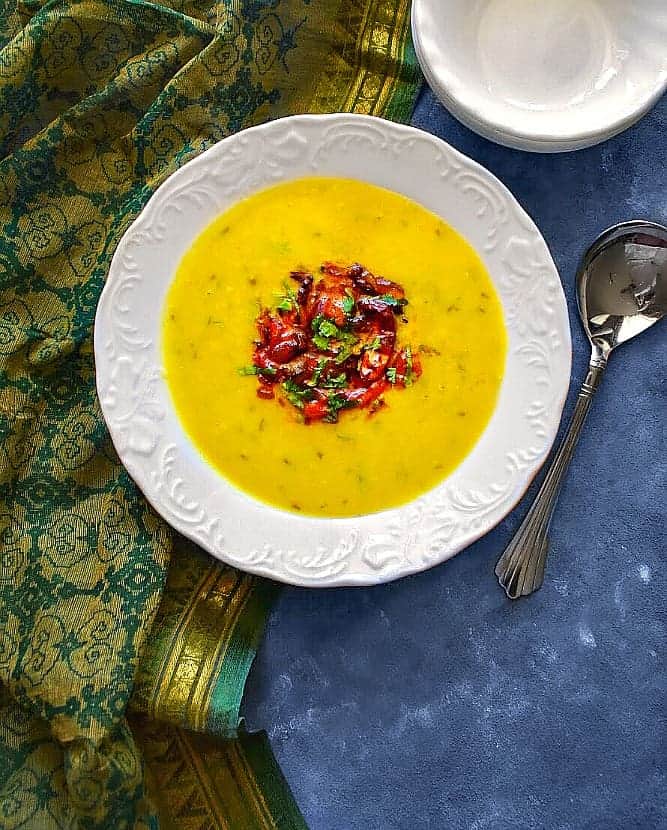 Instant Pot Dal Recipe is my favorite everyday dal recipe at home. It's healthy, convenient and Oh Sooooooo Good!!
'Dal' is an inseparable part of Indian cuisine and literally, All Indians have grown up eating it.
Whether it's the simple combination of 'Dal-Roti' or 'Dal-Chawal' or even our most humble offering 'Khichdi' (mixture of lentil+rice).
And if you like eating at an Indian restaurant, then you can literally see a whole 'sub-heading' in the menu dedicated to Various Indian Dal, like Dal Makhani, Dal Fry, Dal Tadka, Yellow Dal, etc.
As common yet important Dal is, every household in India has a different Dal recipe 🙂
Yes, you heard it right! There is no hard and fast rules or MUST-haves in it.
And that my friend is the BEST part about Dals. They can be 100% customized to your taste/needs.
So I thought, why not share one of our most used Dal recipes and hence here I am with my Instant Pot Dal Recipe.
I love using a mix of dal's and in the picture above you can see the following variety:
Arhar / Toor Dal (Yellow in Color)
Masoor Dhuli Dal (Red Lentil)
Mung Dhuli Dal (Split Mung Beans)
Along with that, I'm using very basic spices like salt, turmeric, cumin seeds and cloves.
I'm using red chili powder in the 'Tadka / Add-on' that goes on top of the dal.
You don't have to use the Tadka as the dal will taste good without it too.
Once you have these ingredients, the recipe is extremely easy and almost like making any quick Instant pot recipe where you need to saute a little bit in the beginning.
Also, while my Instant Pot Dal Recipe cooks, I quickly prepare the fresh Tadka / Add-on.
Which takes less than 3 minutes to make but elevates the Dal flavor to a whole new level.
So go ahead and try this Indian Dal or Indian Lentil recipe and do let me know how you enjoyed it?
:: You May Also Like ::
---
Tried Our Recipe – AWESOME!!!
Now Quickly SNAP A PICTURE & TAG :
#easycookingwithmolly +  @easycookingwithmolly on Instagram –>
Connect with Me Here:  Facebook / Pinterest / Instagram / Twitter / Subscribe to our Newsletter / Google+
Molly Kumar
Yields 4 People
Instant Pot Dal Recipe (Indian Lentil) Dal Tadka
2 minPrep Time
8 minCook Time
10 minTotal Time
5 based on 7 review(s)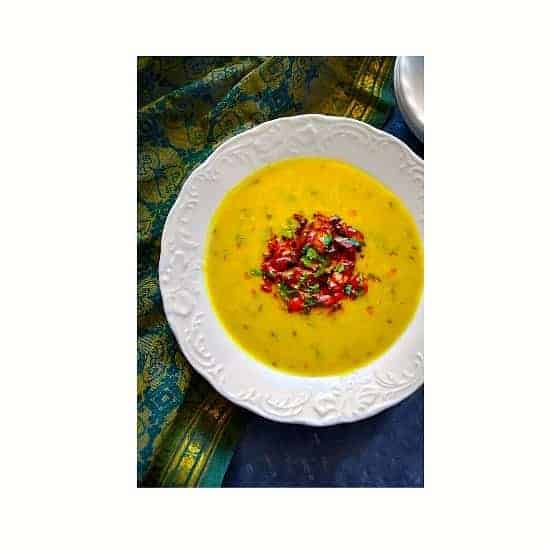 Ingredients
1/2 Cup Arhar Dal (Split Yellow Dal or Toor Dal)
1/2 Cup Masoor Dhuli Dal (Red Lentil)
1/2 Cup Mung Dhuli Dal (Split Mung Bean)
3 Cups Water
1 Tbsp Olive Oil
1 Tsp Turmeric Powder
1 Tsp Salt - use as per taste
1/8 Tsp Cumin Seeds
2-3 Cloves - optional
Dal Tadka:
2 Tbsp Coconut Oil - If you are not vegan, you may use Ghee or any other light oil
1 Medium Onion - thinly sliced
1 Medium Tomato - thinly sliced
1/4 Tsp Grated Ginger
1/4 Tsp Red Chili Powder
Pinch of Asafetida
2 Tbsp Fresh Cilantro - thinly sliced
Instructions
Make the Instant Pot Dal:

On your instant pot, press the 'Sauté' button.
Now, Add Olive oil, Cumin and let it crackle for few seconds.
Hit the 'Cancel' Button.
Now, add the 3 lentils, water, turmeric, salt and mix everything with a wooden spoon.
Cover the Instant Pot with the lid, and Keep the vent in sealing position/mode.
Set the Manual mode in High Pressure and set the timer for 10 mins.
After the 10 minutes timer runs out, the sealing pin will go down with (NPR) and you can open the Instant Pot.? (Be careful as you might get some steam escaping while opening the lid).
The Dal is cooked now.
?

Prepare the Tadka while the Dal is getting ready in IP:

Heat coconut oil in a small pan.
Add chopped onion, ginger and saute till onions are pink in color or slightly cooked.
Now add tomatoes and cook till 2 minutes.
Finally add Asafetida and red chili powder.
Turn off the stove.
?

Serving the Dal:

Transfer the Instant Pot Dal in a serving bowl.
Add the Tadka on top and serve with choice of sides.
7.8.1.2
402
http://www.easycookingwithmolly.com/2018/09/instant-pot-dal-recipe/