This shop has been compensated by Collective Bias, Inc. and its advertiser. All opinions are mine alone.
The following content is intended for readers who are 21 or older. #SeedOfAGreatSummer #CollectiveBias
Mini Vietnamese Banh Mi Meatballs: absolutely delicious, easy to make and filled with spicy flavors, these mini Vietnamese Banh Mi Meatballs are perfect bite-size appetizers.
They can be served as is or stuffed in a bun/taco or on top of your bread.
We are in the middle of summer and that means more parties and fun times with family and friends.
When we talk of spending time with our loved ones, party food and drinks are not far behind.
We love celebrating these times with our favorite 'Dreaming Tree Wines' and these Mini Vietnamese Banh Mi Meatballs that pair perfectly with them.
We came across The Dreaming Tree Wines couple of year back at one of our friend's party and they were an instant hit.
The wines are not only high-quality but use, sustainable winemaking practices which reflect back on their values of community and collaboration.
The wines are also well priced, hence making them a Perfect Fit for small, large or even bigger events.
They have a variety to choose from like:
Dreaming Tree Crush

Dreaming Tree Sauvignon Blanc

Dreaming Tree Pinot Noir

Dreaming Tree Cabernet Sauvignon

Dreaming Tree Chardonnay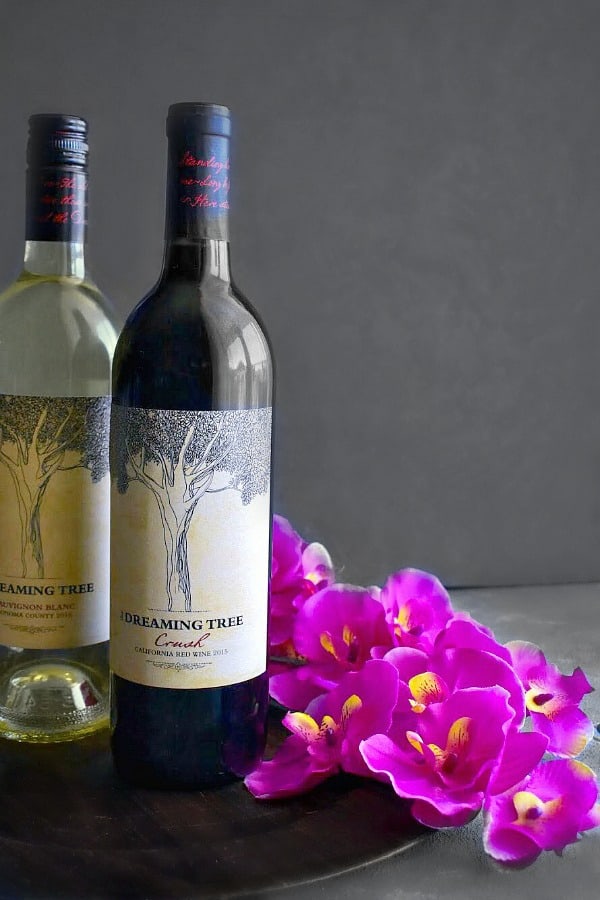 For our get-together, we are going with the:
Dreaming Tree Crush: It's a hand-selected special blend of the owner's favorite varieties to create a red wine that pulls you in with notes of smoky berry and a pop of raspberry jam.
Dreaming Tree Sauvignon Blanc: Fresh and juicy with tropical fruit aromas of passion fruit and kiwi. Finishing crisp and clean with hints of grapefruit, pineapple, and zesty lime.
I bought the wine from our local grocery store, however, it's easily available in your local drug store or even super-centers.
You can even buy them from their website – Locate them -> HERE <-
Now, that we have our wines, let's get started with these Mini Vietnamese Banh Mi Meatballs.
They are super easy to make at home and can be frozen for later use too.
Just store in clean freezer bags along for up to 2 weeks.
Once, you are ready to serve, simply saute the meatballs in a skillet or even a grill (if you are hosting a bbq).
These Mini Vietnamese Banh Mi Meatballs are ready in under 30 minutes and filled with spicy flavors that go sooooo well with both our wines.
Now, I like to serve them along with other finger food like freshly chopped veggies, fruits, and cheese.
In fact, all of these snacks go amazingly well with our Dreaming Tree Wines.
Once everything is ready, I serve some of these Mini Vietnamese Meatballs separately.
And add some to the freshly grilled tortilla to make them extra filling.
Many times our party stretches from snacks to entree and these meatballs are multi-purpose that way.
You can even pair them with your favorite cracker/breads or even noodles.
Go ahead and include these Dreaming Tree Wines along with my Mini Vietnamese Banh Mi Meatballs in your next get-together.
Also remember: The Dreaming Tree is a story of artistry, collaboration, and is inspired by the desire to make high-quality California wines that are accessible to wine lovers everywhere.
The brand is passionate about winemaking first and foremost, but also has a social conscience in its commitment to environmental responsibility and sustainability.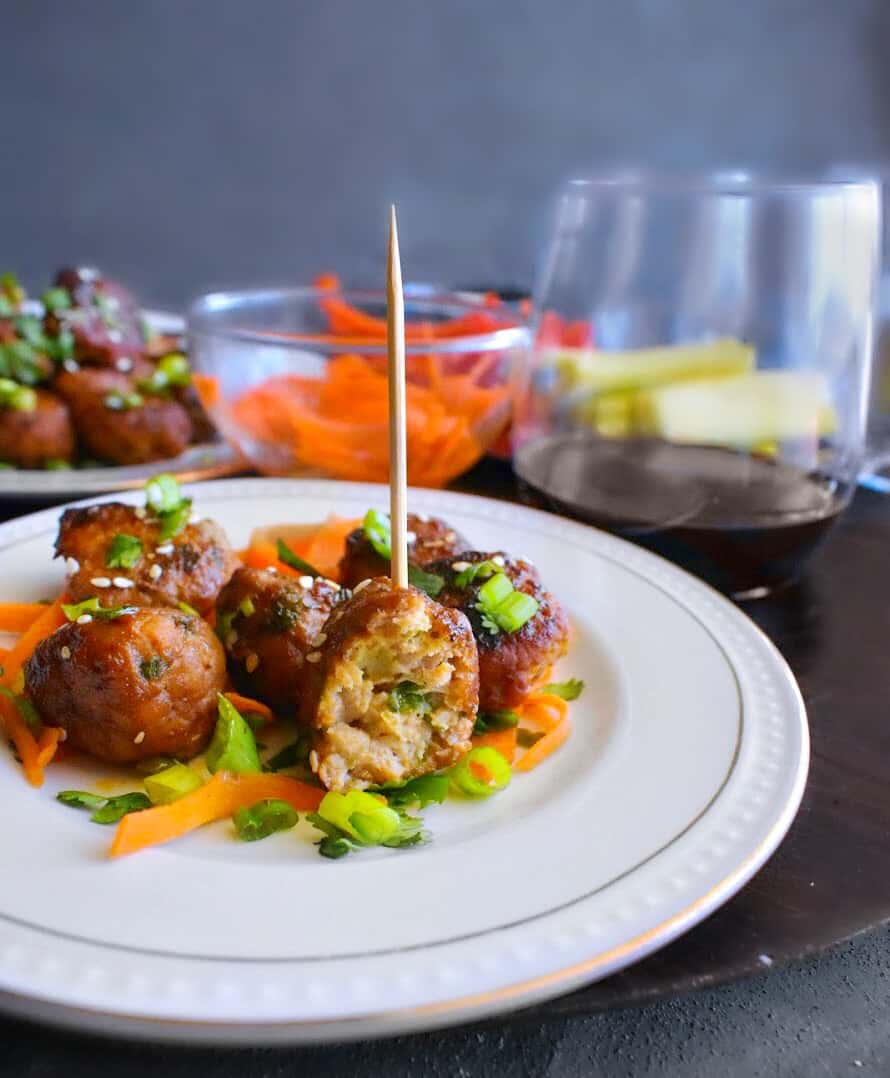 :: You May Also Like ::

---
Tried Our Recipe – AWESOME!!!
Now Quickly SNAP A PICTURE & TAG :
#easycookingwithmolly +  @easycookingwithmolly on Instagram –>
Connect with Me Here:  Facebook / Pinterest / Instagram / Twitter / Subscribe to our Newsletter / Google+
Yield: 15 Mini Meatballs
Mini Vietnamese Banh Mi Meatballs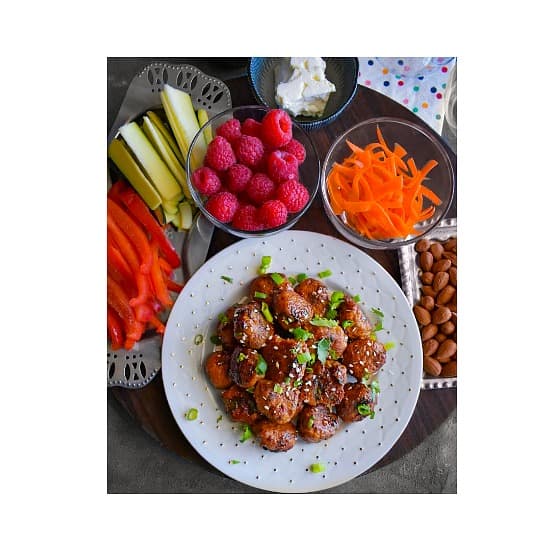 Ingredients
1 Cup Ground Chicken - you may use any other meat of choice
1 Stem of Scallion - thinly chopped
2 Small Cloves Garlic - minced or thinly crushed
3 Tbsp Chopped Cilantro - you may use parsley
1 Tsp Sugar - you may use honey or any other plain sweetener
3 Tbsp Sesame Oil - you may use any light flavorless oil too
Spices & Sauces:
1 Tbsp Soy Sauce
1 Tbsp Fish Sauce - can skip
1 Tbsp Rice Wine Vinegar - you may use plain white vinegar too
1 Tbsp Sriracha - you may use any other Asian hot sauce
1 Tbsp Cornstarch
Use Salt + Pepper as per taste
Add Ons + Garnish:
Thinly Sliced Red Bell Pepper
Thinly Sliced Zucchini
Thinly Sliced Carrot dipped in Vinegar + sugar + salt mix
1 Tsp Sesame Seeds - for garnish
1 Tsp Chopped Scallion - for garnish
Instructions
Shaping the Meatballs:
In a large bowl, add all the meatballs ingredients and mix evenly (you may use fork or hands to mix).
Very Important Step --> Lightly wet you hand <--
Now scoop 1Tbsp of this meatball mix on your hand and gently shape them into a ball.
Keep it aside on a plate and similarly make all the mini meatballs (you may need to wet your hands in-between for meatball mix to NOT-Stick on hand).
Keep the meatballs in the fridge for 10 minutes so that they firm up a little.
Sauteing the Meatballs:
Heat a skillet and add 1tbsp oil.
Now remove the meatballs from fridge.
Place 5-6 meatballs on the hot skillet and lightly cook on both sides.
Once the meatballs are cooked, transfer them to a plate.
Similarly cook all the meatballs.
Adding Flavor using the Spices_Sauces Ingredients:
In the same hot skillet, add 1Tsp soy sauce, 1 Tsp hot sauce and whisk.
Now add the cooked meatballs and gently stir them using a spoon (you want to lightly coat them in this sauce mix for EXTRA Flavors).
Transfer the meatballs to a serving dish.
Sprinkle with sesame seeds and scallions.
Add the additional red bell peppers, zucchini around it and serve the platter.
Enjoy with your favorite wine or beverage.
Nutrition Information
Serving Size
5 People
Amount Per Serving
Calories

86
Total Fat

9g
Saturated Fat

1g
Sodium

255mg
Carbohydrates

2g