This shop has been compensated by Collective Bias, Inc. and its advertiser. All opinions are mine alone. #PerfectionWithPost #CerealAnytime #CollectiveBias
Chocolate Malt Cookie Shakes (with Rainbow Sprinkles): fun and delicious shakes that make for a perfect anytime snack or even dessert for the whole family. 
These Chocolate Malt Cookie Shakes (with Rainbow Sprinkles) have been such a hit with kids and adults that I had to share the recipe with you'll. Nothing says summer like fresh shakes and we made them using these new " Malt-O-Meal Chocolatey Chip Cookie Bites " cereal that we recently found while shopping at Walmart.
Seriously, these cookie bites are toasty, crispy and full of chocolaty goodness. A delightful way to put more cookie in your day as "Who doesn't love chocolate chip cookies and milk?"
They literally go hand in hand and now, we can have the same as breakfast – this is awesome! I also found out that the Malt-O-Meal cereals have absolutely no high-fructose corn syrup in any of their cereals and POST stands behind their products, so they offer their LOVE IT or IT's FREE guarantee (more details on the package). 
So, I not only bought the "Malt-O-Meal Chocolatey Chip Cookie Bites" cereal but also "Shredded Wheat Frosted Mixed Berry" and "Shredded Wheat Frosted Cinnamon Roll".
In fact, they have 33+ varieties that appeal to everyone in the family and I literally had such a tough time picking these 3 and I'm going to slowly try all their cereals.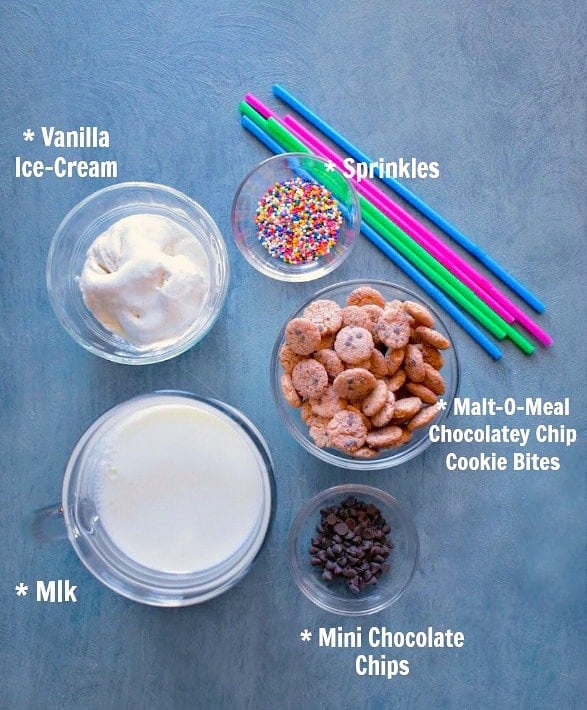 Now, coming back to our delicious Chocolate Malt Cookie Shakes, we actually need very few ingredients and all we have to do is blend everything together. Then decorate with our choice of toppings and serve immediately.  
As I did mention before, these shakes were made for a party at our place and were mostly meant for kids but they were an instant hit with kids and my friends too as not only did they look so colorful, fun but the taste was perfect.
Since I'm using more of milk and less of ice-cream, these shakes were actually lighter and didn't give you that heavy feeling after an ice-cream base shakes.
So go ahead and give these Chocolate Malt Cookie Shakes a try soon as I'm sure your whole family would love it. You can find the POST cereal in the cereal aisle at Walmart:
So, hurry up and choose from those 33+ varieties of cereal. Malt-O-Meal is available in a handful of sizes depending on the size of your family, so you always have the right pack for you. You can even find more recipes using POST cereals -> here <-
Earn $1.00 cash back when you purchase Post Shredded Wheat cereals at Walmart with this ibotta offer. 
Make sure to check out more exciting offers for other Post cereal varieties like Great Grains and Honey Bunches of Oats Strawberry!
————————– Enjoy the Summer with these Shakes ☺ ———————————-
---
As always, I Looove when you try my recipes and send me pictures & feedback. You can tag my recipes tried by you using #easycookingwithmolly on any of the social media below:
Connect with Me Here:  Facebook / Pinterest / Instagram / Twitter / Subscribe to our Newsletter / Google+

Yield: 3 Glasses
Chocolate Malt Cookie Shakes (with Rainbow Sprinkles)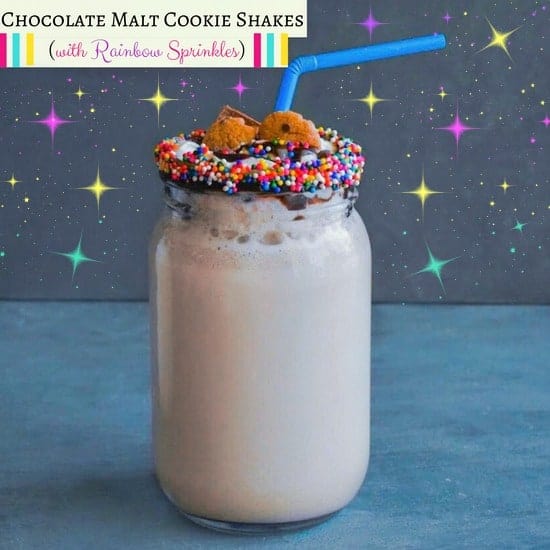 Ingredients
2 Cups Milk
1.5 Cups Vanilla Ice Cream
1/2 Cup Malt-O-Meal Cookie Bites® - few extra for decoration
1/4 Cup Sprinkles
1 Can Whip Cream
2-3 Chocolate Bars - for decoration
4 Tbsp Chocolate Sauce
Instructions
In a blender jar, add milk, ice-cream, ccookie bites, 1 tbsp chocolate and blend to form a smooth mix.
Keep aside.
In a small bowl, add all the sprinkles.
Drizzle chocolate sauce on the edge of the serving glass or put the chocolate sauce in a bowl and dip the glass.
Now, dip the same glass in (face down) in the sprinkle bowl to coat the edges of the glass.
Lift the glass and pour milk shake in the glass till top.
Add some whipped cream on top.
Add cookie bites, chocolate bar and 1tsp chocolate sauce.
Serve immediately.