Cardamom, Pistachio, and Rosewater Eggless Cake: Moist and delicious cake infused with rosewater – cardamom flavor with a marble glaze and chopped pistachio.
Cardamom, Pistachio Rosewater Eggless Cake is made using Yogurt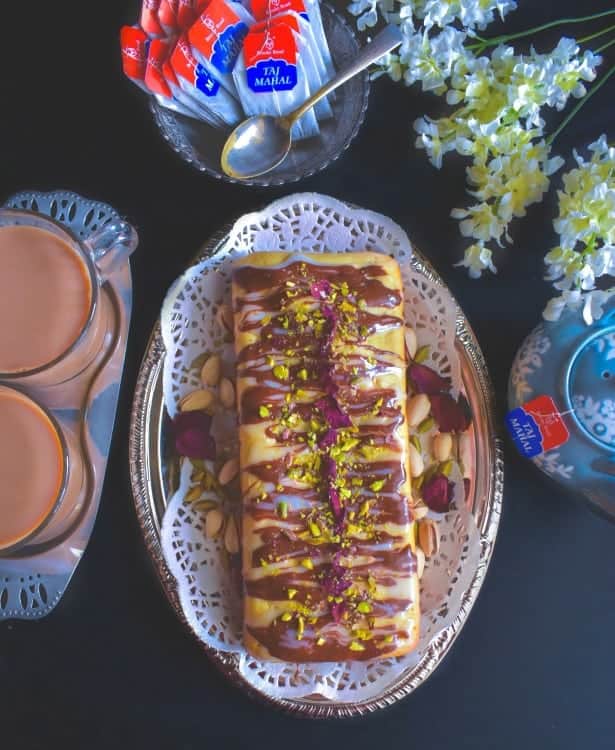 Cardamom, Pistachio and Rosewater Eggless Cake (using Yogurt) is a lightly flavored and a perfect companion to a hot cup of tea/coffee or parties. 
Hey Everyone, as you'll know we have the 'ICC Champions Trophy 2017' going on and we are celebrating each game with friends and family and this special Cardamom, Pistachio and Rosewater Eggless Cake.
Team India qualified for the semi-final round!!!!
So, we have decided to celebrate our next cricket watching session with Brooke Bond Taj Mahal Tea and this Cardamom, Pistachio and Rosewater Eggless Cake .
The cake is one of our absolute favorites because of its fragrant – light flavor that goes fantastically with a hot cup of tea…..
I'm not talking just about any tea, but India's finest 'Brooke Bond Taj Mahal Tea' which is famous for its exquisite aroma and superior taste.
I'm also glazing (icing) the cake in a marble design using icing sugar and chocolate and a sprinkle of thinly chopped pistachio.
Along with the cake, we are also making our:
or these delicious delights 'Spicy Mexican Poppers', Chutney Cheese & Jam Herbs Tart Platter, Masala Naan Canapés from my friend Sonal. 
In all of our previous cricket parties, we have been noshing heavily on savory dishes and this time, the ladies have decided to each brings some sweets too and I've been assigned to get a cake.
As I mentioned above, I'm going to make this gorgeous looking Cardamom, Pistachio and Rosewater Eggless Cake – which is reserved for special occasions.
The cake is super easy to make and doesn't involve any heavy cream based icing hence it is perfect for tea or parties where we are usually doing finger-food/light dishes.
Since we are including rosewater in the cake, I also added some dried rose petals which make it look so exotic.
Also, since many of our friends are vegetarian/vegan, I'm making an eggless version this time.
If you've never made an eggless cake, then this is a great recipe to try as it's a small quantity and yields a moist cake.
To make the eggless variety, I'm using a vegan brand plain yogurt instead of eggs.
The yogurt is store-bought, however, you can use homemade yogurt too.
But the only thing to remember is that the yogurt should be 'plain' as we will be infusing it with cardamom and rosewater later.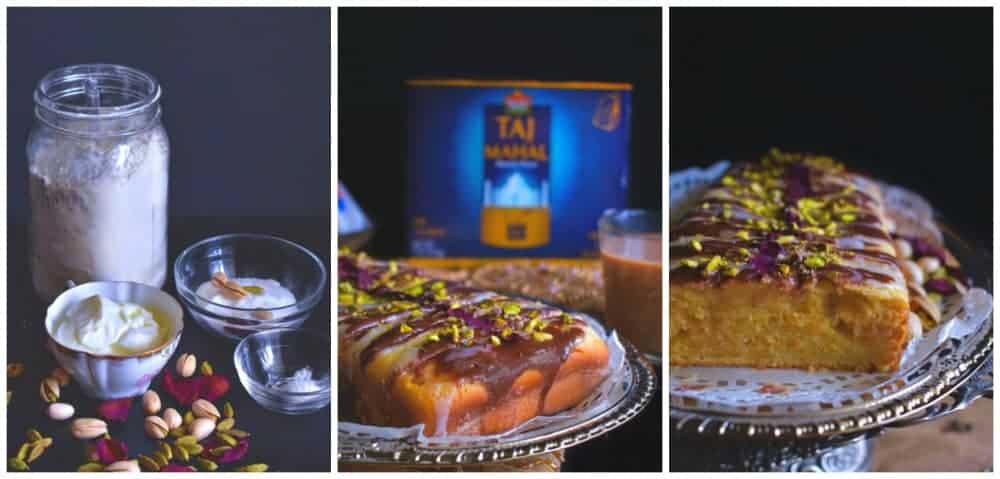 Also, as I mentioned above, I'm adding some crushed dry rose petal on top once I've glazed the cake.
The rose petals add such a beautiful touch to the whole cake, however, if you don't have dried rose petals, you may simply skip the step for this time.
If you'd like me to tell you about making dry rose petals at home, then do let me know and I'll create a separate post about it.
And go ahead and make this delicious Cardamom, Pistachio and Rosewater Eggless Cake for your next cricket party.
And cheer for your team along with a hot pipping 'Taj Mahal' tea and don't forget to say "Wah Taj" ! 
---
As always, I Looove when you try my recipes and send me pictures & feedback. You can tag my recipes tried by you using #easycookingwithmolly on any of the social media below:
Connect with Me Here:  Facebook / Pinterest / Instagram / Twitter / Subscribe to our Newsletter / Google+
Molly Kumar
Cardamom, Pistachio and Rosewater Eggless Cake
15 minPrep Time
20 minCook Time
35 minTotal Time
4.3 based on 3 review(s)
Ingredients
Cake Batter:
1 Cup All Purpose Flour
1/4 Tsp Cardamom Powder
1/4 Cup Pistachio Pods – chopped into bite size pieces
1 Tsp Rosewater
1/2 Cup Yogurt
1/4 Cup Water
1/3 Cup Olive Oil
2/3 Cup Sugar - or any sugar substitute of choice
1/2 Tsp Baking Powder
1/2 Tsp Baking Soda
Pinch of Salt
1/2 Tsp Vanilla Extract or Green Food Color for Pistachio color.??
Icing & Decoration 😕
1/2 Cup Powdered Sugar
1/2 Tsp Rosewater - use as per choice
1 Tsp CoCoa Powder
1 Tbsp Chopped Pistachio Pods
1 Tsp Chopped Dry Rose Petals
Instructions
Bake the Cake:

Pre-heat Oven - 375f or 190.5c
In a bowl, sieve together flour, chopped pistachio, baking powder, baking soda, salt and keep aside.
Take a large bowl, add oil, sugar, rosewater, cardamom, yogurt, water, vanilla extract and whisk for 2 minutes to form a smooth batter.
Using a spatula, fold 1/4 cup dry ingredients to the whisked batter.
Follow the above step to mix rest of the dry ingredient to the batter. (Please fold the dry ingredients slowly to incorporate air. This will result in lighter and fluffy cake).
Pour the batter into the baking pan and bake for 20 minutes.
After 30 minutes, poke a toothpick into the center of the cake and remove instantly. If the toothpick comes out clean, it means the cake is cooked completely.
Remove the cake from the oven and keep on a cooling rack for 10-15 minutes.

Make the Icing:

In a medium bowl, add powdered sugar, rosewater, with 2tbsp of milk and whisk to form a smooth paste like consistency (remember it should be thick and easily poured).?
Divide the icing in two smaller bowls.
Add cocoa powder to one bowl and whisk to form a smooth paste.
Now drizzle both the layers on the cake to form a marble look.
Sprinkle with chopped pistachio and dry rose petals.
Serve Fresh or store in air tight container in fridge upto 3-4 days.
7.8.1.2
241
http://www.easycookingwithmolly.com/2017/06/cardamom-pistachio-rosewater-eggless-cake/
                       (This is post is sponsored by Brooke Bond Taj Mahal Tea. All opinion expressed here are mine)

Now for a fun and exciting part, our favorite 'Taj Mahal' tea is holding sweepstakes – Wah Moments!
You guys can all take a shot, or many shots (1 entry per day is permitted) to win a Trip for 2 to Hawaii !
There are many more exciting prizes to be won as well! What's more, if you're around any of the following stores, you must go to pick up the ingredients for this recipe over the weekend!
There are going to be fun activations and you'll have a chance to get free boxes of 'Brooke Bond Taj Mahal Tea' as well !:
1.Cermak Produce – Naperville —> Chicago – 17 June
2. Tulsi Grocers – Schaumburg—> Chicago – 18 June
3.India Bazaar (West Plano) —> Dallas – 17 June
4. Patel Brothers (Valley Ranch) , Tx 75063—> Dallas – 18 June
5. INDIA CASH & CARRY (SF) —> 16 June
6. INDIA CASH & CARRY —> SF – 18 June
7. TRINETHRA —> SF – 17 June
8. Patel brothers —> NJ – 17 June
9. Subzi Mandi —> NJ – 18 June
                                                         Here are the Sweepstake details:
1 Simple question, updated everyday, you can answer & participate everyday to increase your chances of winning!
Grand Prize – Trip for 2 to Hawaii and 12 boxes of Taj Mahal Tea
Weekly Prize – Tea Brewing Pot worth $220 and 6 boxes of Taj Mahal Tea
Complementary Willow & Gaana + subscriptions for all participants
                                                       →    Participate Now ←


Definitely, check the dates near your city and make sure you visit the mentioned stores to win cool prizes or the sweepstake.