Spicy Shrimp Masala in Vodka Tomato Sauce: sauteed shrimp in a spicy tomato sauce infused with vodka.
Spicy Shrimp Masala is a perfect dinner for two or even a big batch.
This is a glutenfree recipe that can be enjoyed with steamed rice or any side of choice.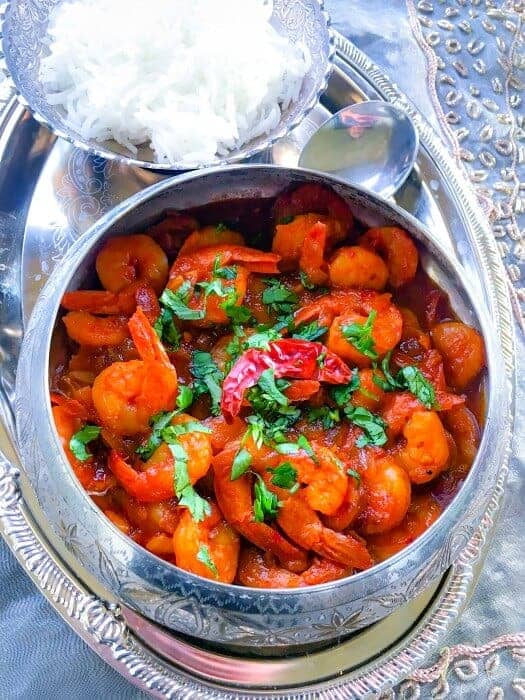 Hello Everyone and I hope you're doing Awesome !!!
I know I've been MIA for the whole last week, however, I did get your messages/notes of concern.
And I feel very grateful that you guys actually missed my recipes 🙂 .
As some of you might know, I was traveling to India (If you have been following my Instagram, you can definitely see some of the fun stuff I did there).
The first thing I wanted to do after coming back, is to share this quick, yet gorgeous Spicy Shrimp Masala in Vodka Tomato Sauce recipe with you'll.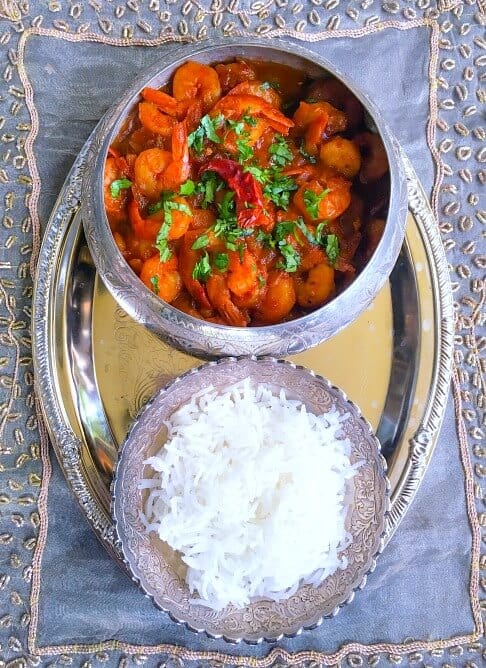 Before, we go ahead chatting about the recipe, here's a disclaimer: It's Super Addicting !!!
I just can't get over how delicious and warm the sauce is, and infact, it's super easy to make too!!
So YES, YOU CAN make an extra batch of sauce (store in an air-tight jar in the fridge for a week) 😉
Seriously, you got to try this one soon and if you're heading for a cozy dinner date at home, this will be a THE PERFECT option.
You can add any lighter side recipe or just mix in some fresh fruit+veggie salad or get some steamed rice.
That my friend would be a quick date meal that is sure to make your someone special feel extra special.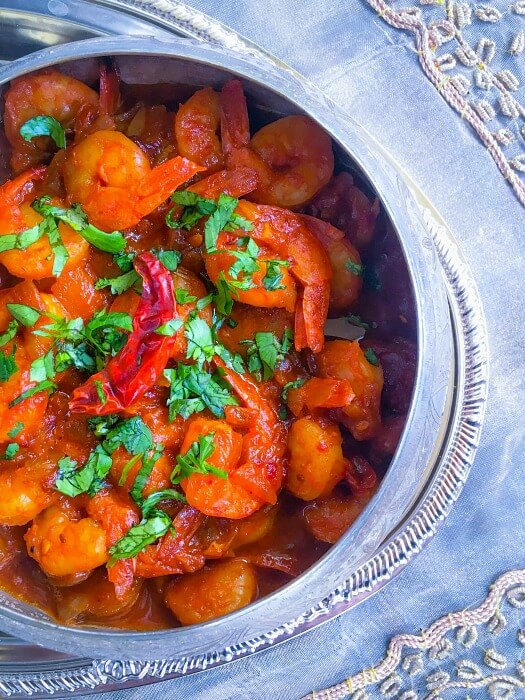 The recipe is very easy, you just need a good quality shrimp, some basic Indian Masala ingredients like onion, ginger+garlic, tomato, chilies and of course Vodka for this particular version.
You can use any brand of regular vodka but please don't use flavored vodka.
We tend to make this one a tad spicier but you can go easy on spice or even completely omit it ….. just make this tangy tomato vodka sauce.
I hope you really enjoy this recipe with your loved ones or make a huge batch for your coming holiday party as this will definitely have everyone singing your culinary skills praises.
Also, do come back and check out our recipes coming next week as we are talking all about Holiday treats or recipes that get us through a busy holiday season without stress.
Until Next Time ~ XoXo
---
Tried Our Recipe – AWESOME!!!
Now Quickly SNAP A PICTURE & TAG :
#easycookingwithmolly + @easycookingwithmolly on Instagram –>
Connect with Me Here: Facebook / Pinterest / Instagram / Twitter / Subscribe to our Newsletter / Google+
Spicy Shrimp Masala in Vodka Tomato Sauce