Chicken Kofta Curry: tender chicken meatballs/koftas, delicately simmered to perfection in a flavorful creamy sauce made using Indian herbs.
This Chicken Kofta Curry recipe is extremely Easy and Healthy recipe

The transition from autumn to fall is such a perfect time for warm and delicious comfort food like this Chicken Kofta Curry (Indian Chicken Meatballs Curry).
This recipe is from Lucknow(India) where kofta/meatballs.
We have tons of varieties of soups, casseroles, baked goodies and in India, it's the time when we love to eat creamy-saucy curries….
Something that's rich in texture, flavor and calms not only our hunger but the soul too 😉
No matter how far we stay or how long we've lived out of India, the first mention of curry, makes us nostalgic and emotional.
And just the other day, a couple of us foodie friends were discussing our city, culture, and food and that conversation sure left us with a thirst of home cooked meals back in childhood days.
So I planned to make these Chicken Kofta Curry which are such a delicacy from 'Lucknow' (UP in India) – also known as the City of Nawabs.
Lucknow is famous for its cloth embroidery, sweets, street food, it's rich culture and Mughlai food (Vegetarian & Non-Vegetarian).
These chicken koftas are so easy to make, all you need is some ground chicken, spices, flour and you are good to go.
The curry is a simple yet adds such a delicious flavor.
So here we go with the recipe details – Hope you'll enjoy it as much as we do.
:: You May Also Like ::
---
As always, I Looove when you try my recipes and send me pictures & feedback. You can tag my recipes tried by you using #easycookingwithmolly on any of the social media below:
Connect with Me Here:  Facebook / Pinterest / Instagram / Twitter / Subscribe to our Newsletter / Google+
Yield: 10
Chicken Kofta Curry (Chicken Meatballs in Spicy Indian Curry)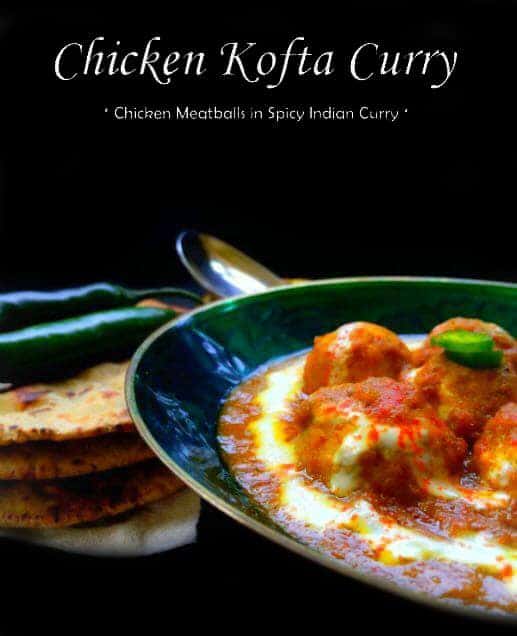 Ingredients
For Chicken Kofta (Meatballs)
1/2 lb Ground Chicken - Cleaned
1/2 Cup Roasted Chickpea Flour*
2 Tbsp Plain Yogurt
1 Egg - Whisked
1 Tsp Ginger+Garlic Paste
For Curry:
1 Large Onion
1 Tbsp Ginger Paste
1 Tbsp Garlic Paste
1 Tomato
2 Green Chili - Use as per taste
1/2 Cup Yogurt - Whisked
1/2 Cup Water
3 Tbsp Olive Oil - Use any light oil
1 Tbsp Ghee - Optional
Spices / Seasoning:
Whole Spices:
1 Large Bay Leaf
1/2 Stick Whole Cinnamon
3 Whole Black Cardamom
4 Cloves
3 Green Cardamom
5 Black Pepper Corns
Powder spices:
1 Tsp Turmeric
1 Tbsp Coriander Powder
1 Tbsp Cumin Powder
1 Tbsp Red Chili Powder
1 Tbsp Garam Masala Powder
Instructions
Making the Koftas / Chicken Meatball:
In a food processor (with dough attachment or you can use kitchen aid mixer) add all the 'Kofta' ingredients and pulse to form a smooth dough (Takes about a minute).
Transfer the dough to a bowl and make 10-12 round balls.
Place the chicken balls/kofta on a plate, cover and keep in the refrigerator for about 30 mins (This helps the dough to firm up and prevent kofta's from breaking).
Making the Curry:
In a food processor/blender, add onion, ginger,garlic, tomato and form a smooth paste.
In a large non-stick, heat oil and ghee for a 1/2 minute.
Add the whole spices and let it roast for 1/2 minute on medium heat.
Now, pour the onion paste, saute for a minute, cover and let it cook for 4 minutes (saute every minute).
Add the powdered spices, yogurt, water and saute everything to a smooth mixture.
Now, remove the meatballs from the fridge and place them delicately on the simmering gravy. (The meatballs are going to be cooked in the gravy).
Cover with lit, lower the heat and let the meatballs cook for about 2-3 minutes. (Keep an eye).
After 3 minutes, remove the cover, touch the meatballs using a spatula and they should be cooked.
Saute the curry and meatballs light and cook uncovered for another 3-4 minutes.
Turn off the heat and transfer the kofta curry to a serving bowl.
Decorate as per choice(use chilies n yogurt) and serve hot with choice of sides.
Nutrition Information
Serving Size
1
Amount Per Serving
Calories

1364
Total Fat

95g
Saturated Fat

25g
Cholesterol

193mg
Sodium

1650mg
Carbohydrates

85g
Sugar

22g
Protein

60g