Chingri Malai Curry (Coconut Shrimp Curry)
is a scintillating, delicate yet delicious recipe from the state of Bengal in India. It's the perfect pairing of lightly sautéed shrimp in a coconut sauce which is both mild n slightly spicy (yes you heard it right mild & spicy) at the same time.
I'm a huge seafood person and love having shrimp/prawn/fish recipes that are mildly cooked and this Chingri Malai Curry is my all-time favorite.
The shrimp is tossed with turmeric, salt (to give it a lush color) and lightly sautéed till they achieve a light pink color. The curry is a light coconut broth cooked with fragrant yet mild spices like cinnamon, clove, and cardamom which enhances the flavor to a new high.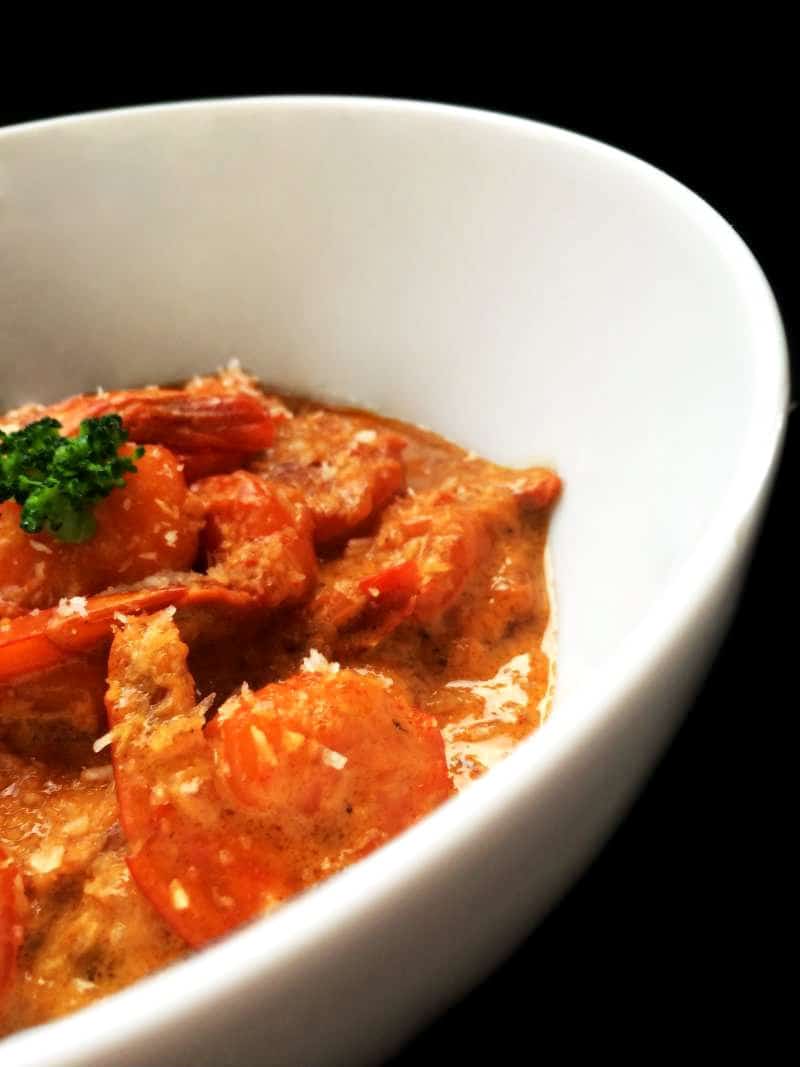 Overall this Chingri Malai Curry is ready in about 15 minutes but the taste is so heavenly that you'll keep wanting to have more. It's best enjoyed with a bowl of fresh steamed white rice but you can choose any side as per choice.
:: Other Bengali Recipes to Try ::
Molly Kumar
Yields 24
Chingri Malai Curry (Coconut Shrimp Curry)
1 Large nonstick wok with lid/cover 1 Medium Bowl Serving Bowl
2 minPrep Time
22 minCook Time
24 minTotal Time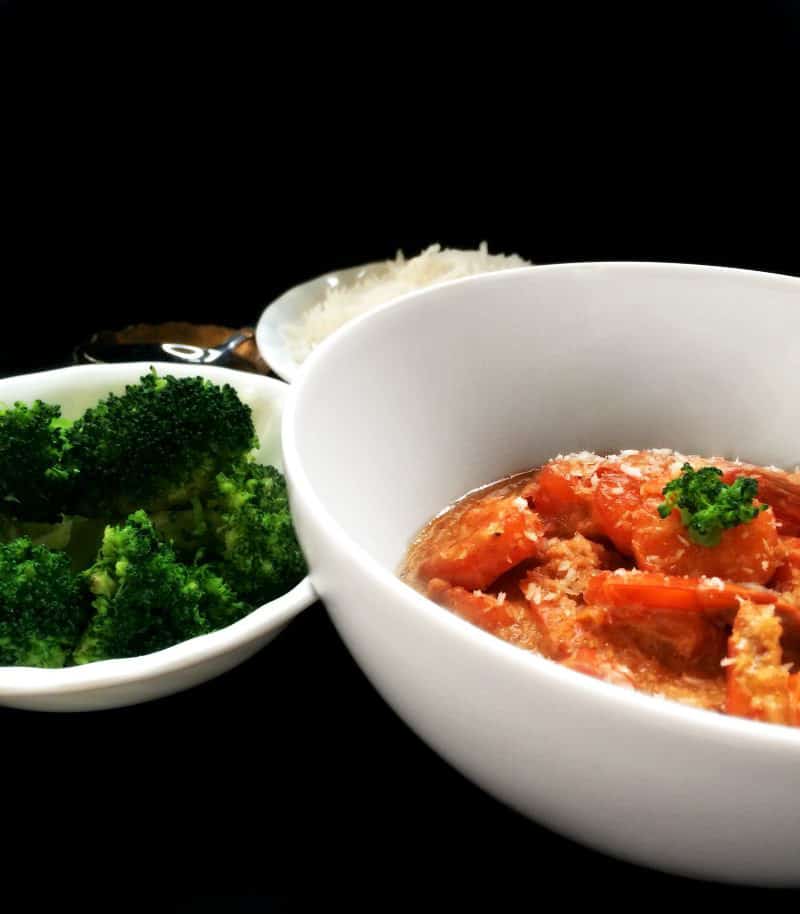 Ingredients
1 lb Uncooked Small Shrimp - Peeled and cleaned (You can use frozen OR fresh shrimp)
1 Can Coconut Milk – I'm using a low fat 14 ounce can (you can use any as per taste)
1 Cup Onion – Thinly chopped or minced
1 Tsp Ginger+Garlic Paste – (You can use fresh OR store bought)
5 Tbsp of Oil
2 Tbsp of Butter OR Ghee
Indian Spice Mix:
2 Bay Leaf
1 Cinnamon Stick
4 Cloves
3 Green Cardamom
2-3 Dry Whole Red Chilies
2 Tsp Turmeric Powder
1 Tsp Red Chili Powder
2 Tsp Cumin Powder
2 Tsp Garam Masala Powder
1 Tsp Sugar – (Use sugar OR sugar substitute of your choice)
Instructions
In a medium bowl, add turmeric, salt, shrimp and toss evenly (to smear turmeric n salt all over shrimp).
Heat the nonstick wok over medium flames, add 3 tbsp of oil and sauté the shrimp till they turn
light pink and then remove immediately(Takes about 6-8 minutes)
In the same wok, add 2 tbsp of oil and 2 tbsp of butter, bay leaf, whole red chili, onion
and sauté till onions are pink (3 minutes).
Add ginger-garlic paste, all spices and sauté for another 2 minutes, till everything is mixed and cooked slightly.
Now add coconut milk, sauté and let the curry (sauce) simmer and cook for about 4 minute over low heat.
Add cooked shrimp, sauté, cover the wok with lid and let it cook on medium heat for 3-4 minutes.
Take off the lid, sauté the curry one last time and switch off the heat.
Transfer to serving bowl and serve hot.
7.7.0.1
25
http://www.easycookingwithmolly.com/2015/09/chingri-malai-curry-coconut-shrimp/