5 Mins Orange Colada-Best Family Drink for Summers : It is the BEST & EASIEST Family Drink for Summers.
The temperature is soaring these days and we have been having a typical California 'Too Sunny' summers. There are days when we end up with a UV Index of 8 (Which is very harmful as the sun is too strong).
But the good part in all this is that the market is laden with summer fruits and my all time favorite 'Oranges' are everywhere. We have been making lots of fresh juices and our favorite 5 Mins Orange Colada .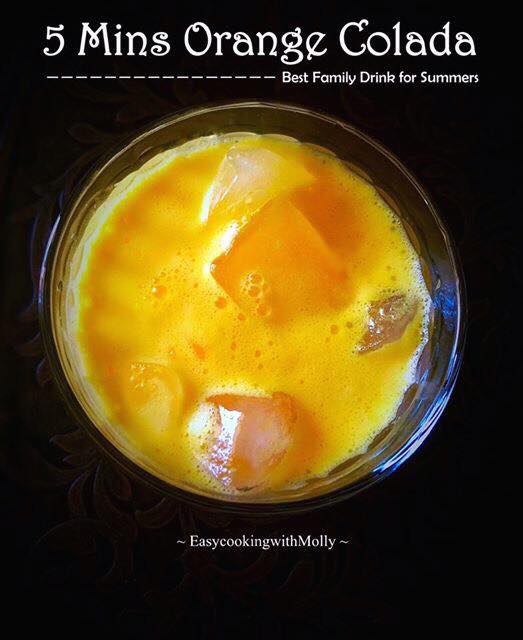 I call it the best family drink for summer as it pleases all age group from elderly, young to kids.
Its the creamy orange flavor that pleases your taste buds in every sip.
It's also such an easy drink that it has kind of become my lazy goto drink as well. I mean with just 2 steps, you can treat yourself to a creamy delight.
It's a versatile drink that it can be made from fresh/frozen fruits or juice. You can add in any other flavoring as per choice.
Make it in advance for a big party or just a night before for a weekend brunch. You can store it in a sealed bottle for upto 2 days in the refrigerator or freeze it in an ice tray and use for camps or treks.
The possibilities are endless. If you're making it for kids, you can add any of their favorite toppings along with some cream or marshmallow (Nothing beats their love for marshmallow :).
---
DID YOU TRY MY RECIPE – AWESOME!!!
Now Quickly SNAP A PICTURE & TAG :
#easycookingwithmolly +  @easycookingwithmolly on Instagram –> As I Loooove to see you recreate my recipes.
Connect with Me Here:  Facebook / Pinterest / Instagram / Twitter / Subscribe to our Newsletter / Google+
5 Minutes Orange Colada - Best Family Drink for Summers
2Prep Time
3Cook Time
5Total Time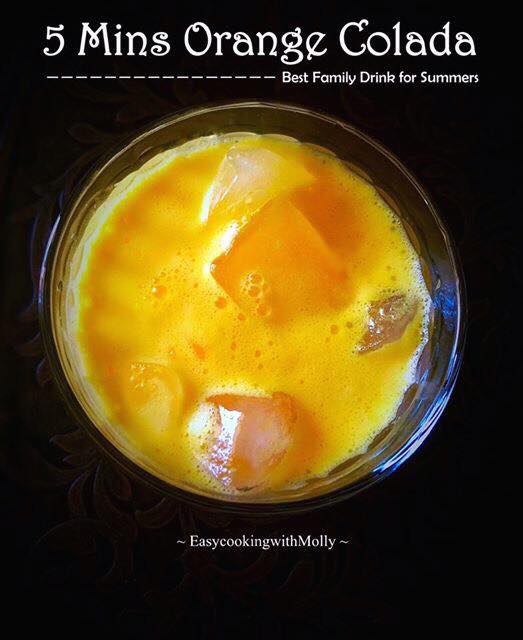 Ingredients
ToolHand Blender or Food Processor
Serving Glasses
Ingredients1 Cup Fresh Oranges (You can use fresh/frozen or juice)
1/2 Cup Pineapple Chunks (You can use fresh/frozen or juice
1/4 Cup Mango Chunks (You can use fresh/frozen or juice
1/4 Cup Coconut Milk (You can use cream/regular milk too)
1/2 Cup Ice
Instructions
Place all the above ingredients in a blender or food processor and blend to form a smooth juice.
Pour in glasses and serve chilled.
7.8.1.2
141
http://www.easycookingwithmolly.com/2015/07/5-mins-orange-colada-best-family-drink/
Nutrition