Tandoori Fish Tikka : Fingerlicking good, lemony and filled with flavor. The Tandoori Fish Tikka is an extremely popular dish from the northern part of India.
This version is made in the kitchen oven and doesn't need any special grill or equipment.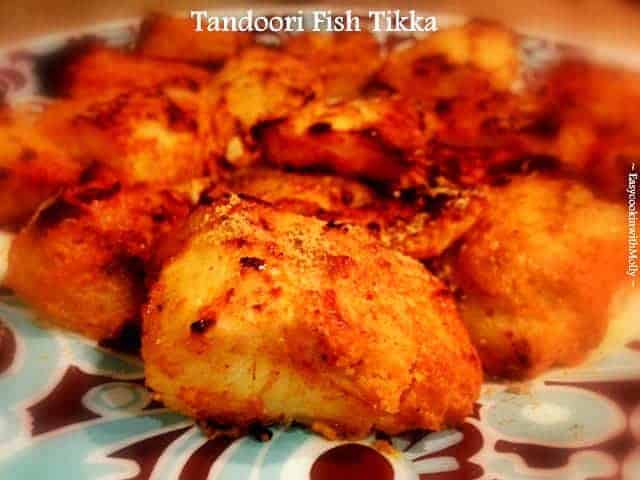 Hello Everyone, I'm back from a short but much-awaited vacation to Dubai.
It was a fun family vacation with cousins, which means along with all the site seeing, shopping, eating, we had endless conversations.
This was our first trip to Dubai and I was super excited to see the beautiful city and also taste some amazing mix of cuisine (Arabic, Persian, Moroccan and Lebanese). 
 I'll definitely do a separate post about the food and beautiful places we visited as on this post, I wanted to share an extremely easy weekend recipe of Tandoori Fish Tikka that is made in an oven and #Glutenfree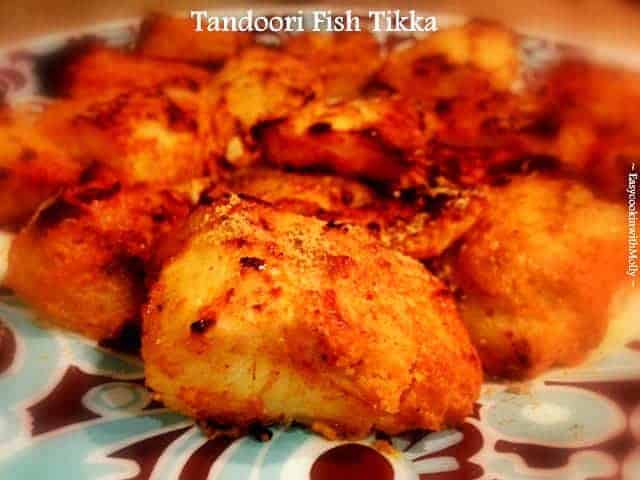 This dish is extremely popular all over the world because of its light lemony taste and slightly spicy flavors.
The fish is usually marinated for a couple of hours and cooked in a clay oven or Tandoor as they are called in India.
Now for many of us, we don't have clay oven at home, so we'll use the good-handy oven and to achieve the charred or slightly burnt look, we will broil it for 3-5mins.
TIP: If you have extra time on hand, I would suggest to marinade it over-night. This helps the fish to soak the flavors evenly.
You can also try the following Fish Recipes:
Amritsari Fish (Indian style battered fish)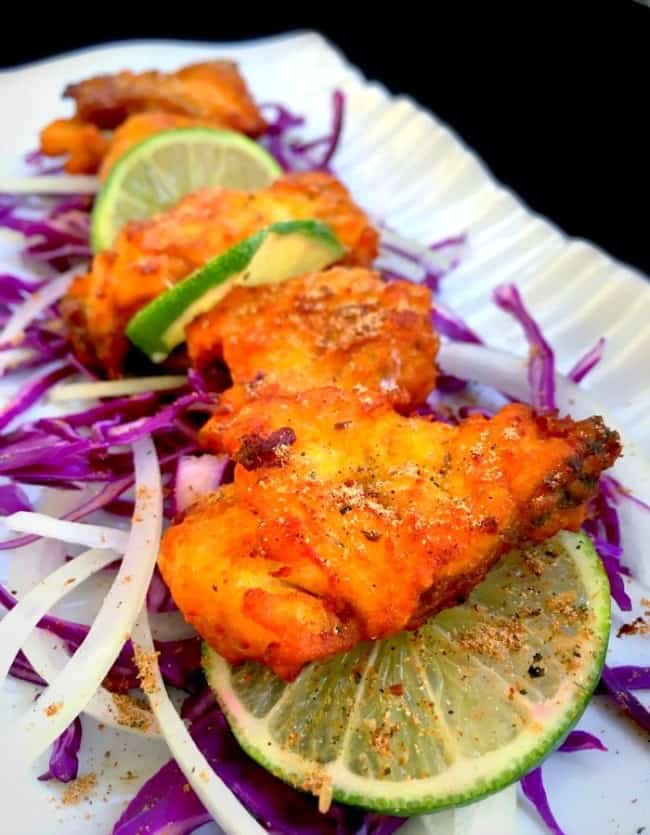 Quick Broccoli and Fish in Sweet and Spicy Sauce
Spicy Indian Fish Croquette (Bengali Macher Chop)
Molly Kumar
Yields 4
Tandoori Fish Tikka
5 minPrep Time
5 minTotal Time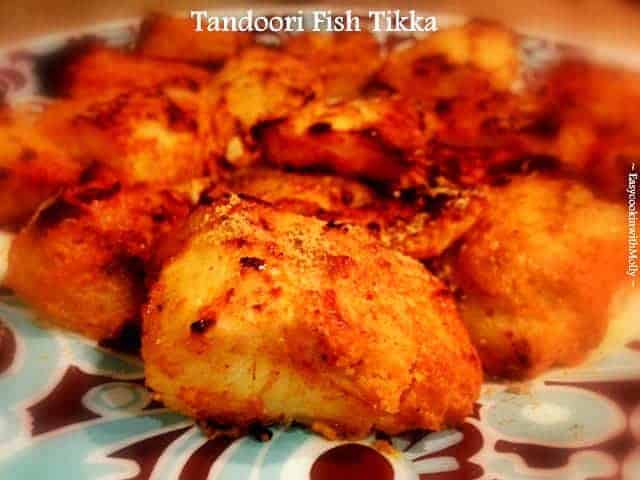 Ingredients
8 Tilapia Fish Fillet – You can use any other fish of choice.
3 Tbsp Oil or Cooking
Spray
1/2 Tsp Cumin Powder – For sprinkling on cooked fish before serving
2 Tbsp Lemon Juice – For sprinkling on cooked fish before serving
* For the Marinade *
1 Cup Thick Plain Yogurt
4 Tbsp Olive Oil – You may use any light oil
1 Medium Onion - Grind into a paste with as little water as possible
1 Tbsp Fresh Ginger Paste
1 Tbsp Fresh Garlic Paste
4 Tbsp Fresh Lemon Juice
Red Food Coloring
** Powdered Spices **
1/2 Tsp Turmeric
1 Tsp Coriander Powder
1 Tsp Cumin Powder
1/4 Tsp Cinnamon Powder
1/4 Tsp Nutmeg Powder
1 Tbsp Dry Mango Powder (Optional)
1 Tbsp Red Chili Powder –
You can increase of decrease chili powder as per taste
2 Tsp Salt - As per
your taste
Instructions
In a large bowl, add all the marinade ingredients and whisk to a smooth paste.
Now add the powdered spices and whisk everything evenly.
Add the fish fillet to the marinade, using your hand evenly coat both the sides.
Cover the marinated bowl with a lid and refrigerate for an hour. (TIP: The more you marinade, the better the taste)
Preheat the oven at 180 Celsius.
Line the baking tray with foil and spray evenly with oil.
Remove the marinated fish from the fridge and place them evenly with some gap on the lined baking tray.
Bake for 15 mins (Till the fish is evenly cooked)
After 15 mins, set the oven to broiler setting .
Place the cooked fish on the top rack of the oven and broil for 3-5 mins or till you achieve the desired charred look. (Please keep an eye as every oven is different and too much broil will burn the fish).
Remove the broiled fish from the oven (Now orange red in color with charred marks).
Place freshly cooked fish on serving tray, sprinkle evenly with lemon juice and some cumin powder.
Serve Hot.
7.8.1.1
3
http://www.easycookingwithmolly.com/2015/05/tandoori-fish-tikka/