How many times have you been tempted to make an ice-cream at home?
But opted out of it cause you might not have the ice-cream maker or found the process too lengthy?
(You might be thinking, too many questions in the very beginning)
But this thought has crossed my mind endless times…especially when I want to have a certain flavor or without a certain ingredient. The basic ice-cream recipe calls for heavy-cream, sugar, eggs, flavoring along with an ice-cream maker and a lengthy process ahead…. and everytime I thought,
Do I really want to go such lengths to have just a scoop or two and everytime ended up buying one from outside.
However, few months back, I had some leftover frozen coconut milk which I used in one of my smoothie and it tasted just so creamy….almost like a melted ice-cream….So,
you can imagine what would have happened next ?
Well, a
'no machine'
 fruit ice-cream was made and it turned out great. It was smooth tasting, freezes quickly and is slightly softer-creamier in texture. So after couple of more combinations the
'Coconut-Raspberry Ice-Cream'
was made. It's was the combination of creamy coconut milk with slightly tart raspberry and some added sweetness that makes it delicious and creamy
(almost like a store bought)
. Most of all the color of the ice-cream was so gorgeous bright pink. It was such an exciting feeling of accomplishment that we ended up eating the entire batch in a day 🙂
Coconut Raspberry Ice-Cream
It was a simple 2-3 ingredients and you can customize your ingredients as per choice. Also this is great for anyone who is 'vegan' or on a 'gluten-free' diet. It doesn't need eggs or cream.
The initial serving of the ice-cream was with a light sprinkle of coconut flakes but the second time we went slightly overboard with the toppings of nuts, caramel chunks, flakes and some hot caramel sauce…..You can totally have it like this or with any other topping you fancy.
So here's the simple recipe for you to try on this Easter weekend, while I think of more exciting flavors. Do tell me when you make this one 🙂
* NOTE:
1. Run the ice-cream scoop in hot water before using, it helps ice-cream to be easily scooped out.
2. I like this ice-cream little tart hence I'm not adding any additional sweetness to it however please         feel free to add your choice of sweetener.
3. Some of you may want to use soy or almond milk for this however it doesn't give the kind of               creamy consistency as a full bodied coconut milk.
4. The second batch of ice-cream was stored in my freezer for upto 2 weeks.
*** Happy Easter ***
Coconut
Raspberry Ice-Cream
Serves: 4 People
Serving Suggestion: Serve Chilled
with OR Without Toppings
Tools:
Food
Processor
Container
to Freeze the Ice-Cream
Ice-Cream
Scoop
Serving
Dish/Bowl
Ingredients:
1 Cup Frozen Raspberry – This works
best with frozen fruit. If you have fresh raspberry, freeze them till they
harden.
1 Can Coconut Milk (14. Oz) – I'm using full fat coconut milk as that's
the best for smooth  ice-cream texture.
5 Tbsp Coconut Cream – (OPTIONAL) – This helps in making the texture creamier.
Pinch of Sea-Salt –
You can use
regular salt as well.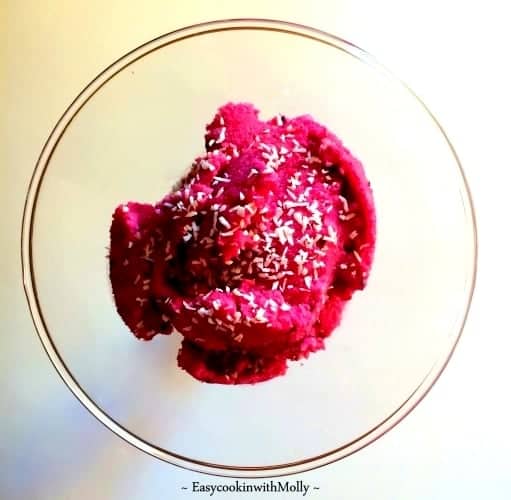 Coconut Raspberry Ice-Cream (No Machine Needed)
Method:
Place all the above
ingredients in a food processor and pulse to a smooth batter like consistency.
Transfer the batter to a
container, close the lid and freeze for 3-4 hours.
After 3-4 hours, remove
the container from freezer, scoop the ice-cream into serving bowl/dish and
Serve chilled with or without toppings.
Coconut Raspberry Ice-Cream (Topped with Nuts, Flakes & Caramel chunks)