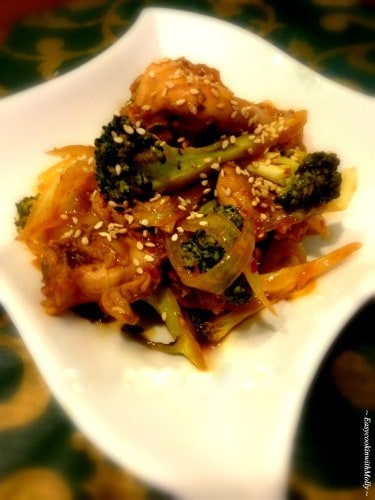 Weekend is around the corner and I'm craving a spicy but quick recipe for my brunch menu. Something mouth watering but absolutely easy and what can be easier than a 'Stir Fry Broccoli Chicken'. Both broccoli and chicken cook really quick if in thin slices and the best part about stir fry's are that you can add whatever you want. So I'm going to make an asian style version with soy, ginger and few other seasoning but feel free to experiment with your choice of ingredients.
The sauce I've made is very basic and can be combined with any vegetable, meat or no-meat ingredient. It is best enjoyed with a bowl of steamed rice (white or brown) or plain noodles but you can serve it with choice of bread or any side.
Here's the recipe and wish you all a Fab Weekend !
~ Enjoy & Share ~
Stir
Fry Broccoli Chicken
Stir Fry Broccoli Chicken
Serves: 2 People
Serving Suggestion: Serve Hot with steamed rice or noodles.
Tools:
Wok or Large Non-stick Pan – For
the stir fry
Small Bowl – For mixing the sauce
Serving Dish
Ingredients:
2 Chicken Breast – Cleaned and cut
into long thin strips(This will help cook the chicken quickly and evenly)
2 Cups Broccoli Florets – Cleaned and
cut into thin bite size pieces
1 Large Onion – Thinly sliced
2 Tbsp Olive Oil – For stir fry
2 Tsp Sesame Seeds – For Decoration
– OPTIONAL
For the Sauce:
3 Tbsp Soy Sauce
½ Tsp Shredded Ginger
½ Tsp Any Chili Sauce – I'm using green chili sauce, you may use any
colored chili sauce
1 Tsp Rice Vinegar – You
may use white vinegar incase rice vinegar is not available
¼ Tsp Black Pepper Powder
½ Tsp Chili Flakes – Optional
½ Tsp Salt (As per your taste)
Method:
In a small bowl, mix all
the 'sauce' ingredients evenly and keep aside.
Heat the wok or non-stick
pan on high with 2 tbsp of oil.
Reduce heat to medium,
add onion and saute for about 2 minutes.
Now add chicken and cook
for 3-4 minutes (Keep stirring the
chicken every half minute. This will help cook the chicken evenly)
Add broccoli and stir
for a minute. (We want to tenderize
broccoli slightly, retaining it's crunch)
Now pour the sauce and
stir cook everything together for about 2-3 minutes on high flame.
Turn off the heat.
Transfer to serving
dish, sprinkle with some sesame seeds and serve hot.