During my last few trips to India, one thing that I always eat is "Pindi Chole (Garbanzo Beans in Indian Spices) with Kulcha".
It's like a perfect goto snack/meal or just a "oh I wanna eat something nice" kinda dish bursting with a slight sour/tart flavor….It's easy to prepare and is slightly different from the regular "chole curry" as this doesn't need any onion-tomato and is mostly dry.
The only thing I do extra is roast 3 essential ingredients mainly "Anardana(Pomegranate), Shahi Jeera(Black Cumin) & Ajwain(Carom Seed) to give this dish a unique flavor.
Serves: 4-6 People
Serving Suggestion: Serve hot with
Indian Roti/Kulcha/Bhatura, Plain Bread or Rice or Eat as Appetizer
Tools:
1 Large Pressure Cooker
1 Large Non-Stick Pan/Wok with lid
Dry Spice Grinder or Mortar-Pestle
Serving Dish / Plate
Ingredients:
2 Cups Raw Garbanzo Beans
4 Cups Water
3 Black Tea Bags – (To give the black or dark brown color to the beans)
1 ½ Tbsp Ginger+Garlic Paste
2-3 Thinly Chopped Green Chilies – (Please add this ingredient as per taste)
½ Cup Water
4 Tbsp Olive Oil – (You may use any flavorless oil)
1 Thinly Sliced Onion – (For Garnishing)
Indian Spices: To be Roasted
2 Bay Leaf (Tej Patta)
¼ Cinnamon Stick (Dalchini)
3 Whole Green Cardamom (Choti Elaichi)
5 Whole Black Pepper (Kali Mirch)
Whole Spices:
1 Tbsp Black Cumin (Shahi Jeera)
½ Tsp Carrom Seeds(Ajwain)
1 Tbsp Dry Pomegranate
Seeds(Anardana)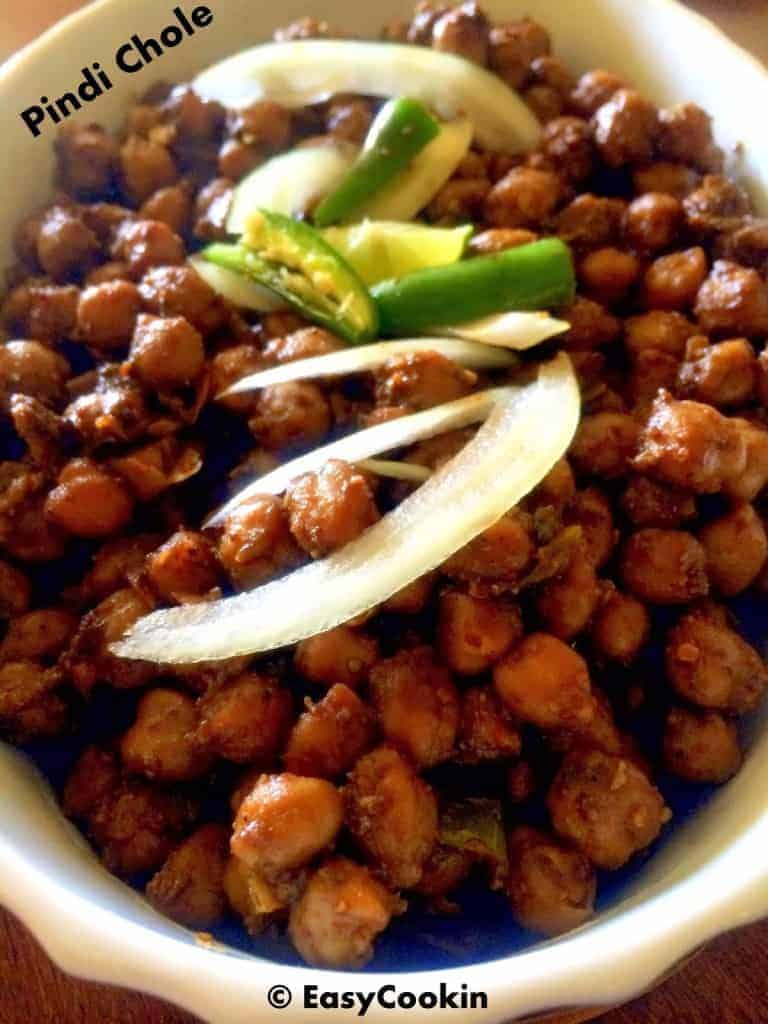 Powdered Spices:
Cumin Powder (Jeera) – ½ Tbsp
Coriander Powder (Dhaniya) – 1 Tbsp
Garam Masala Powder – ½ Tbsp
Dry Mango Powder(Amchur)  – 1Tbsp
Red Chili Powder – 1Tbsp (Please use chili powder as per taste)
Salt – As per taste
Method:
Note: Garbanzo
Beans(Chole) needs to be soaked overnight or for atleast 5-6 hrs (Till they puff up) in water.
Put the pre-soaked garbanzo beans and 3tea bags in pressure cooker and cook till you hear 3-4 steams or till the beans are cooked.
Drain water from the cooked beans and keep aside.(I usually throw away this water as it tastes really sour because of black tea bags)
In a wok on medium flame, dry roast the whole spices till they turn slightly brown (2-3min) and grind to a fine powder.
Heat oil in the wok, add ginger+garlic paste and sauté for 1 minute.
Now add green chili along with bay leaf, green cardamom, and black pepper.
Add the roasted powdered spices along with all the other powdered spices and sauté for 2 minutes.
Now add the cooked beans to wok, sauté well and cook covered for 5-7 minutes.
Add the ½ cup water, sauté and cook till the water is absorbed (4-5 minutes).
Transfer to a serving dish, garnish with sliced onion, green chili and serve hot.